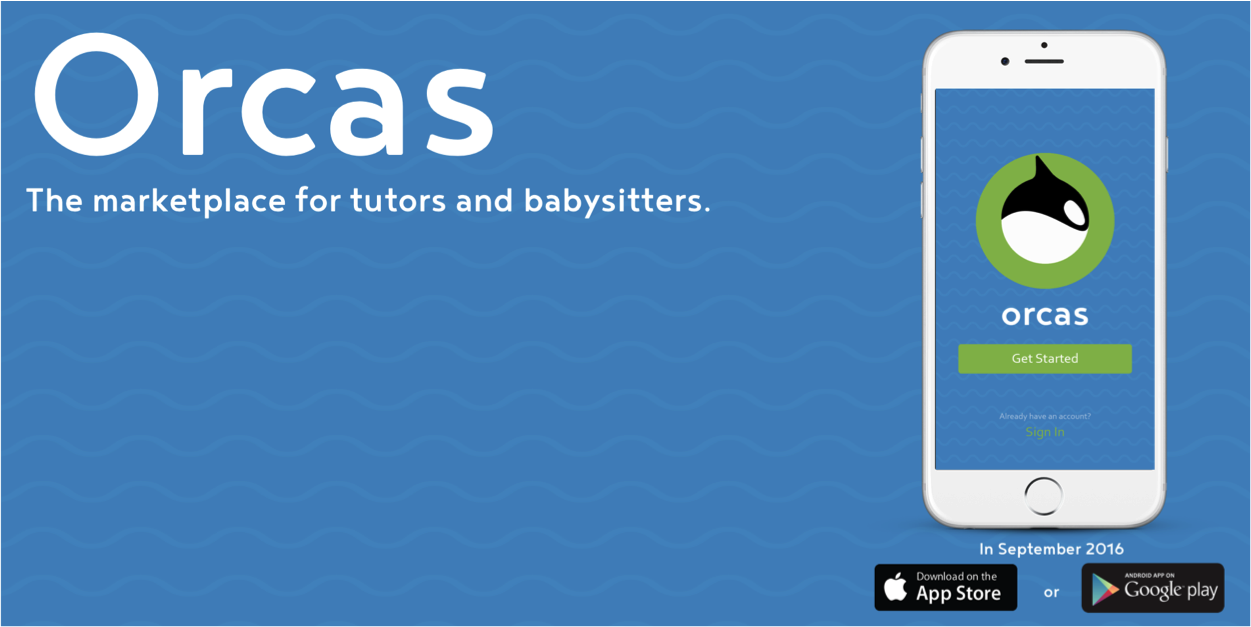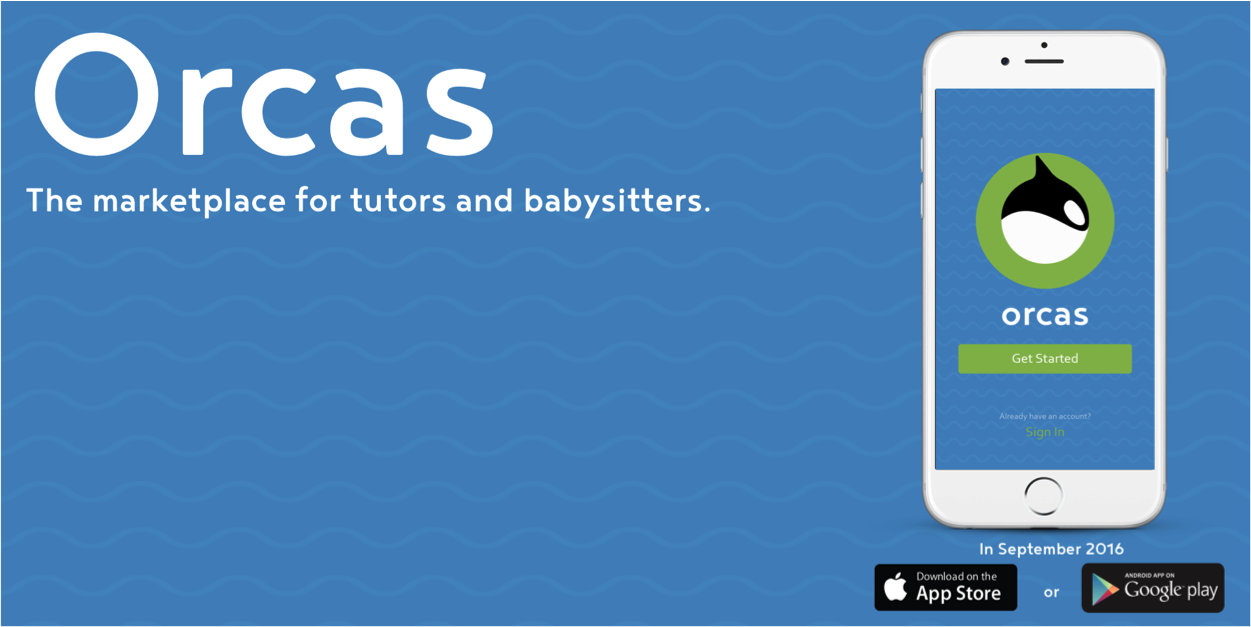 Orcas, which was originally known as CairoSitters, was founded by three graduates from Cairo's Deutsche Evangelische Oberschule (DEO) to provide high-quality babysitting and tutoring services to parents. Since the startup entered the market three years ago, Orcas has employed a large number of young Egyptians, including students who are looking to gain some financial independence in a secure setting.
Now, Orcas is set to launch its mobile app that will streamline the process for parents and caretakers alike and the startup has attracted a significant amount of investment – most recently, Orcas secured a round of angel funding from Kamelizer.
We sat down with Hossam Taher, the CEO at Orcas and one of the startup's co-founders, to find out more.
How and when did you come up with the idea of your startup?
The idea started back in 2013 when the co-founders and I wanted to create part-time jobs for ourselves and our friends as we were in university and needed an income next to our studies. We identified a gap in quality in the industry of childcare and education. Parents who needed babysitters or tutors could not find high-quality help they can trust. So we wanted to fill this gap by offering students who are educated, background-checked and trained to work part-time as tutors and/or babysitters.
Why did you choose to work on this particular problem/idea?
Three main reasons: Youth employment because we are in a region where youth cannot reach financial independence due to lack of part-time jobs, which affects their ability to pursue their own dreams and make their own experiences whether they want to travel, take courses & trainings or simply buy a new smartphone. Our babysitters and tutors make on average EGP 2000 per month and the range carries from EGP 1000-12000 in best case scenarios, which makes it a well-paid job with few hours and total schedule flexibility. In other words, it's perfect for students and people looking for a side job next to their main focus. Revolutionizing education because at Orcas we believe that the only way to improve education is to have three things: 1- to have good knowledge centers (schools, nurseries, centers, etc.) and this is not our focus 2- to have a regulator entity which is a thinktank that takes data as input and produces recommendations after analyzing it which maintains high standard and keeps improving education (on our to do list with key players in Egypt's education scene) and lastly 3- high-quality human resources which is what we focus on. We believe in the concept of mentorship which is basically a holistic approach in education where the tutor/mentor/babysitter does not only work on specific things with the children but on everything, from academic to social and behavioral issues and more. Lastly, we want to enable parents which is basically allowing fathers and mothers to pursue/focus on their jobs and careers without sacrificing their children's education or care.
Who are the people you are "solving the problem" for (your target audience/customer)? What are their biggest pains?
Pain for users is being able to find high-quality and reliable help in tutoring or babysitting and for partners the pain is to find part-time jobs and manage the scheduling. As a marketplace we have a double-sided market. Users (parents and students) are young parents with children from 0-14 living in Greater Cairo area with a household income equal to or above EGP 180K or students in middle school or high school between 15-18 also living in Greater Cairo with parents with the same annual income. Market size is going to increase in accordance with cities targeted. On the other side our partners who are babysitter/tutors are mainly high school students, university students and recent graduates ranging between 17-28 years old who live in Greater Cairo. Users and partners are both Egyptians and foreigners.
Who do you consider as your competitors?
Any other babysitting or tutoring agency or marketplace and freelance/independent babysitters/tutors, as well as nanny agencies.
What is your competitive edge? What makes you stand out?
We have been in the market since 2013 acting as a babysitting and tutoring agency using the same model but offline. The market experience gained in those years whether its pricing and salary models, safety and quality guarantee allowed us to design the online model tailored around the needs and expectations of the market. This gives us an edge over other babysitting and tutoring agencies as they design their process to suit their needs only as they are unable to understand the true needs of the market. Freelance and independent babysitters and tutors are usually high-quality but have an availability problem as it is only one person with limited hours per day. Also independent tutors and babysitters only work in one zone, whereas our team of more than 2000 tutors and babysitters (currently) covers Greater Cairo at all times so there's someone for everyone. Lastly I would like to stress on our operational model that includes an obligatory training designed by graduates of Columbia School of Education in New York and revised by many education gurus and experienced babysitters/tutors and clients' feedback that guarantees a minimum level of quality. Our process also includes an obligatory home interview where the parent and the tutor/babysitter get to meet in person facilitated by an Orcas' representative in order to guarantee quality and safety, which is lacking in all other competitors, especially nanny agencies.
What is your business model or how do you generate revenues?
A commission off each sold hour (exception: full-time babysitting, fixed fee). Commission varies according to service, experience and level of tutor or babysitter.
Are you intending to scale or expand to other markets/regions? How are you planning to do so?
We are intending to expand to other cities in Egypt and in the region. We will maintain our focus on childcare and education.
As a mobile application with an online process this is much easier, smoother and faster than before. Once we have reached our desired numbers in operations etc. we will be able to enter new markets through strategic partnerships with local players and through smart tailoring around the needs of the markets we are entering.
Have you raised funds? If so, what type of funds?
Yes, we have received three types of funding: Two grants from Injaz Egypt in 2013 and from AUC Venture Lab in 2015. We also received seed in 2014 and then in March 2016 we secured an angel fund. Currently, there is a Series A in the pipeline.
Given that the Middle East has an emerging ecosystem, what are the biggest challenges that you have faced so far?
The biggest challenge is always talent. It is very difficult to find humans who are dedicated and hard working and have a high standard of quality and at the same time technically competitive to qualify to be shareholders or partners or even team members in a region with many errors in education and problems in role models. Another challenge is legal structure and governmental duties, which I don't think need much explanation (permissions, registrations, bureaucracy). Funding used to be a problem but in my case I see many improvements and many players rising and entering the game.
Tell us more about your team, your company culture and the way you work.
We are a very young team with an average age of 24 years. The team consists of 15 people, a mix of part-timers and full-timers. We have core management consisting of three who are in charge of operations, marketing and product design and business development. We have part-timers in charge of designs and accounting/financials and home interviews. And the founders/board members/investors are in charge of strategy and business development outlines as well as entering new markets and strategic partnerships. We have an interesting female-to-male ratio of 4:1, which defeats stereotypes in a country like Egypt. At Orcas we believe in hard work and we don't give ourselves excuses, we aim to finish the work we have and always go the extra mile because this is what makes anyone unique and succesful. The final touches are our secret. If the work is not done, we stay at the office. The office for us is like a home. It is cozy, safe and is considered by all of us a comfort zone. We have a small office so it is very easy to distract one another so we follow a strict communication system using the technologies that are out there like WhatsApp, Facebook and Slack. We believe that the market knows best what it wants so we are very keen to get real feedback from our users and partners and to transform them into features and process modifications to increase loyalty and ownership of our clients to our service.
Is there anything else you would like our readers to know?
The app is coming out in the beginning of September and will be available for both iOS and Android. Users and partners each have their own application. The mobile application will help users search and find the help they need. They then offer them jobs and wait for them to accept the offer to begin the scheduling phase of the process to meet for a home interview and decide on session days. Payment in advance is necessary to begin sessions; therefore, we have credit card and cash collection from home ready for our users. Credit card users will have a smoother and faster experience, which will hopefully attract more and more users towards credit cards and away from the logistically frustrating cash collection. Users can then monitor the progress and the hours that take place in the sessions using the Job Diary feature, which is updated by the partners. Partners (babysitters/tutors) manage their offers and sessions and rescheduling through the app. They are in control of their balance and can redeem the money through their bank accounts or cash delivery whenever they want, which gives them more freedom compared to the situation now. Our tutors will be categorized by levels that reflect experience and quality and will affect the hourly rate and therefore the commission.
The name Orcas, which is a type of whale, is based on a deep concept that is made of three pillars: Motherhood, Mentorship and Reach.
Motherhood describes the family setting the orcas live in and the protective and loving relationship between a mother and her calf. Mentorship relies on the fact that they have the second largest brain and they are one of the most intelligent animals who have their own different languages and dialects and skills that are taught and passed on by generation to the other. Lastly, reach for us represents our ability to search and find the best matches for users and the best jobs for partners. Reach is the orcas' ability to travel great distances as well as their ability to scan wide areas with the ultrasound waves produced by the whales when they dive low enough where there is no sun light.
The online marketplace is a huge milestone for us because it makes a technology company with a strong UI/UX and Developers team. Our team consists of mostly Egyptians but includes some foreign talent. The companies involved in the launch in September are all Egyptian, which is something we are extremely proud of.
We are currently accepting all applications from the youth out there who are looking for income through part-time jobs and who think they are relevant or just want to try their luck. We would like to see a lot of youth applying in the next months to fill our marketplace with supply. The process is simple; once they submit an application and are accepted, they get a score and are invited to the training. Attending the training acts as an informative/brain formatting session and an interview so when you pass it (training attendees are observed at the training), applicants submit their security background check papers and receive their login information so they can start working.
To find out more about Orcas, visit their website.
---
Subscribe to our newsletter
---