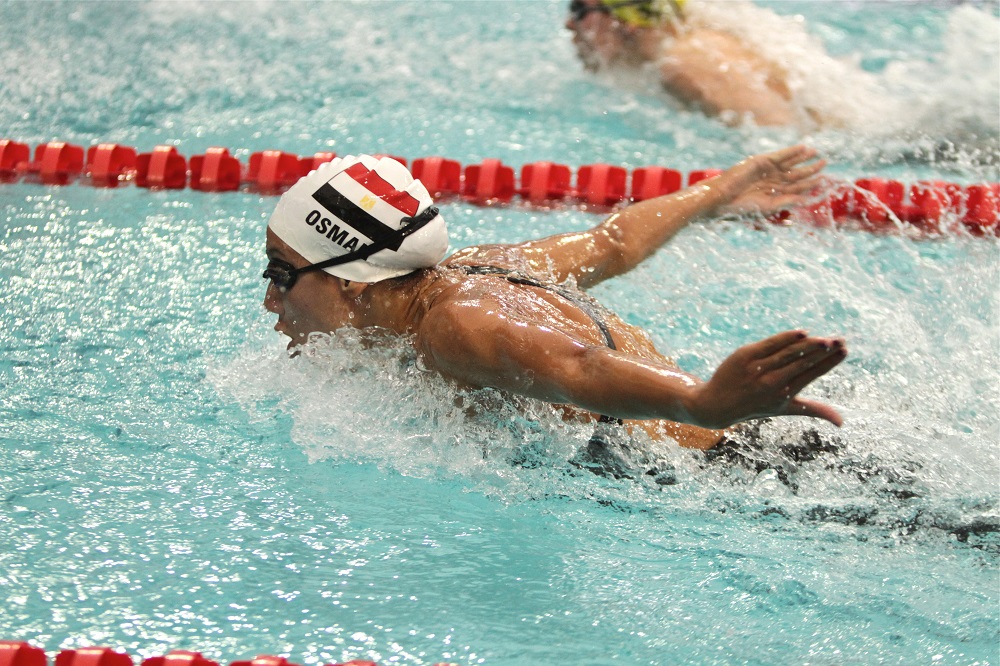 By: Maydaa Abo El-Nadar
Egyptian Olympian Farida Osman swims her way through victory and achieves the third fastest butterfly swimmer title in the 100-yard butterfly race.
Osman won her first ever individual title at the National Collegiate Athletic Association (NCAA) becoming the third fastest swimmer in history after finishing a 91-meter race with 50.05 seconds. The swim was the 7th fastest in history beating her own personal best of 50.40 seconds.
In addition to her personal victory, Osman helped her team bring home two golds medals from the NCAA competitions.
Osman began swimming and earned several regional and international swimming titles, becoming one of the most accomplished female Egyptian swimmers.
Among a long list of accomplishments, Osman is a gold medalist at the African Games and 5th at the 2015 World Aquatics Championships, held in Kazan, Russia, in the 50 meters butterfly race.
She has been qualified for the Olympic Games twice in 2012 and 2016.
Swimming for Farida is not simply a sport, but it is a life's journey as she previously expressed "Swimming taught me to be organised and to manage my time properly in order to balance between my studies, practice, and my goals," adding that "Thanks to swimming, I have learned to be independent and it exposed me to the real world.  It taught me the meaning of hard work and how I can achieve my goal if I put my mind into it."
---
Subscribe to our newsletter
---