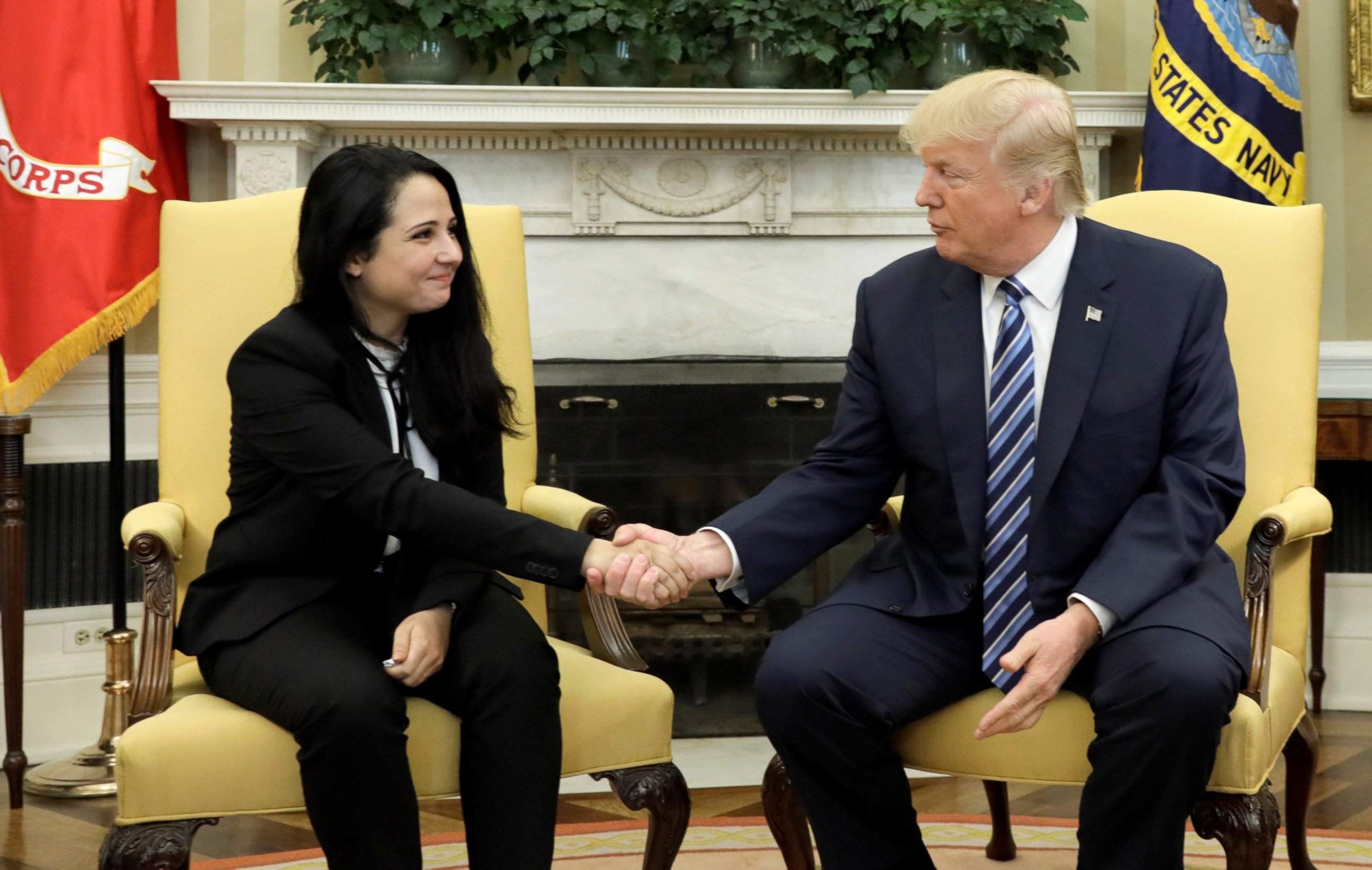 US President Donald Trump has published a video on his official Twitter account welcoming home Egyptian-American Aya Hijazi.
"WELCOME HOME, AYA! #GodBlessTheUSA," tweeted President Trump along with a video that features a montage of him and Aya at the White House.
The video, which sees 'God Bless the U.S.A.' by Lee Greenwood play in the background, starts with the American flag and a screenshot from the Washington Post titled 'Freed Egyptian American prisoner returns home following Trump intervention'.
With lyrics such as "I'm proud to be an American, where at least I know I'm free" playing in the background, the video then features multiple photographs of Aya and her family speaking with Trump and his family, including Ivanka Trump and Jared Kushner, during a visit to the White House.
WELCOME HOME, AYA!#GodBlessTheUSA🇺🇸 pic.twitter.com/CR4I8dvunc

— Donald J. Trump (@realDonaldTrump) April 21, 2017
Aya and her husband, Mohamed Hassanein, as well as four other Egyptian humanitarian workers, were found not guilty by an Egyptian court earlier this week after three years in detention.
According to the Washington Post, President Trump had asked Egyptian President Abdel Fattah Al-Sisi to possibly pardon Aya if she were found guilty. The Egyptian President had visited the White House earlier this month where he was affectionately welcomed by the US President. However, the Egyptian court acquitted all defendants of all charges, leaving Aya free sooner than expected.
Following her release, President Trump sent a US government aircraft to bring Aya and her family to Washington DC, reported the Washington Post. Aya was reportedly accompanied by Air Force Major Wes Spurlock, a military aide to the US President, and Egyptian-American Dina Powell, who is the US Deputy National Security Adviser.
The release came as US Defense Secretary Jim Mattis and Powell visited Egypt and met with President Sisi and a number of other Egyptian officials.
Aya and her husband, the founders of an NGO which looked after street children, had been charged with human trafficking, abduction, and sexual abuse for pornography, among other accusations.
---
Subscribe to our newsletter
---