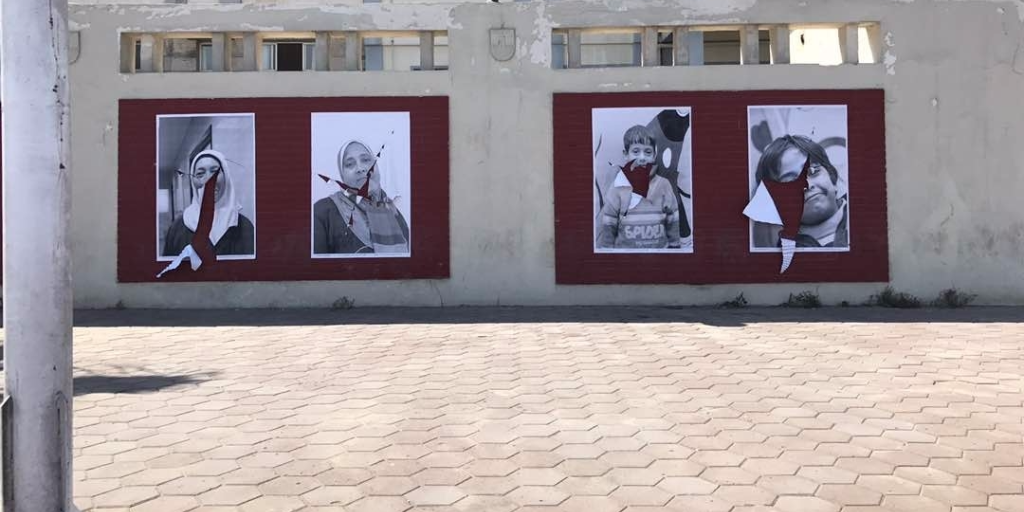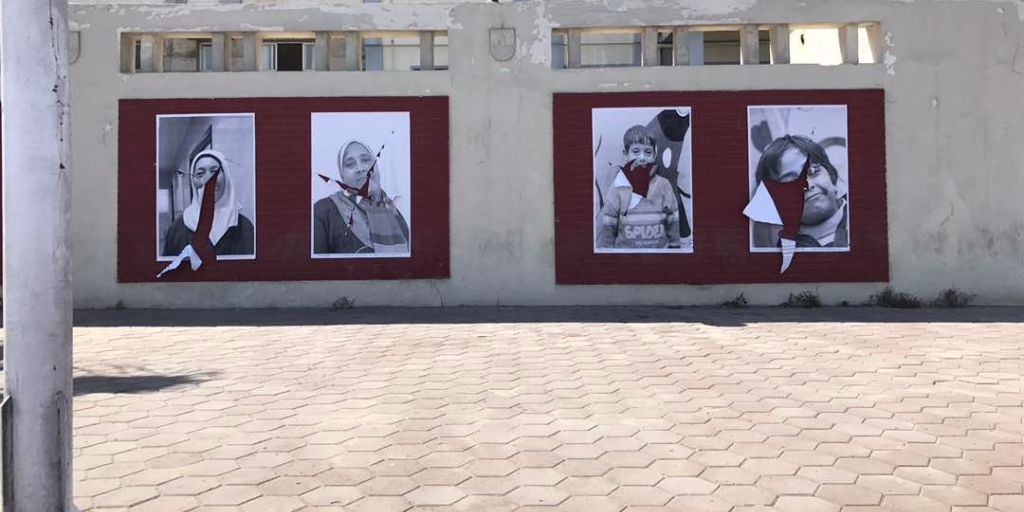 For six months, a group of Egyptians had been preparing to bring an international street art exhibition with a huge cause to Alexandria. The project was to shed light on the children suffering from congenital anomalies at El Shatby University Hospital. The children have been victims due to lack of awareness and health care. Their situation is usually critical and has to be rescued immediately, or else they die.
The project, dubbed "Echoes of Others", was part of the French Graffiti artist JR Global project called Inside Out. Inside Out gives everyone the opportunity to share their portrait and make a statement for what they stand for. It is a global platform for people to share their untold stories and transform messages of personal identity into works of public art, i.e. "bring the inside people to outside world". Each Inside Out group action around the world is documented, archived and exhibited online. Over 260,000 people have participated in 129 countries.
Alexandria's El Shatby University Hospital serves a population of around 5 million child and infant. The pediatric surgery department performs around 7000 surgeries annually free of charge for the underprivileged children born with congenital anomalies. The project aimed at giving the children suffering neonatal and other similar diseases a voice in a city where there is so much lost attention on such cases. The hospital, along with many in Egypt, is experiencing a huge shortage of supplies for surgery and anesthesia especially with the bad economic situation.
"We went to hospital and took photographs of some of the doctors, nurses and children, trying to gather the community of the hospital and by that get a whole image of the community of the hospital we are trying to raise awareness for," narrated Amina Kadous, one of the leaders of the project in Egypt.
Then the group put up the photos on the fence of the hospital from outside which overseas Alexandria's Waterfront, a strategic spot giving great exposure to the issue, hoping to raise funds and try to help the hospital, which is in a very poor condition.
The Nile of Hope Foundation helped and supported the group, giving publicity. They teamed up with Alex Runners and Alex Bikers to do a run for the hospital on the event day, and the runners participated and helped in putting up the posters.
"The key in this project is for it to stay as much time as possible and fade away by time without any human interference of tearing it down," explained Kadous.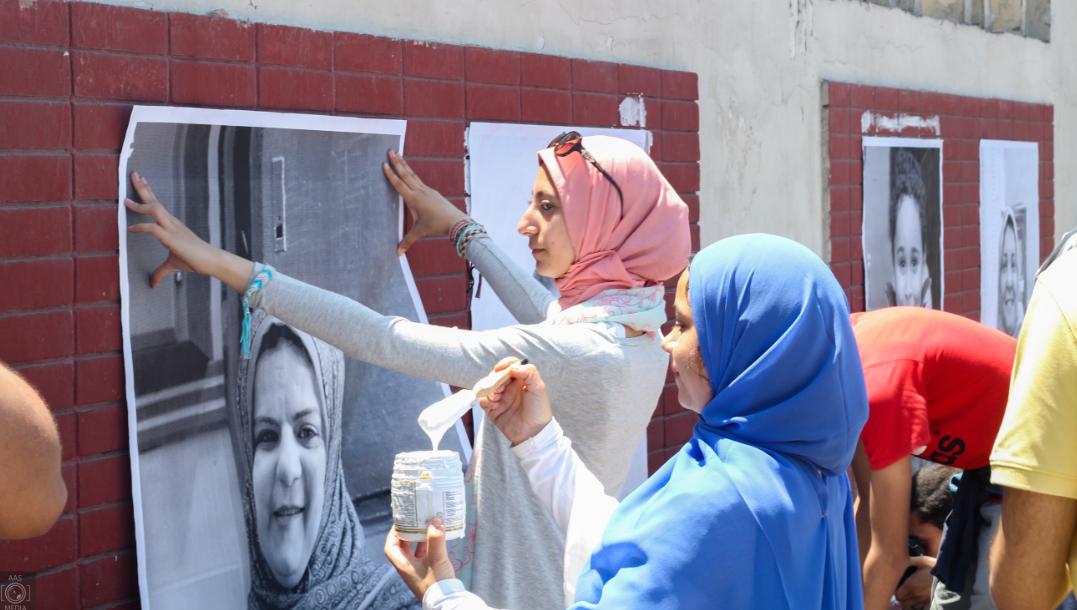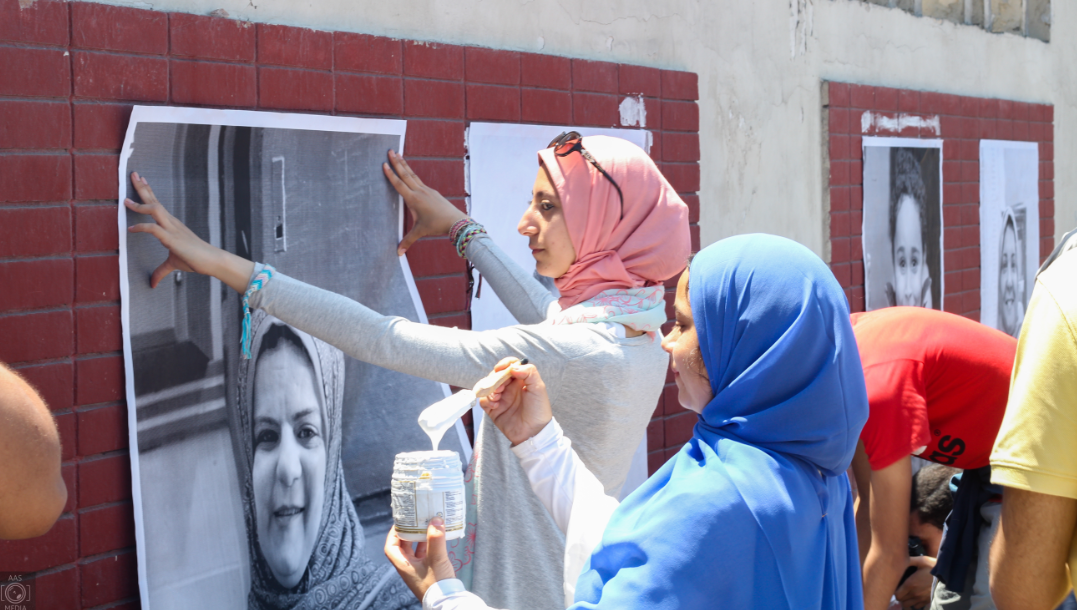 "But because we don't live in an ideal world and because of some ill minded people, the project didn't complete 24 hours and we found it all torn down the next morning, destroying the hospital's fence and stopping our message from passing on to a wider audience," said Kadous.
JR has been exhibiting freely in the streets of the world for 12 years, catching the attention of people who are not typical museum visitors. It all began in 2006 when the artist created Portrait of a Generation, portraits of suburban "thugs" that he posted, in huge formats, in the 'bourgeois' districts of Paris. This illegal project became "official" when the Paris City Hall wrapped its building with JR's photos.
In 2007, with Marco, he made Face 2 Face, his biggest 'illegal' exhibition ever. JR posted huge portraits of Israelis and Palestinians face to face in eight Palestinian and Israeli cities.
In 2011 he received the TED Prize, after which he created Inside Out, an international participatory art project that allows people worldwide to get their picture taken and paste it to support an idea and share their experience.
The Inside Out project has traveled from Ecuador to Nepal, from Mexico to Palestine, inspiring group actions on varied themes such as hope, diversity, gender-based violence, climate change
As he remains anonymous and doesn't explain his huge full-frame portraits of people making faces, JR leaves the space empty for an encounter between the subject/protagonist and the passer-by/interpreter.
"I wish for you to stand up for what you care about by participating in a global art project, and together we'll turn the world… inside out," JR states on his website.
That is what JR's work is about, raising questions.
In Cairo, it raised a whole other question than the intended one.
"[What happened shows] how people are not tolerant enough with the idea of art, the lack of awareness and the ill mindedness…its sad; no words can be said at this point," concluded Kadous.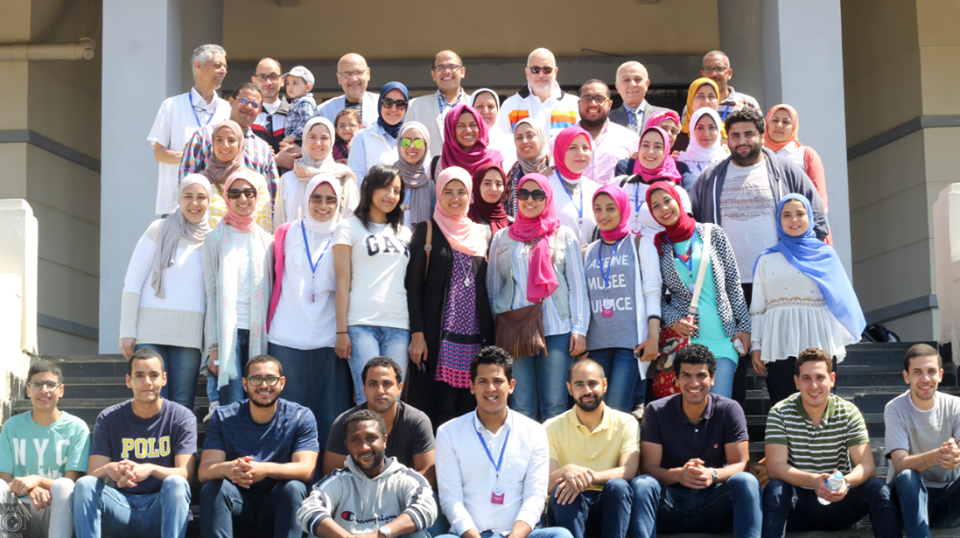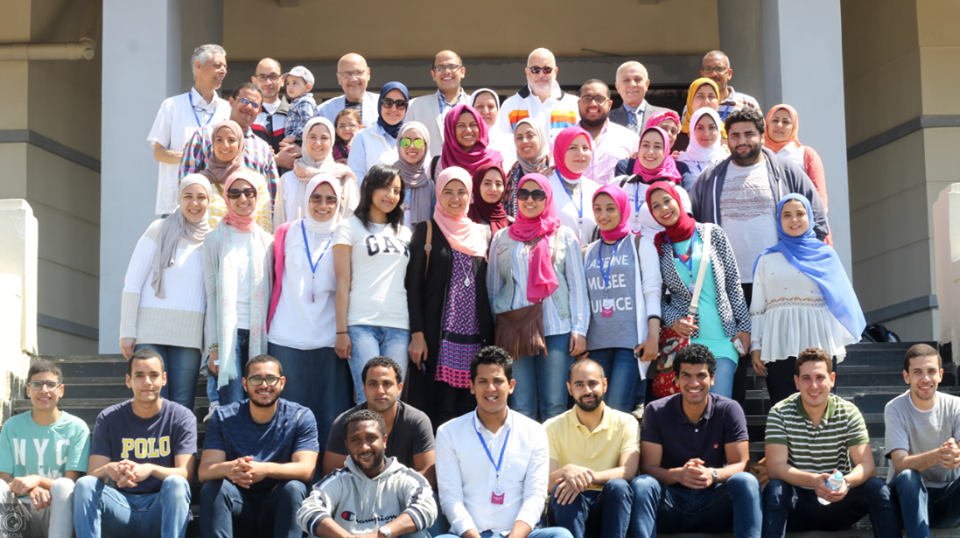 ---
Subscribe to our newsletter
---