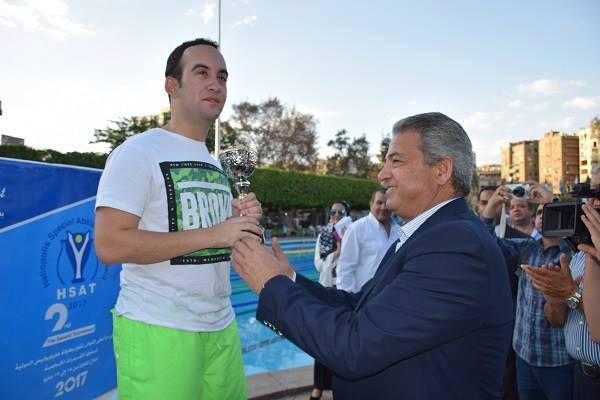 By Maydaa Abo El-Nadar
For the second consecutive year, Heliopolis Sporting (HSC) celebrated the Heliopolis International Tournament for players with special needs that took place on 18 May until 19 of May.
Players from Egypt, Kuwait, Lebanon, and Saudi Arabia competed at two sports: table tennis and swimming.
Clubs from Egypt which participated in addition to HSC were Wadi Degla, El-Maadi and El-Gezira.
"The difference between the tournament of 2016 and the other of this year is that this year we organized it better. More players participated and more countries came. Last year only a delegation came from Saudi Arabia, while this year, in addition to Saudi Arabia, Kuwait and Lebanon participated," said Mira Morsi, head of the HSC's committee for special needs and mother of Omar El-Shenawy who won three medals: gold, bronze and silver at this tournament.
She added "I am glad that this tournament started to gain popularity as United Arab Emirates and Bahrain expressed their desire to participate in the upcoming tournament of 2018."
Egypt claimed 86 medals; Saudi Arabia achieved seven and Kuwait won three medals.
Winning medals was not the spotlight, it was the smile drawn on the players face and the happiness they rejoiced, as they felt they were treated equally and not isolated from society.
Minister of Youth and Sports Affairs Khaled Abdel Aziz, accompanied by the HSC's Haroun Tony, attended the tournament's closure. However the presence of media was not strong despite the importance of such an event.
On the sidelines of the tournament, Mohamed El-Gharby expressed his happiness for participating in the tournament. "Winning medals is not my ultimate goal, what I do care about is to help people like me," added El-Gharby.
24 year-old El-Gharby along with his mother Rania El-Beialy gave a brief about their journey, which was crowned with success in 2015, after El-Gharby had won gold at the equestrian competitions as part of the Special Olympic Games, which took place in Los Angeles.
When El-Beialy, a mother of a person with special needs, was asked about the challenges they faced , she answered "Mohamed suffered discrimination, but I do not blame who treated him this way, I blame their parents who did not teach them how treat humans with special needs in a human way."
In this regard, Nevin Azmy, member at the HSC's committee for special needs and mother of  Samer Samy who competed at this prestigious event wining two medals, one gold and the other silver; added " There are efforts to improve circumstances of people with special needs and people started to feel their situation, but, I am dissatisfied  with how the society treat them, as it lacks maturity when it comes to treating and understanding children and people with special needs, whom I describe as angles. Aside of being pure and simple, they are very smart."
---
Subscribe to our newsletter
---