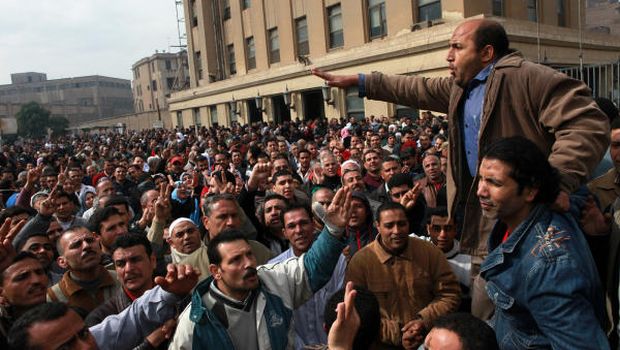 The International Labor Organization (ILO) has blacklisted Egypt again for violations of workers' freedom standards and failing to protect independent labour unions.
The blacklist lists 25 countries including Algeria, Libya, Sudan and Mauritania.
Egypt was on the ILO's blacklist between 2008 and 2010, which was lifted in June 2011. The removal came after the draft law of Trade Union Liberties was finalized in 2011. Having experienced a political and economic turmoil since 2011, the new law hasn't passed, leaving Egypt with the outdated Trade Union Law that doesn't comply with the new conventions.
An ILO delegation had warned Egypt during its visit in May and issued a statement pertaining to the 2011 Trade Union draft law that hasn't been passed into law yet. The new law should protect the rights of independent unions in line with the new labor conventions.
The ILO cited the arrests of workers in peaceful sit-ins and protests, such as Alexandria shipyard workers who stood trial over their peaceful protests and Torah cement workers who are currently serving a prison sentence. The Egyptian constitution guarantees workers the right to strike even if its results in the disruption of work.
Egyptian Trade Union Federation (ETUF) Vice President and MP Mohamed Wahballah said on Thursday that there is nothing as the "blacklist", but it's called "short-term" list. However, these are rumors and terms said by people who are plotting against Egypt.
He added, "The inclusion of some states in this list is not always subject to objective standards, but may also have political motives."
Wahballah's statement that aimed at rebutting Egypt's presence in the blacklist stressed that there are no extreme violations to the rights of workers in Egypt, according to state-owned newspaper Al-Ahram.
ETUF previously accused independent unions of receiving foreign funds.
The new Trade Union Law, filed by the cabinet, is set to be discussed in the Parliament over the next few day. However, Kamal Abbas, head of the Labor Services Center said in press statements that the draft law underwent amendments that were criticized by the ILO. However, the parliament disregarded the organization's comments. The main criticism pertains to the restrictions imposed by the Egyptian government on the independent syndicates.
The Independent Unions are waiting on the new law to separate them from the state-controlled EFTU. Parliamentarians promised that there will be committees to consider the comments of the independent unions.
---
Subscribe to our newsletter
---