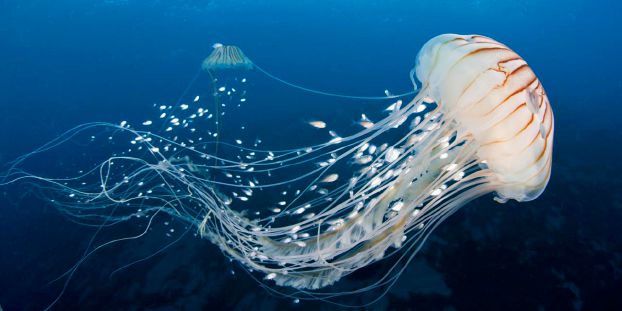 In June this year, a lot of jellyfish were found in a lot of Egyptian coasts, which was the crowded time for the Egyptian people to have their summer holidays as almost all Egyptian students have finished their exams.
Jellyfish or jellies are soft-bodied, free-swimming aquatic animals with a gelatinous umbrella-shaped bell and trailing tentacles. The bell can pulsate to acquire propulsion and locomotion. The tentacles may be utilized to capture prey or defend against predators by emitting toxins in a painful sting. Jellyfish species are classified in the subphylum Medusozoa which makes up a major part of the phylum Cnidaria, although not all Medusozoa species are considered to be jellyfish.
Jellyfish are found in every ocean, from the surface to the deep sea. Scyphozoans are exclusively marine, but some hydrozoans live in freshwater. Large, often colorful, jellyfish are common in coastal zones worldwide. Jellyfish have roamed the seas for at least 500 million years, and possibly 700 million years or more, making them the oldest multi-organ animal.
Some of these jellyfish are high in toxicity and might kill the human in a few minutes, it is found near coasts of Australia and some areas around the world. A lot of jellyfish injured the human skin. The Egyptian ministry of environment has said this kind of Jelly fish has been found in coasts of Lebanon, Palestine, and Cyprus, and this amount of jellyfish will affect the sea life in these areas.
Dr. Ahmed Tamam, the dean of Institute of environmental sciences, Sadat University, explains the reasons behind the spread of jellyfish in Egypt.
He explained that the spread of the jellyfish might be caused by the sea pollution which usually comes from dumping the wastes of factories in seas like the Mediterranean; 24 countries overlooking the Mediterranean sea get rid of their wastes into the sea which causes a lot of pollution.
The second reason is the high temperature, especially in the past few years. The jellyfish is known to the ecologists to have high sensitivity to temperature changes so the increase in temperature, especially in summer season, forces the jellyfish to go out to the coasts.
Taman continues that third reason is the decreasing of sea predators. The turtles, considered as sea predators, have been exterminated in the past few years which affected the increase of the jellyfish in the Mediterranean sea.
According to sea experts, while the Egyptian government was establishing the new line of Suez Channel, which might cause big crises in increasing the jelly fish, there was barrier to stop the jellyfish but with the expansions it became like a passage for the jelly fish from the Red Sea to the Mediterranean sea, although all of these experts say in 2015, the Egyptian government has denied that the new line of Suez channel might cause any harm to the sea life.
---
Subscribe to our newsletter
---