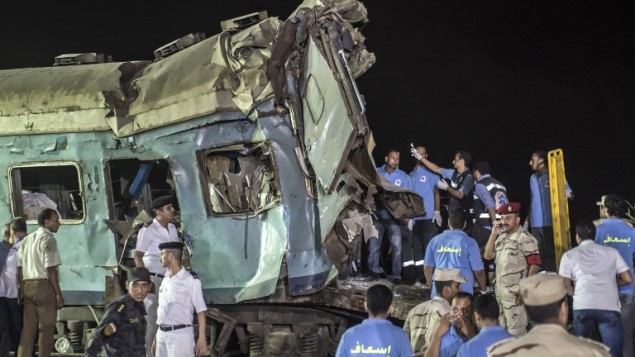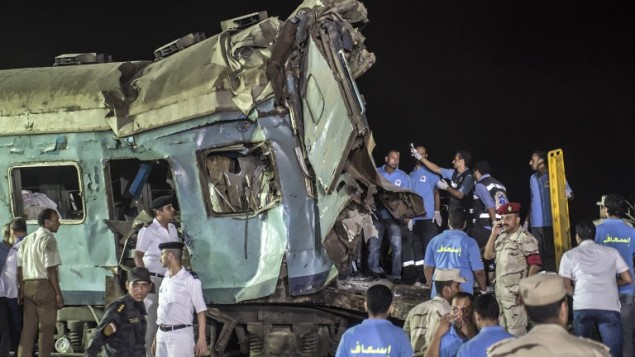 Egypt's Health Ministry decided to take serious measures against 6 medics after they had sparked controversy for taking a selfie with a train crash.
Social media users have widely shared the photo dubbed "Medics Selfie" with displeasure, accusing them of disorder and inhumane actions.
The spokesperson of the Health Ministry Khaled Mogahed told CNN that medics have been referred to another medical center near Egypt's borders with Libya until the completion of their interrogations.
The death toll resulting from two trains colliding with each other on Friday left at least 41 killed and about 179 injured. Some of the injured have already left the hospital after being medically attended; others are still in hospitals and some of them are waiting for surgeries.
The collision occurred between a train that was traveling from Cairo to Alexandria and another from Port Said.
Following the collision, President Abdel Fattah Al-Sisi ordered technical committees to conduct studies to develop the railway system in Egypt. The Railway Authority ordered as well to form a committee to stand on the reasons of the collision.
In May, Al-Sisi asked in a conference about the difference in revenues and spendings on the railway system, to which he received an answer," The spendings reach about $US 4-5 billion while the revenue doesn't exceed $US 2 billion."
Al-Sisi said,"How are we going to spend on all these projects? If one project [railway system] needs $US 100 billion to be developed, and we have loans from Korea, France, and other countries. How are we paying these loans back? The country cannot afford to pay this."
Al-Sisi further added that people complain whenever ticket prices increase stressing that there are no sufficient resources for development.
"The problem is when people talk about development, they don't speak clearly about costs. Then, when you raise the ticket price just one pound, people complain that they are poor and cannot afford it. Right! But I am also poor and cannot afford it," Sisi added.
The past 12 years have seen an average of 1000 train accidents on annual basis, according to the Central Agency for Public Mobilization and Statistics (CAPMAS).
---
Subscribe to our newsletter
---