A newly-emerged militant group with ties to al-Qaida claimed on Friday responsibility for the October 21 attack in Egypt's Western Desert that killed at least 16 policemen.
In a statement, the group calling itself Ansar al-Islam (Arabic for Supporters of Islam) said that the attack marked the beginning of a holy war against the Egyptian state.
"We have begun our jihad with the battle of the Lion's Den in the Bahariya Oasis area on the borders of Cairo and were victorious against the enemy's campaign," the statement read.
The statement also said that Abu Hatem al-Din Abd al-Hamid, who is suspected by authorities having been involved in the attack, was one of the group's senior leaders. Earlier this week he was killed in a targeted strike by the Egyptian Air Force.
Security sources speaking to Reuters on conditions of anonymity said that Abd al-Hamid was the deputy of Hesham al-Ashmawy, an Egyptian special forces officer turned jihadist. An Egyptian National Security official said in 2015 that Ashmawy "is the most dangerous terrorist we face".
Ashmawy is known for his allegiance to al-Qaida, which, if Ansar al-Islam's claim of responsibility for the 21 October attack is confirmed, could mean the emergence of a new branch of militant extremism in Egypt, rivaling the Islamic State.
Ashmawy and Abd al-Hamid had previously been loyal to the Islamic State but due to internal conflicts they turned towards al-Qaida, formed by Osama Bin Laden in the late 1980s.
"We have information that Ashmawy and Abd al-Hamid broke away from (Islamic State) after a third colleague of theirs was killed and also for doctrinal issues," said an official in Egypt's Homeland Security agency on condition of anonymity, according to Reuters.
The Wahat attack was the latest to plague Egypt after several years of political instability following the 2011 uprising that toppled formed strongman Hosni Mubarak.
While most militant activity has been concentrated to the restive Sinai Peninsula, where a low-level war between the Egyptian branch of the Islamic State and the Egyptian army has been going on, militants have in the recent past also extended their operations into the country's urban centers.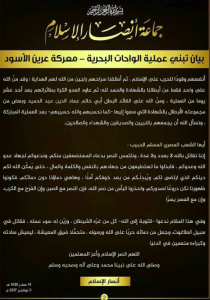 ---
Subscribe to our newsletter
---