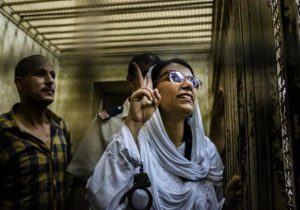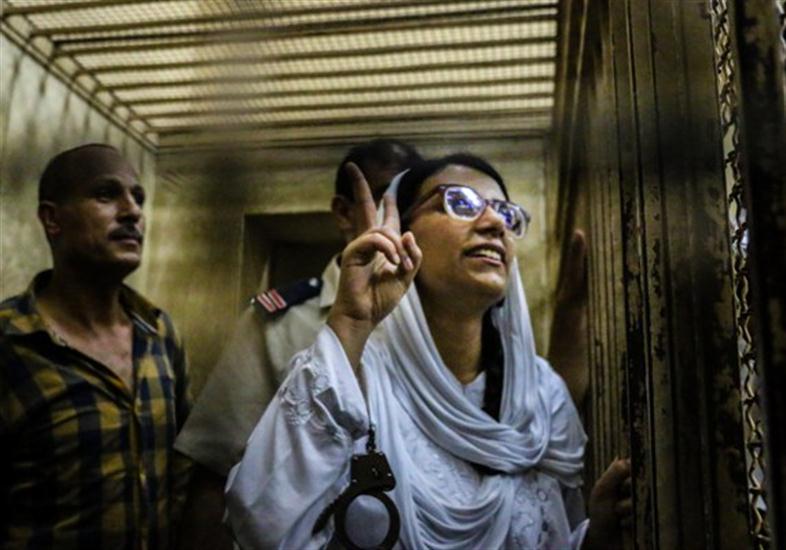 Rights lawyer and activist Mahienour al-Massry, along with Bread and Freedom Party member Moatasem Medhat, were detained Saturday during a court hearing in the Alexandria on charges of participating in unauthorized protests against the Tiran and Sanafir maritime border agreement between Egypt and Saudi Arabia, according to local reports.
The two Alexandrian activists will be held in detention pending a final verdict by the court, which is scheduled to be issued on December 30.
Three other defendants, identified as Bread and Freedom Party members Asmaa Naeem and Zeyad Aboul Fadl, in addition to Walid al-Emary, member of the Dostour Party, did not show up for the court date and were thus not detained.
The case dates back to June when protests were organized following the ratification of the maritime border agreement between Egypt and Saudi Arabia which saw the sovereignty of the Tiran and Sanafir islands transferred to Saudi Arabia.
The two islands, located in the Red Sea to the east of the Sinai Peninsula and the west of the Arabian Peninsula, have previously been administered by Egypt but Saudi Arabia has also laid claim to them. In 1949, Saudi Arabia allowed Egypt to occupy the two islands "for defense purposes" following the establishment of the Israeli state.
Mahienour al-Massry, recipient of the Ludovic Trarieux International Human Rights Award, has previously been arrested and put on trial for her political activities. In December 2013, she was detained for protesting in solidarity with torture victim and revolutionary symbol Khaled Said, as well as in 2014 for participating in other unauthorized protests.
She was sentenced in 2014 to two years in prison and fined LE 50,000 for violating Egypt's protest law, and then again in 2015 to one year and three months in prison for, according to the court, "assaulting security forces and attempting to storm" a police station. Her prison sentence was however later reduced to six months and she was eventually released after her lawyer appealed the sentence.
She has also been jailed during former president Hosni Mubarak's rule.
---
Subscribe to our newsletter
---