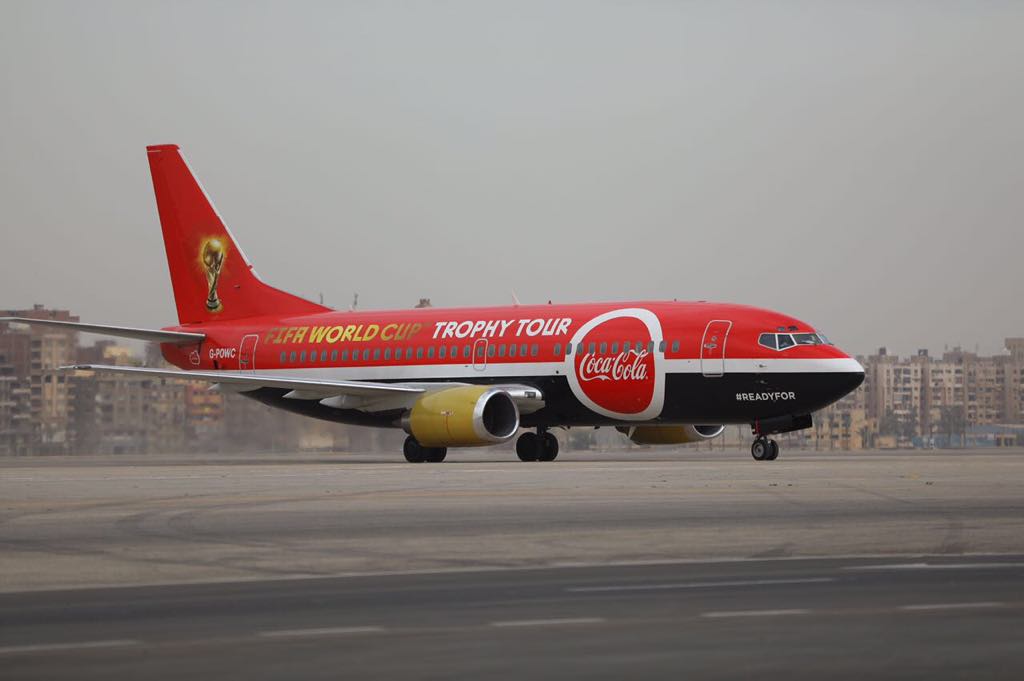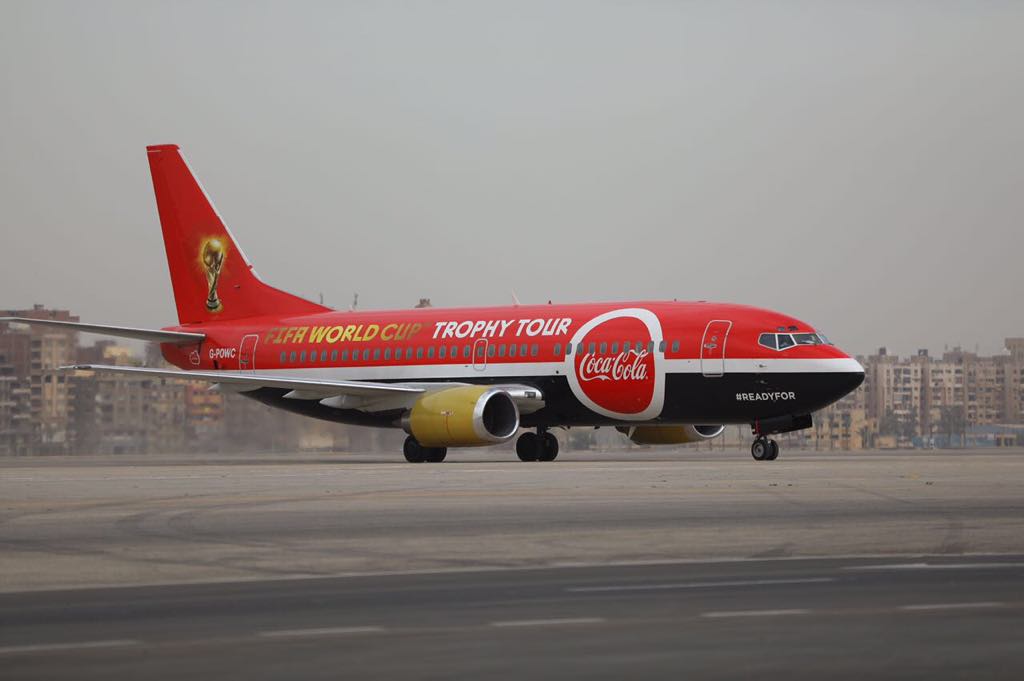 The real FIFA World Cup™ Trophy Tour by Coca-Cola arrived in Cairo on Thursday for a two-day visit as part of its global tour crossing six continents, stopping in 91 cities and 51 countries.
A delegation of FIFA and Coca-cola officials arrived as well in Egypt along with the original trophy.
Hundreds of Egyptian sports icons,  media figures and Egyptian football fans gathered at Cairo Festival City Mall in New Cairo to witness the arrival of the trophy and to take photos with it. The event, held under the auspices of the Ministry of Youth and Sports, celebrated as well Egypt's qualification for the World Cup for the first time in 28 years.
Upon its arrival, the trophy was transported to the presidential palace where Egyptian president Abdel Fattah al-Sisi received it.
The celebration, attended by former French football star Christian Karembeu, was filled with activities. Besides taking photos with the World Cup Trophy, the attendees welcomed Lisa Zimouche, also known as Lisa Freestyle. Lisa is an 18-year-old French freestyler and street soccer player with some 1.2 million followers on her Instagram.
Public Affairs and Communications Director at Coca-Cola Company, Ghada Makady, shared her comments with Egyptian Streets saying that the visit is unique for a variety of reasons.
"One, [the president of Egypt has received the trophy]. It is a great honor for all of us and for Coca-Cola. Two, because it is the year [when] the national team has qualified for the world cup in Russia."
"I know that all Egyptians unit when it comes to football," added Makady in recognition of the importance of sports, in general, and football, in particular, to the Egyptian community.
Egypt's prominent band Cairokee sang on stage following Mahmoud el-Esseily in two surprise performances.
Since 1978, the Coca-Cola Company has been the official sponsor of the FIFA World Cup. This is the fourth visit of Coca-Cola and FIFA to bring the Trophy Tour to Egypt.
The FIFA World Cup Original Trophy is awarded to the winners of the FIFA World Cup while remaining in FIFA's possession. It is made of solid gold and weighs 6.142 kg, created as a composition of two human figures holding the globe above them. The FIFA World Cup Trophy can only be touched and held by a few groups of people, including former winners of the FIFA World Cup and Heads of States. The team winning the FIFA World Cup retains the authentic Trophy temporarily and is then permanently awarded a replica.
In 2017, Egypt qualified for the 2018 FIFA World Cup in Russia after a thrilling match against Congo at Borg El Arab Stadium on October 8.
---
Subscribe to our newsletter
---