The official account of the FIFA World Cup on Twitter praised Egyptian cyclist Mohamed Noufal who decided to go from Cairo to Russia on a bicycle to attend the World Cup that is scheduled to kick off in June.
"Mohamed will cross 5000 kilometers with his bike and will pass through Jordan, Bulgaria, Romania, Moldova, and Ukraine, and he will spend 65 on the road in hopes of reaching Russia to support the Egyptian Team in the World Cup," the FIFA tweeted.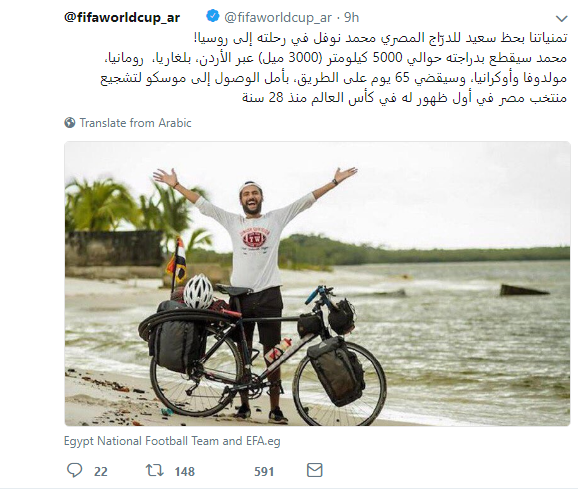 Noufal, 24, started his trip on April 7 from Cairo's Tahrir Square to support Egypt in the World Cup after 28 years of absence. He will fly over Syria due to the war and will also fly over Iraq for security reasons, according to Reuters. He also told Reuters that he relies on the kindness of strangers to allow him to stay and sleep at night.
The World Cup 2018 will take place between 14 June and 15 July in 12 stadiums across Russia, according to the BBC. Noufal is scheduled to reach Russia's capital of Moscow on 7 June.
In December, Egypt was drawn with Saudi Arabia, Russia, and Uruguay in Group (A). Russia's group, that Egypt is a part of, is considered to be the easiest, according to the New York Times.