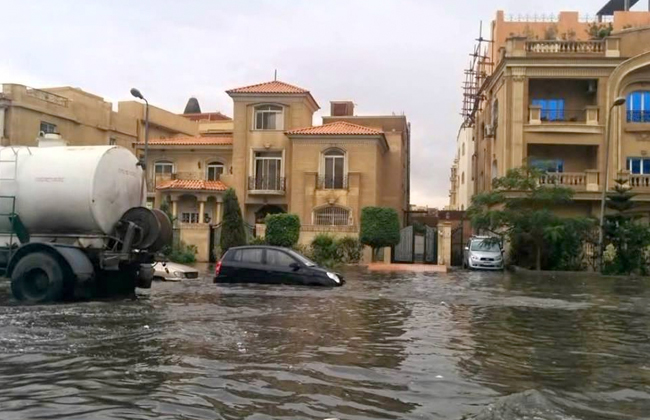 A rare bout of heavy rainfall, thunder, and lightning has attacked Egypt's capital and other parts of the country for the second day running, causing flooding and incapacitating the city's traffic – and its people.
The state news agency, MENA, reported that the authorities were forced to close highways, with parts of Cairo's ring road being shut. As a result, some travellers had to spend the night in their cars.
Little seems to have been spared the vicious downpour, with videos emerging on social media of water pouring through the ceiling of Point 90 mall in Fifth Settlement, alongside parked cars which were almost completely submerged in water. In addition, buildings, houses, and bridges collapsed reports Egypt Independent and Egypt Today.
New Cairo – the area most badly hit by the rains – saw electrical cables landing in floodwaters, meaning that people were trapped inside their cars.
According to the Ministry of Interior (MoI), the police today had to rescue 24 people – 21 students, their driver, and two supervisors – who were trapped while on a trip to a nature reserve near the city.
Meanwhile, actress Nashwa Mustafa reassured her Facebook audience after having called the police to save her house from flooding.
Egypt's Meteorological Authority says that the unstable weather is expected to improve across the country, starting on Friday.
---
Subscribe to our newsletter
---