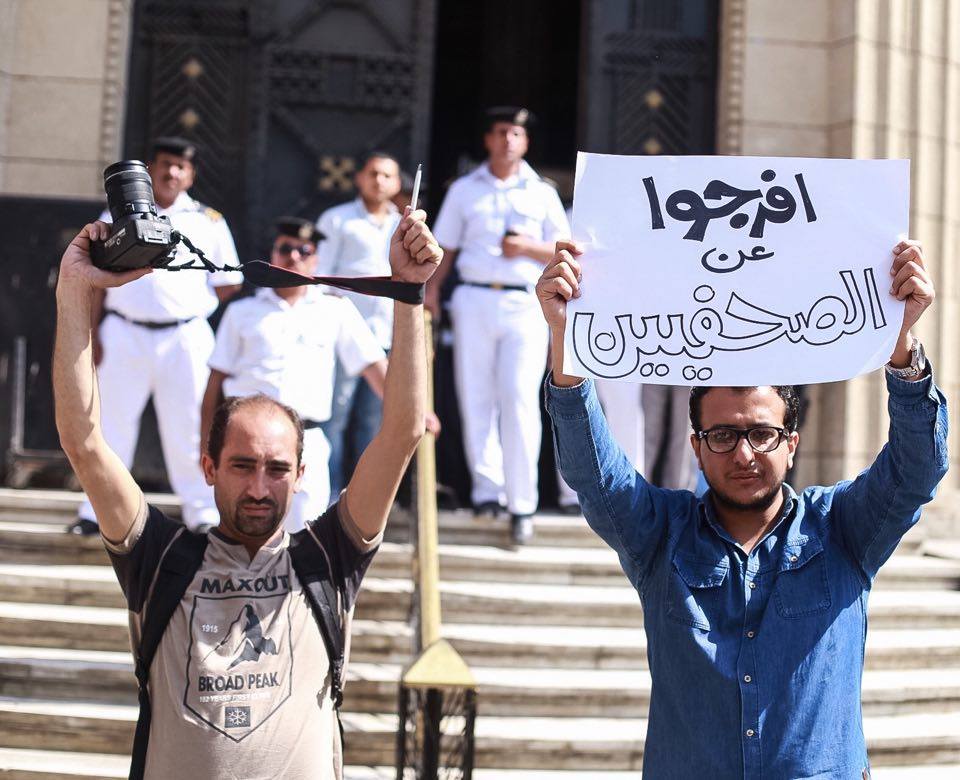 On May 3, the world celebrates the Press Freedom Day. This year, nonetheless, Egypt celebrates it with dozens of journalists behind bars and a plethora of blocked websites. On 24 May 2017, tens of online websites and newspapers became inaccessible. It didn't take long until users grasped that Egypt's authorities had blocked the access to these websites, particularly because they were accessible by people outside Egypt. It wasn't disclosed which authority is responsible for the blocking measure and it remains unknown until today.
Gradually, the number of blocked websites started to increase, and the blockade was monitored by the Association of Freedom of Thought and Expression (AFTE) that announced in a report in February of this year that the total number of blocked websites has reached 496, including 98 news websites.
Multiple news websites, including Mada Masr, have maneuvered their way around the blockade measure to enable their readers to access their websites, and their journalists have nevertheless been attempting to maintain integrity and professionalism. On the other hand, dozens of journalists were left jobless after the blockade resulted in financial struggles for news websites.
Other websites that don't pertain to Egypt's domestic affairs, or news for that matter, were blocked as well, including Medium.
Citing links to terrorist groups, news websites including Mada Masr, Daily news Egypt, and Al-Jazeera were blocked. Egypt security forces have been fighting terrorism in the country since the ouster of former president Mohamed Morsi in 2013. North Sinai was caught in a crossfire between militants and security forces which led to huge losses on both sides. Later on, terrorist attacks occured in other governorates including Cairo the capital. Egypt took multiple measures in order to fight terrorism including blockade of websites and extending the state of emergency.
The crackdown on press further exacerbated during Egypt's presidential elections when the editor-in-chief of the privately-owned newspaper Masr al-Arabiya Adel Sabry was arrested, and he is still detained pending investigations. Additionally, the former editor-in-chief of Egypt's largest privately-owned newspaper al-Masry al-Youm Mohamed Saleh was summoned for investigations and paying a fine after the main headline of the newspaper said that the state is attempting to gather voters in the elections. Saleh was sacked from his position and the newspaper now is headed by TV host Hamdy Rizk.
Egypt has long been criticized by local and international organizations for the lack of press freedom; however, president Abdel Fattah al-Sisi repeatedly attested that there is no crackdown on media and everyone is free to say whatever they want.
The number of detained journalists in Egypt reached 21, according to the latest report of AFTE. Recently, journalist Mahmoud Abou Zaid, also known as Shawkan, won the press freedom award of the United Nations Educational, Scientific and Cultural Organisation (UNESCO). Egypt's Foreign Ministry criticized the UNESCO over the award and warned against 'politicization' of the organization. The Press Syndicate constantly called for the release of journalists behind the bars.
Tens of articles were banned and censored over the past year, with Reporters Without Borders labeling Egypt as an unsafe place for journalists. However, auhtorities refuse these claims.
High Representative of the European Union for Foreign Affairs and Security Policy Federica Mogherini stated on Thursday that the freedom of press is threatened around the world, adding that independent journalism is vital for holding states accountable, according to Daily News Egypt.
---
Subscribe to our newsletter
---