Another year, another Ramadan filled with unusual desserts. It's easy to spot the advertisements on various websites but no one can tell how good these desserts are unless they're tried, and an honest opinion is shared. Curious about what you can taste on your very last chance to buy a dessert before Ramadan? Here's a list of Egyptian Streets deems to be the best to most disappointing desserts tried this year.
1. La Poire's Lotus and Oreo Kunafa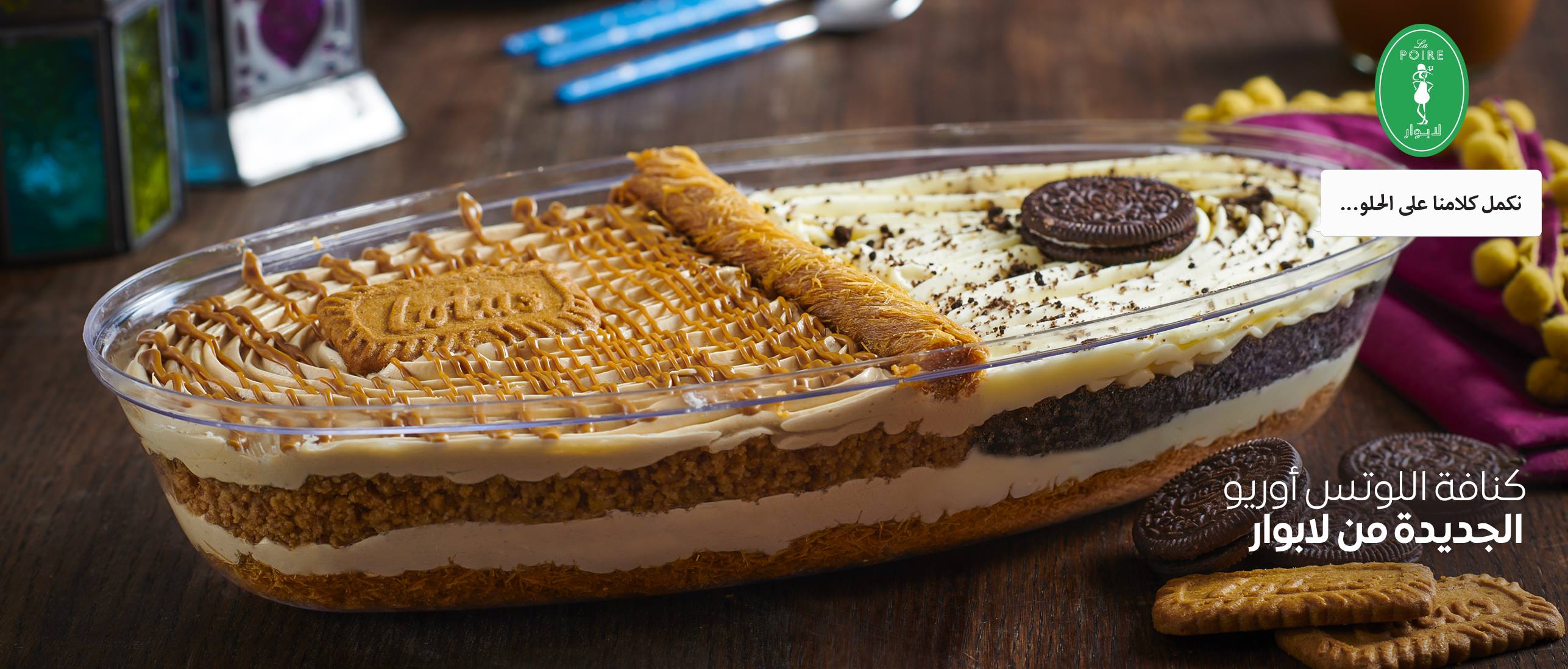 S: At first glancing upon the La Poire Lotus and Oreo Konafa, I felt oddly excited and borderline uncomfortable. My favorite Ramadan delicacy, the konafa, was paired with two of my favorite biscuits, Lotus and Oreo, and yet; they did not seem as though they would flatter one another. However, since Ramadan in Egypt is about taking culinary risks, I had to try it. The Lotus Konafa was delicious. The sweetness of the Lotus creme paired with the crunchiness of the konafa faired well with one another. I especially enjoyed the caramel drizzle and the biscuit crumbles that were stashed inside every bite. The Oreo cake, however, was awkward to eat. The Oreo portion was a combination of konafa, brown sponge cake, topped with white Oreo creme – that didn't taste much like Oreo at all.It was very bland, and tasted like an overall messy experience. I would certainly love to see the Lotus konafa on its own next year, but without its Oreo counterpart.
RATING 4/5
2. Tiramisu Kunafa From Dukes
S: No one ever considers actually buying Tiramisu in Egypt for the sole reason that tiramisu is never prepared properly. Surprisingly, the famed Italian dessert with a twist was sold at Dukes, and it was absolutely delicious. The dessert consisted of a tiramisu top, sprinkled with cocoa, with a kunafa bottom. At first bite, the dessert packed a slight coffee punch that was not overly sweet – the mascarpone mix of the tiramisu was completely on point and it complement the crunch of the kunafa beautifully. However, it there is one thing to reproach was that the kunafa was too hard to cut through, even with silverware. All in all, the dessert is a beautiful homage to East and West.
RATING 4/5
3. Four Fat Ladies' Ramadan Brownies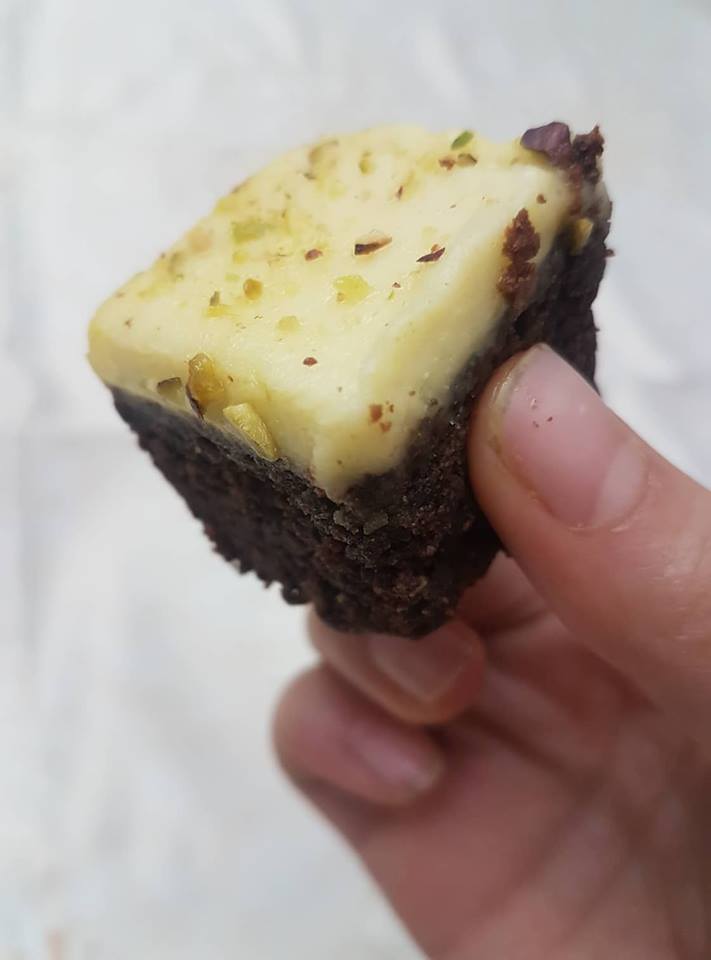 A. The halawa brownies were nice. The halawa presumably added an extra sweetness but the distinct flavor wasn't perceptible. I tasted something sweet but wasn't sure what it was and could have never guessed halawa. It was a little dry and not moist.
B. The salted caramel brownie with kunafa one was decadent but with no hint or crunch of a kunafa. The brownie' inside was moist and rich.
C. The cardamom brownie with halawa topping and crushed nuts was surprisingly sublime. It was reminiscent of the spices used in a carrot cake, especially with the icing on top. Sadly, we couldn't taste the halawa in the icing at all. The cardamom was really a pleasant surprise. Both the cardamom and salted caramel weren't as sweet as the halawa and carried a perfectly sweet lunch without being overbearing. It was really unusual pleasant. It might not be everyone cup of tea but it was Western desert meets eastern spice.
RATING: 4/5
4. Tres Leches Cake from Sale Sucre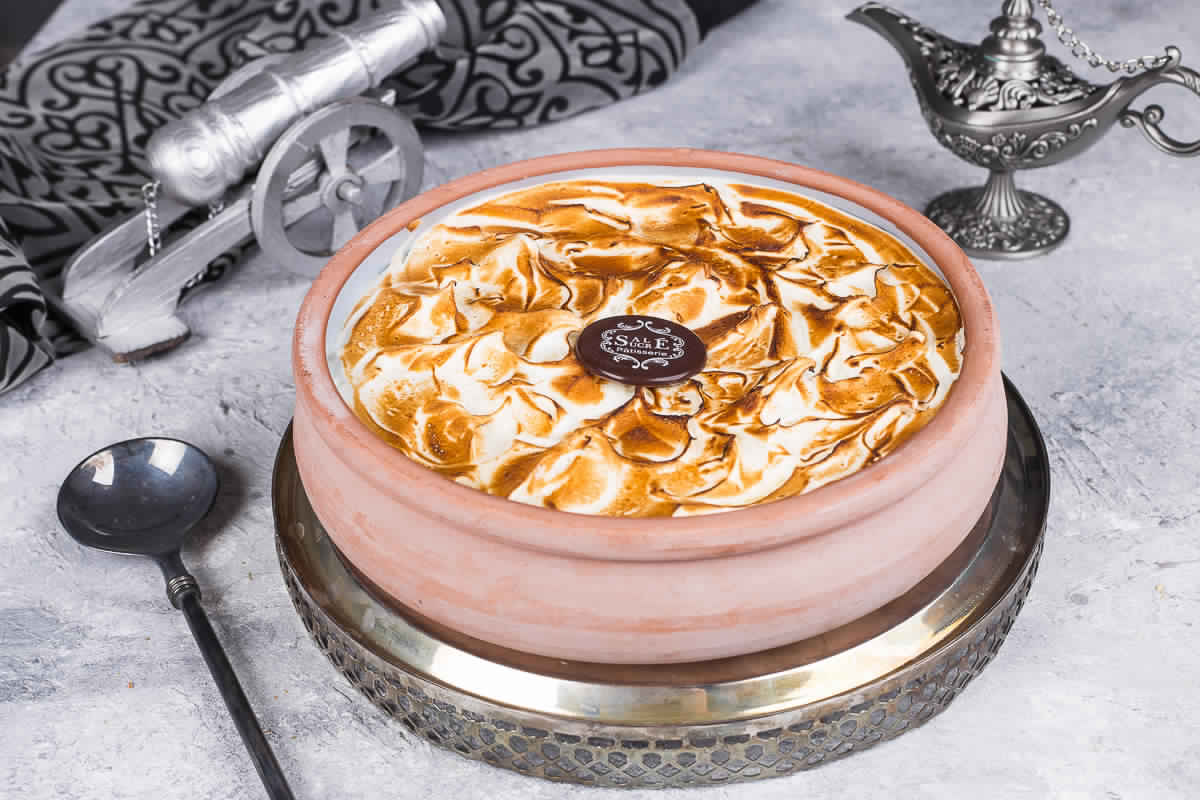 S: It was confusing as to why this dessert made it to Sale Sucre's list of Ramadan desserts in the first place. However, who is to complain? The south American dessert has been growingly popular in Egypt, considering we were starved from fasting, we were ready to try about anything. The cake looked beautiful, with a carefully scorched brown layer of cream. We dug in, savoring the fluffy and delicious texture. It was sweet and pleasant with a consistency of freshly made cream. The sponge cake has absorbed the milk. Maybe some red berries, or any tart fruits, would have broken the overall creamy taste. The dessert proved to be a hit with almost 70% of it gone in 5 minutes.
RATING 3.5/5
5. Kunafa Ice-Cream Cone at Sugar rush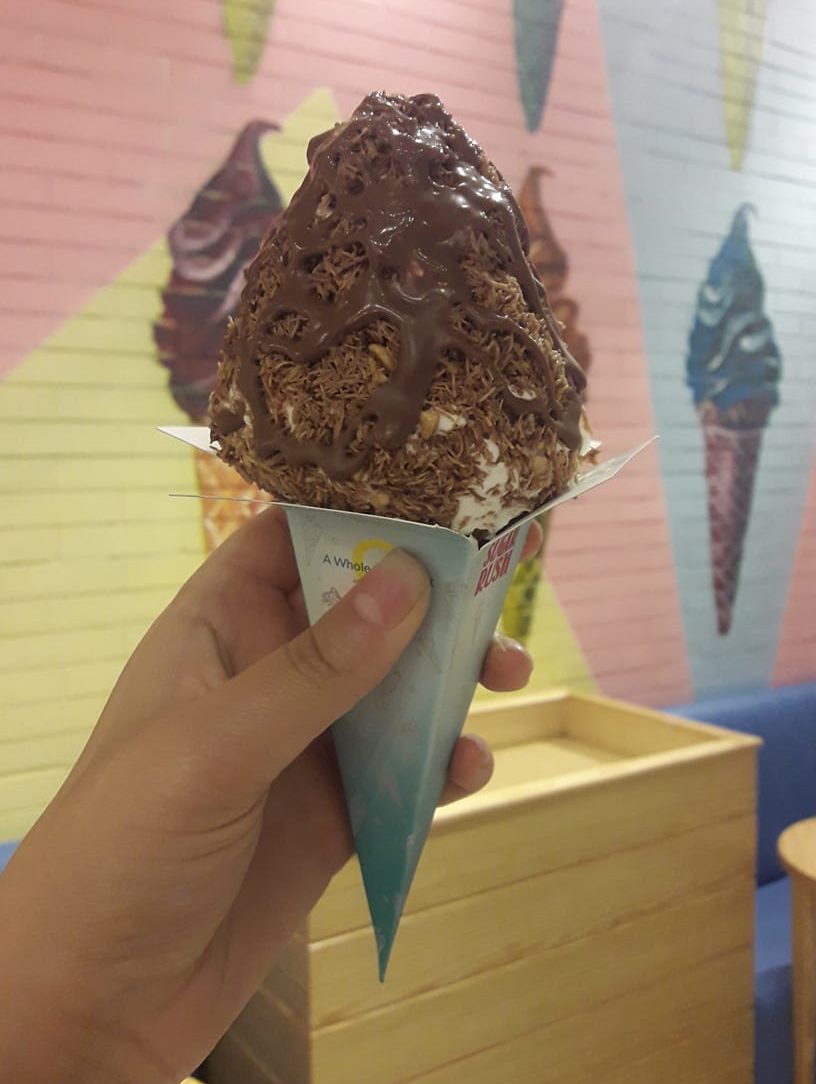 S: Ramadan fasting and Egyptian summer don't mix well. Tired of the typical desserts portrayed everywhere, we opted to try something new. We bought an ice-cream cone at Sugar rush, it consisted of simple milk-flavoured soft serve topped with a mountain cap of hazelnut-infused nutella kunafa and sprayed with extra chocolate sauce on top. It was fresh, delicious and absolutely perfect for the weather.The wafer of the cone was another marvellous aspect in its own, with strong hints of vanilla.The wondrous dessert came in a cone cover, which was a wonderful invention for messy eaters (like myself).
RATING 3.5/5
6. Cronafa by TBS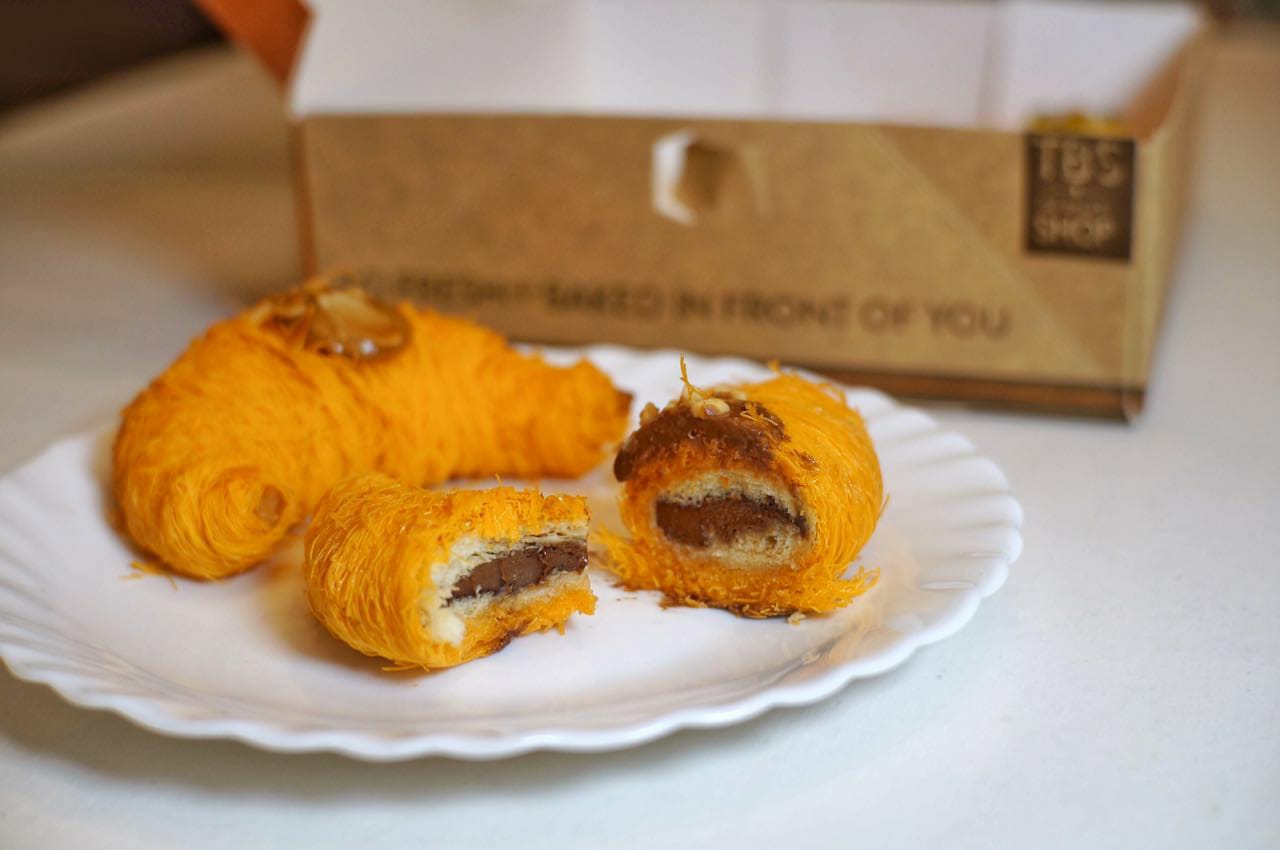 A very special review from the Hungry Giraffe: Every Ramadan dessert shops and bakeries go in to this frenzy, where they try to come up with the weirdest kunafa combos, so they can stick it to their competitors. This year the one that really caught me eye was TBS's offering. It's a twist on their famous Cronut; but wrapped in kunafa! I tried three flavors: Pistachio with cream, Date with Lotus and of course; Nutella. They were really tiny and really rich. While the Pistachio cream and Date Lotus, weren't that great, with the latter lacking any taste of Lotus biscuits; my absolute favorite was the Nutella, as it was filled with real Nutella and not some cheap alternative.
RATING: 3/5
7. Tortina's Yoghurt Kunafa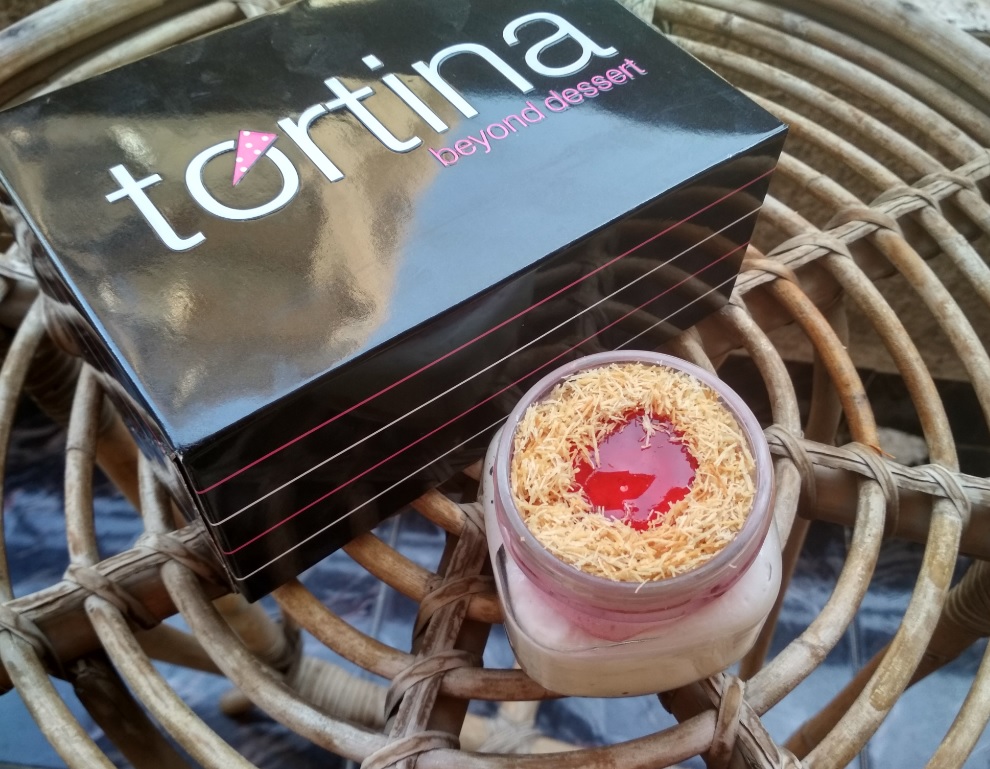 N: Legend says: "Eat yogurt during Suhour and you won't feel as much thirst on the following day". Tortina offers a yoghurt jar but with the twist you didn't know you needed: a Basbosa base with yoghurt and cherry on top and more Kunafa sprinkles around the tip of the jar, that is sure to overflow as you dig your spoon into it. It's one of a kind yoghurt. The bland, calming yet slightly sour taste of the yogurt is combined with a shockingly strong sweet taste from the cherry and cherry sauce. It might be too sweet for some but the Kunafa's crunch definitely balances it all and compels you to take one more spoonful. If yogurt is an essential element on your Suhour table, then this dessert is a must for you: it's hydrating and energizing: it should give you the energy you need for a day of fasting.
RATING: 3/5
8. Creme Brulée Konafa from Nola
D: We had very high expectations from Nola regarding this dessert. Who, amongst us, is not a fan of delectable crème brulée with a thin coating of caramelized sugar on top? Well, unfortunately enough the dessert was an odd mismatch of ideas. It consisted of a konafa base topped with crème brulee. The base itself was fine, nothing about it was remarkable. However, the crème brulee itself left much to be desired. First of all, the sugar wasn't even caramelized on top. It has layer of something torched, but the texture of the torched top was similar to over-burnt béchamel. Secondly, the texture of the crème brulée was much denser than needed to be. We thought we were eating mahalbeya. Lastly, in no way or shape did the crème brulée or kunafa compliment each other. Our dream of a an Franco-Egyptian dessert medley were ruined.
RATING: 2/ 5
9. Dukes' Nutella Baclava Cake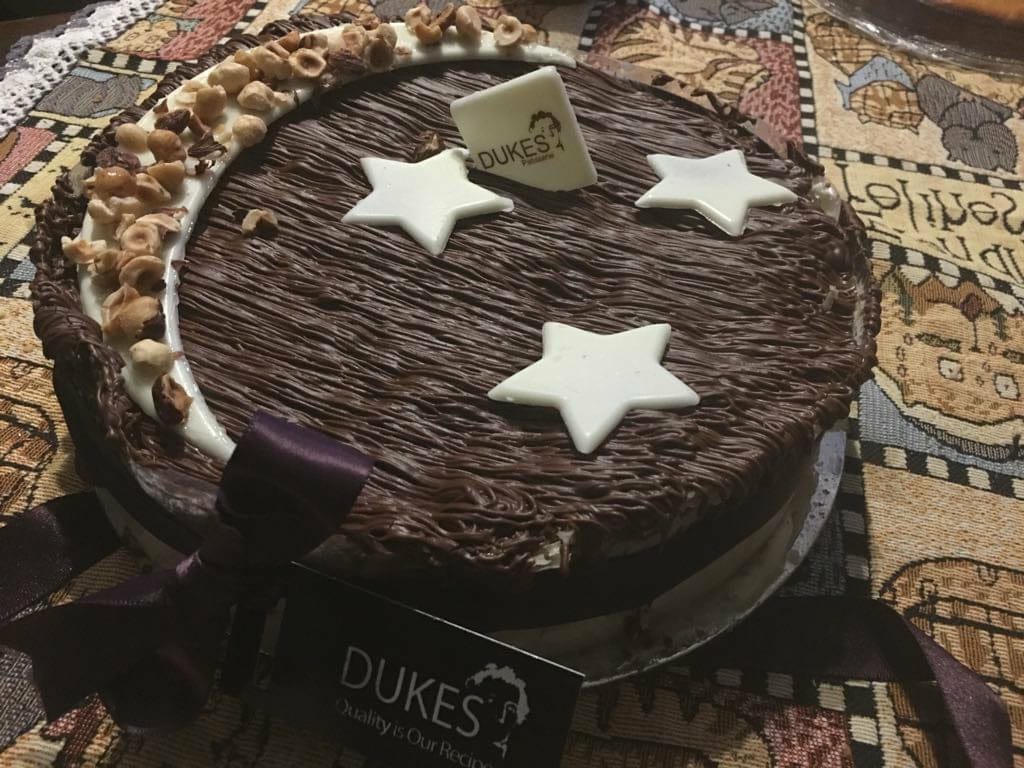 S: Chocolate decorated with a large moon and stars, followed by a pastry layer of cream and slices of bananas followed by cake followed by a heap of whipped cream, followed by more cake and then more pastry. Willy Wonka couldn't have came up with a better invention. What is it? I asked the guest who brought it over. ''Nutella bcklava'' he said. I was intrigued as I spent 5 minutes trying to spoon the mixture into everyone's plate to no success. Eventually, I ended up eating the cake from my skirt as much as from my plate. The first taste that hit you as dig in is the banana which is surprisingly unexpected. Then, there is the weird bite from the actual baklava pastry which has a very strong textured bite to it, almost like paper. My father left most of his piece untouched. I tasted no Nutella. Everyone around me agreed that it was too sweet.
RATING 1/5
10. Lotus Basboussa from Nola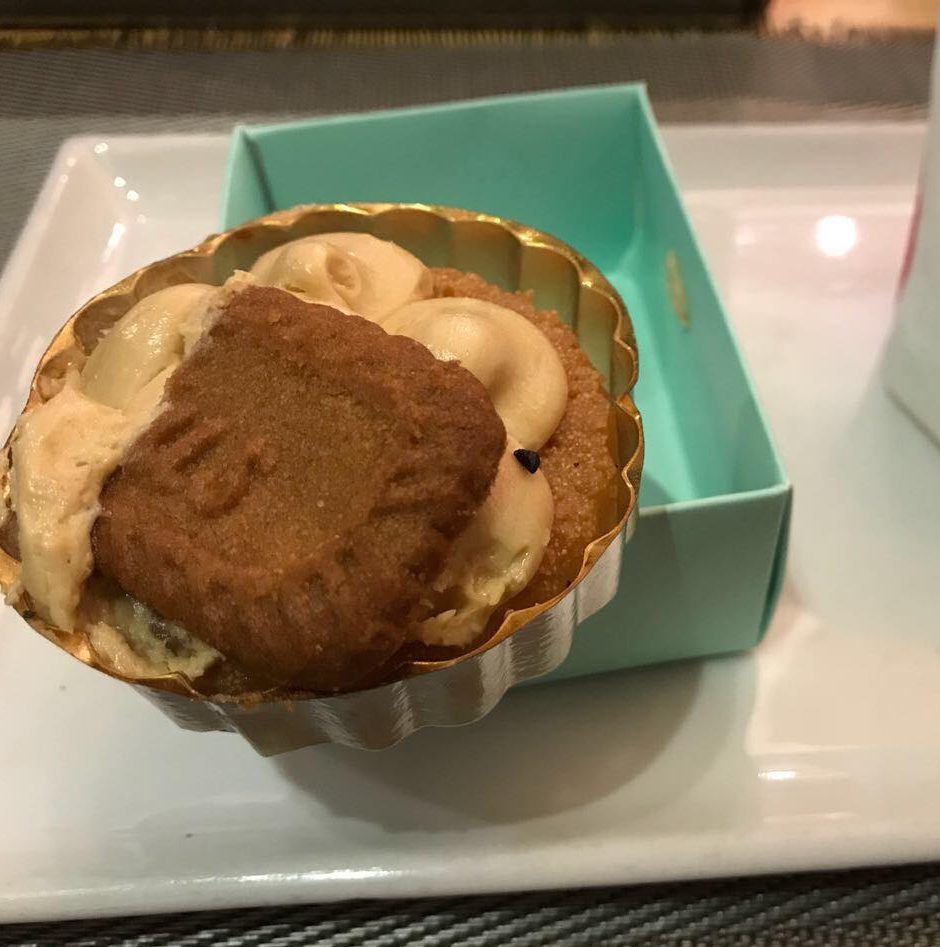 M: The Lotus Basboosa was the most confusing thing I had witnessed this month after seeing Trump meet up with Kim Kardashian to discuss prison reforms. The basboosa was exactly how all basboosa tastes, sugary cake dipped in syrup. The Syrup itself is sweet enough. The lotus creme topped on the basboosa was heavy lotus infused sweetness that formulated a mild migraine almost quickly after two bites. I personally would never eat this again.
RATING: 1/5