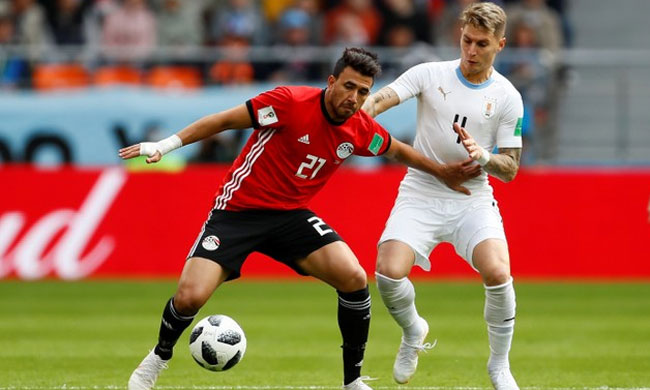 Friday's result was disappointing but only because the players made every Egyptian believe the team could have walked away from the match with at least a point. Nevertheless, it was a proud and admirable performance against a tough opponent. But, before we switch our focus to Russia, here are five takeaways from the match against Uruguay:
Mohamed El Shenawy: Brilliant
It's safe to say that most of us expected Essam El-Hadary to start in goal and become the oldest player ever to feature in a World Cup tournament. However, it seems that the 45-year old's performance against Belgium has shaken Hector Cuper's trust in him, forcing the Argentine to bench the legendary goalkeeper. El Shenawy's pre-World Cup performances weren't much better than El Hadary's either, but it seems that Al Ahly's goalkeeper stepped up in training. Surely enough, the display against Uruguay will be one that will stay in many minds for years to come, and one that earned him a Man of the Match accolade as he became he first ever Egyptian to win the award in a World Cup tournament.
Amr Warda is building a strong case
Having to fill in for Mohamed Salah, one of the world's best players, is as difficult a task could possibly get. But Warda, who plays for Greece's PAOK FC, has shown that he deserves a place in Cuper's starting eleven. Warda was the liveliest of Egypt's front four, linking up nicely with Ahmed Fathi on the right side and helping out in defense when needed. If Warda manages to maintain that level in training and against Russia, Cuper would be correct to bench either Marwan Mohsen or Abdallah El-Said in order keep Warda on the right side and consequently use Salah in a more central role.
We may have been quick to judge Sam Morsy
Morsy's performances with Egypt have been far from eye catching, and when I saw him on that touchline ready to replace Tarek Hamed, well…Tarek Hamed was having an amazing match, winning tackles all over the pitch in what was, overall, a very tactically disciplined and a strong physical performance. But, while Hamed remains the better footballer, Morsy made the former's absence go almost unnoticed as he stepped up in the biggest game of his life. If Morsy keeps this up, we have a very decent backup for both Hamed and Mohamed Elneny on our hands.
Cuper needs a plan B
A wise man once said: "attack wins you games, defense wins you championships". This is probably Hector Cuper's life motto, but it surely does seem that coach's plan might actually work. Egypt's defense put on a very strong performance yesterday, frustrating two of the world's best attackers and keeping them from scoring. Uruguay has the strongest forward line in Group A, which means that there is no reason why Egypt shouldn't be able to maintain two clean sheets against Russia and Saudi Arabia if Ahmed Hegazy and Aly Gabr could keep this up. But, as solid as the defense is, Egypt's attack lacks creativity and struggles to create chances in the final third. Instead, the team heavily relies on counterattacks and prays for defensive errors on the other side of the field. Salah's return will give defenders much to worry about, and will undoubtedly boost the team's morale knowing they have "the hottest property in the Premier League right now" on their side.
Nevertheless, Cuper has to figure out a plan B in case Salah is still not fully fit for the game against Russia. And, more importantly, we won't make it another 28 years with Magdy Abdel Ghany reminding us of his goal against Netherlands.
Kahraba deserves Marwan Mohsen's spot
Kahraba, despite being utilized as a centre forward, adds a lot more energy and pace to the front line than Mohsen does. His speed puts pressure on the opponent's defensive line and keeps defenders wary of his presence.
Marwan Mohsen, so far, has added little to nothing in attack, simply because he lacks the qualities needed to function in Cuper's system. The Al Ahly forward is more of a target man, which requires his team to keep possession and be able to push numbers forward in order for him to stay close to the goal and inside the opponent's penalty area.
With Salah still out of the picture, Kahraba deserves a shot against Russia.
---
Subscribe to our newsletter
---