Emojis: we use and love them. They exist for everyone in the world, replacing words when words fail us. Do you reckon you know what's there to know about them? Seventy-four-year-old Egyptian artist Samir Fouad might have possibly invented emojis before the trend even caught on. Samir Fouad is not your typical grandfather, he understands and uses the symbolic power of curvy vegetables and fruits much like you normally and naughtily would on your phones.
The first emoji was actually invented in 1999 by Japanese telecom engineer Shigetaka Kurita, who took inspiration from stock and weather symbols, Chinese characters and street signs.  However, the not-so-innocent Mr. Fouad was already flirting with art viewers using his firm yet translucent eggplants at his solo exhibition at Cairo Opera House in 1997, two years before Mr. Shigetaka's creation. While some might have more feeling for Mr. Fouad's luscious, naked pears, the favorite of his show was definitely those ambiguously shy yet intelligibly moist Egyptian figs.  This was 1997.  Who knew water color paintings could be such potent aphrodisiacs?
At Ubuntu's "Revisited 2" Summer exhibition, gallery manager and curator Nadya Shanab presents Egyptian modern favorites along with curious contemporary work by younger artists based in Alexandria and Cairo.
While perusing the "Revisited 2" collection, there is an untitled piece. It is a rare, color-fields investigation of the Nile river belonging to Samir Fouad. The latter's artistic style has since evolved but his sensuality, melancholy and playful energy remains and is further distilled. This particular piece is not his usual work yet it is unmistakably Samir Fouad's.
A second canvas, displayed near the stairs, takes you back to the childhood memories of the laughter and excitement of traveling Eid carnival's swings and shooting games.
Another Egyptian contemporary icon, Farouk Hosny, has a seasonally appropriate, refreshing mixed-media piece at the exhibition.  In his bold use of mouth-watering chartreuse and almost transparent blue, he teases our perceptions of dimensions and reacts to our psychological undercurrents.  It may taste like a lemon iced tea, but it feels a Long island iced tea.
Nadya and gallery founder Ahmed al-Dabaa's taste for the uncharted is palpable. They hope to lend their gallery as a platform to emerging artists with proven, under-appreciated talents.  Indeed, the gallery program helps younger Egyptian artists by amplifying their voice, for them to be listened to, for them to be heard.
At the alcove gallery, Hannah Stevenson gives us a history lesson on the geopolitics of fabric weaving, through clever, pop-art treated canvases.  The Kaaba is the large holy black cube, and Kiswah is the black cloth that covers the Kaaba in Mecca.  Every year, during Hajj, Kiswah is draped over the Kaaba on the ninth day of the month of Dhu al-Hajjah, the month of pilgrimage.
From the time of Ayyubids (1171-1260), the Kiswah was always been made in Egypt.  After the fabric making process completed, the Amir captain of the Hajj Caravan, along with hundreds of his entourage, transported the Kiswah from Cairo to Mecca.  This tradition lasted for centuries, until the manufacturing moved to Saudi Arabia in 1927.
Stevenson's portraits and scenes here are characters from the caravan team traveling annually from Egypt, through the Sinai all the way to Saudi Arabia.  For what reason did the Saudis decide to make the Kiswah on their own instead of upholding this Egyptian tradition, one must wonder.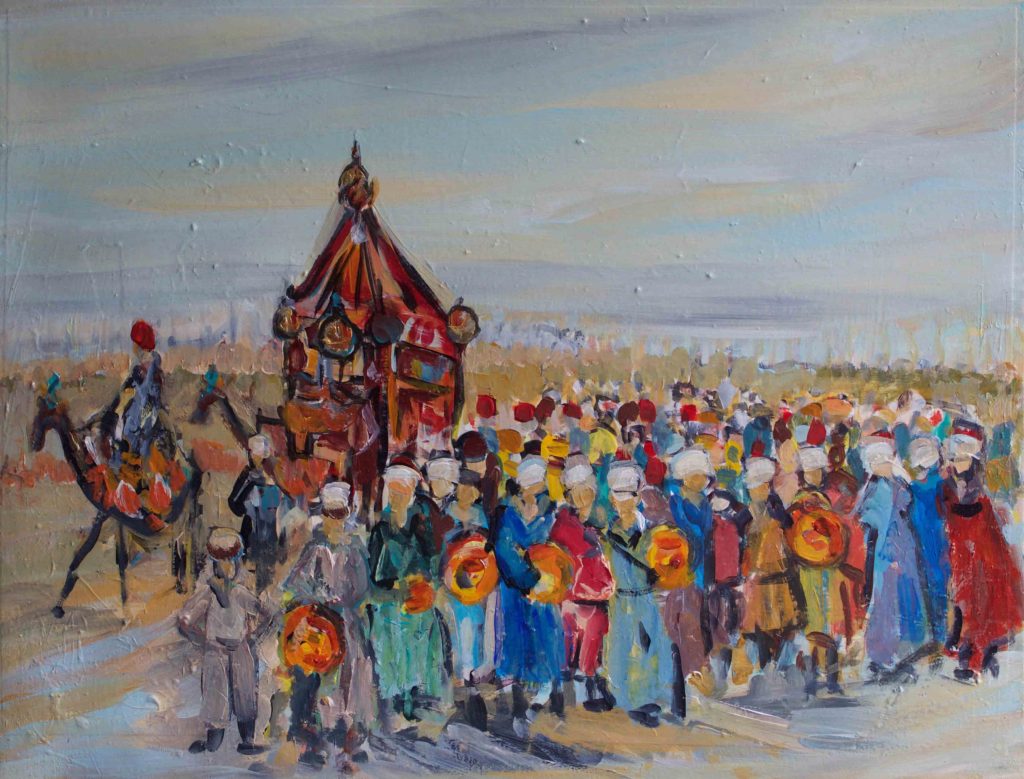 Tarek El Sheikh's avatar comes to life in this effective pencil on paper work. It is a little ghostly but also a little amusing. More Casper, less Insidious.  One should not miss the opportunity to see expressive, colorful work by Egyptian pioneer modernist Leila Izzat, contemporary painter Sahar Alamir and Sudanese artist Mutaz Elemam, who recently exhibited at Miami's Context art fair.
The entire exhibition, though eclectic, is a mini crash-course in Egyptian modern and contemporary art appreciation.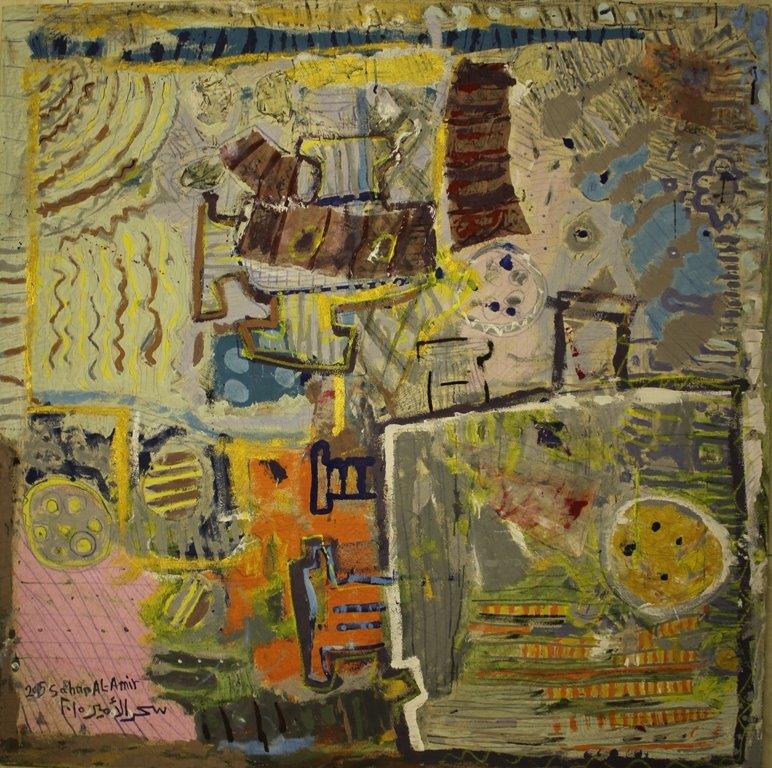 The opportunity to study the pieces lead me to eventually meet Samir Fouad and interview him at his Heliopolis studio.  When asked what he would like to convey to Egyptian Streets' readers in their 20s and 30s, he expressed his wish for young Egyptians to not simply look at art superficially but also try to really see; to not just listen to music, but listen the message that accompanies the tune.  In other words: think more, go deeper.
His idea of the notion echoes with Ubuntu gallery's approach.
"Revisited 2" exhibition runs until August 9th, 2017
Ubuntu Art Gallery, 20 Hassan Sabry Street, Zamalek, Cairo, Egypt
All weekday except Friday, 11am – 8pm
---
Subscribe to our newsletter
---