On Tuesday, hundreds of Egyptian Copts and Orthodox Ethiopians gathered in the town of Durunka in Assiut for the Assumption of the Virgin Mary festivities.
The event commemorated the end a 15-day fast which marked the beginning of the celebrations.
During the 15 day fast, Coptic churches host a "Nahda" which is a daily 2-hour prayer practiced by Coptics across the world where they gather to honor the life of Virgin Mary.
The Assumption celebrates the Virgin Mary's assumption into heaven after her bodily death without the normative process of decay. The Assumption is usually on or around August 15. Coptic Christians celebrate on 16 Masarra which fell on August 22.
The celebrations are unanimous around the world and the day is considered a public holiday in parts of Europe including Italy, Greece, France, Austria, Chile, Croatia and Portugal.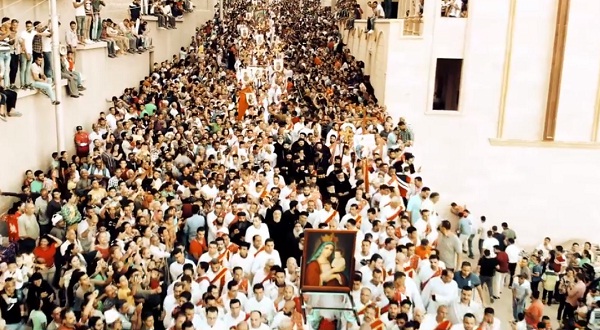 With the guidance of a priest, Copts gather to parade, chant and pray in honor of the Virgin Mary to pay tribute to her life, blessings and services.
In Egypt, the celebrations take place every year at the Virgin of Mary monastery, which was built in the first century and is located on the Mountain of Assiut. The monastery is believed to be home for the last route the Holy Family took.
On the last day of the fast, worshipers carry flowers and pictures of the Virgin Mary as they parade across the monastery while reciting chants and prayers glorifying Mary.