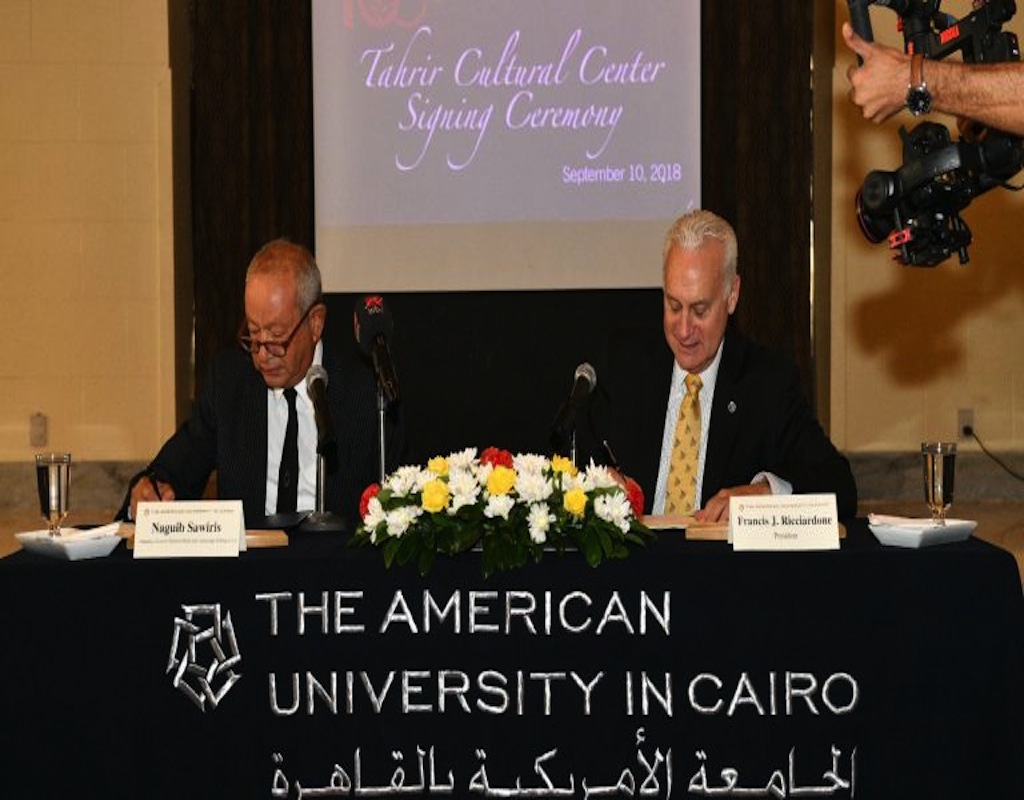 Businessman and chairperson of Orascom Investment Holding Naguib Sawiris signed an agreement on Monday at AUC's Tahrir Campus to establish the American University in Cairo's Tahrir Cultural Centre (TCC).
The signing was attended by AUC president Francis Ricciardone and some of the university's staff.
Completely owned and run by the AUC, the cultural centre is aiming to fill the gap between Egypt's cultural centres, such as the Cairo Opera House and the academic theatres, and to provide an alternative for new and fresh talents to showcase their art.
The official opening will be held on 19 February 2019, coinciding with AUC's 100th anniversary.
"The TCC will be a comprehensive art centre combining all sorts of arts, unlike any other cultural centre in the area," Sawiris told Daily News Egypt (DNE), "what drove me to invest in this centre is the love I have for it. It's totally connected to my feelings towards this building (AUC's Tahrir Campus). I have a lot of memories in it; I used to come here when I was young to watch movies and attend Jazz concerts".
He further added that TCC will combine all sorts of arts, including music, theatre plays, painting, sculpture and cinema. It is also an attempt to revive Egypt's lost art legacy and to encourage the youth to share their creativity.
"I believe in the power of arts and culture in transforming communities and creating a long-lasting positive impact on youth and children, and I believe that we are in utmost need for this positive impact in today's Egypt," Sawiris further noted in the press release.
TCC Director Aly Mourad also stressed that the centre will be free from any political or religious affiliation, and will operate freely.
"Unlike most of the cultural centres, which eventually follow the owner's beliefs whether religiously or politically, the TCC is planned to be an open platform for all different types of art, ideologies and beliefs," he told DNE.
Last year, Naguib Sawiris also launched the hugely successful event of El Gouna Film Festival, which will take place again this year from 20 to 28 September 2018.
Sawiris joined his family business in 1979, whose father Onsi Sawiris established the engineering, procurement and construction company Orascom Group.
Later, Sawiris contributed to its growth and diversified the company to include railway, information technology and telecommunications sector.
In 2016, Forbes released its report of the world's richest people, where Naguib Sawiris ranked second with a net worth of $3 billion. Currently, he has a net worth of $5.5 billion.
---
Subscribe to our newsletter
---