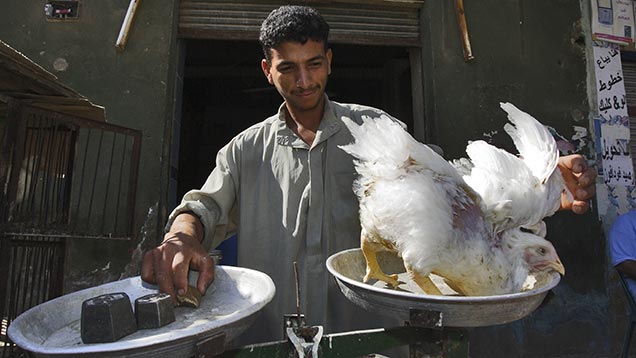 Egypt's Ministry of Agriculture deputy Mona Mehrez revealed that the ministry will put into effect the the 2009 law which prohibits the trading and unlicensed selling of live poultry.
Although the law has been established in 2009 and has not been put into effect, the law is meant to help regulate the conditions of poultry production.
According to the constitution, poultry are only allowed to be butchered in licensed abattoirs. Before selling the frozen product to distributors, traders are also required to have authorization post veterinary inspection.
The deputy minister of agriculture said that the ministry plans to ban live poultry trafficking in Greater Cairo. Mehrez highlighted that the illegal trade market occupied 30 percent of the country's poultry market.
While the law will first be applied in Greater Cairo, the minister confirmed that it will later expand to the country's second largest metropolitan city, Alexandria, as well as the capitals of other governorates in Egypt.
By shutting down unlicensed abattoirs, local slaughterhouses will be able to operate in their full capacity. The Ministry of Trade will also grant poultry shop owners soft loans as a form of investment allowing them to buy frozen poultry products for resale and distribution.
The law will also curb the spread of bird flu in Egypt and ensure the proper veterinary examinations. Up until January of this year, there has been at least 362 reported cases of avian influenza in Egypt making up 42% of the world's infected population. The disease can easily be transmitted in the country because 52% of Egypt's protein intake is from chicken.
According to a research done by the National Center for Biotechnology Information (NCBI), urban poultry transmitted the disease to almost 90% of the people infected worldwide.
---
Subscribe to our newsletter
---