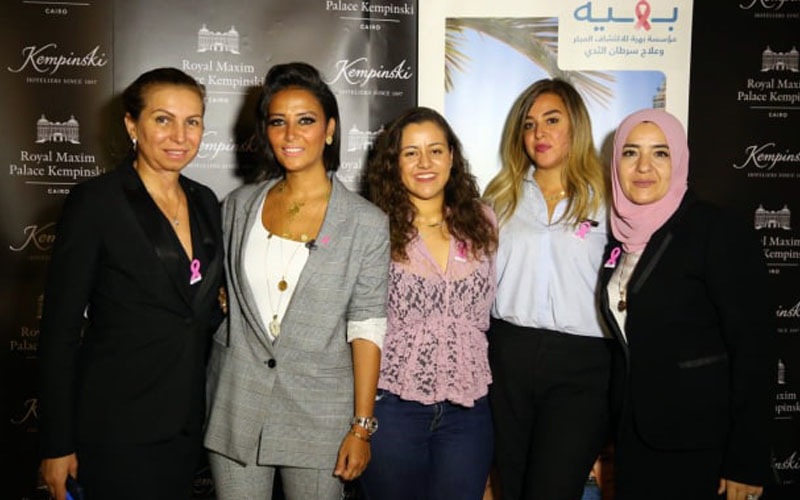 In celebration of Breast Cancer Awareness Month (BCAM), Baheya Foundation for treatment of breast cancer organised an event at the Royal Maxim Palace Kempinsiki last week to honour breast cancer fighters and raise awareness about the issue.
The event saw the gathering of tens of breast cancer survivors that shared their stories and how they were able to fight the illness. It addressed the symptoms of the disease and ways of prevention and self-examination, as well as the existence of psychiatric support units for patients and their families.
Yasmine Gheith, the young Egyptian actress who starred in the Ramadan series 'Halawat Al Donia', was honoured for her role in raising awareness about being optimistic and positive with the illness, and tackling the societal idea that 'cancer equals death'.
In her speech, Gheith expressed how she initially thought that she had a few remaining days to live, as she noted tearfully, "I was young, a mother of a little child, and an energetic person with hundreds of friends. I could not help but ask God why?"
Later on, however, when she began to hear about the positive stories of breast cancer survivors and who lived long lives, she decided to take on a mission to spread that message across to other women.
"Once I started looking at the positive sides of having cancer, my life changed. So, I decided to change other people's lives as well," she said.
Baheya's campaigns and events in various governorates have contributed to raising awareness on the importance of early detection and treatment of breast cancer. It has various donation methods which are received through its website  link or through the number 16602.
According to the World Health Organisation, breast cancer is currently one of the leading cancers affecting women around the world, particularly in the development world due to increased life expectancy and increased urbanization.
Hala Bayezid, director of public relations and communications at Baheya Hospital, noted that, "the number of early examination for the past nine months since January 2018 until September reached 15,371, and the number of patient visits was 46,957 times, indicating the importance of raising awareness about the issue."
---
Subscribe to our newsletter
---