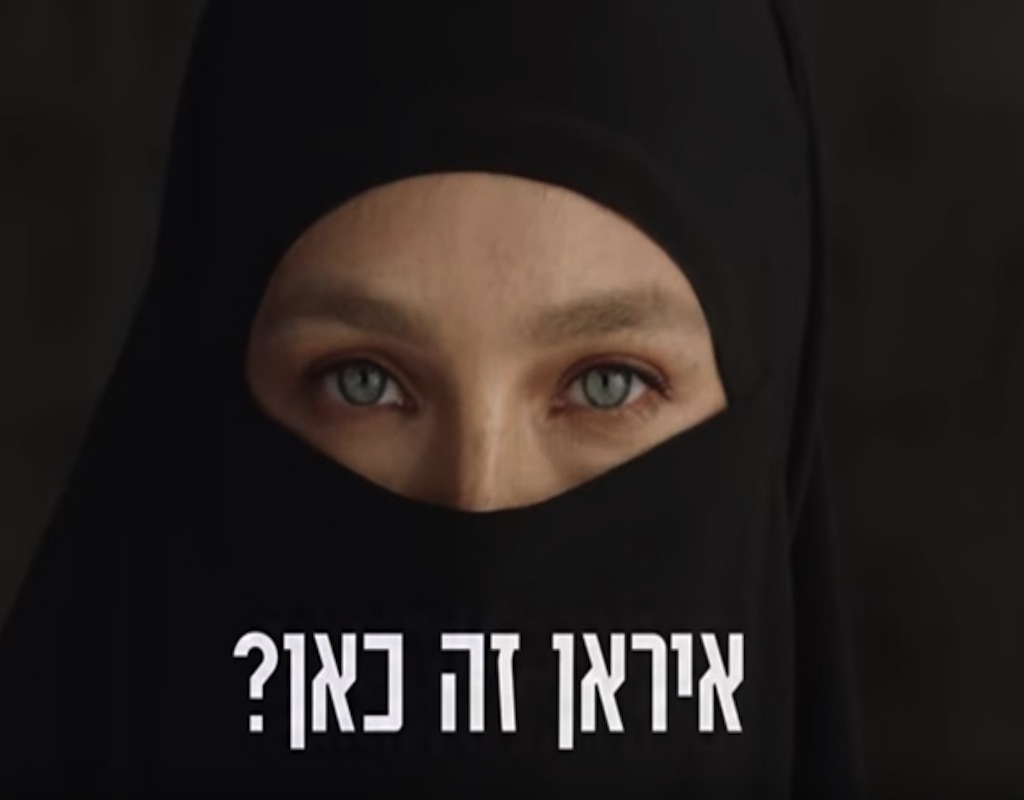 A new ad for the Israeli clothing brand Hoodies was heavily criticised after its release on Sunday featuring model Bar Refaeli removing her niqab (face veil) and hijab (head covering) under the tagline "Freedom is Basic".
The advertisement starts with the question, "Is Iran here?" with an image of Refaeli in niqab, before she first removes the face veil and then her head covering, letting her hair loose as a song plays in the background with the lyrics, "It's all about freedom, finally breaking the chains, the cost of my freedom…"
The campaign is called 'Freedom is Basic', according to a write up by the Jerusalem Post, which will feature other Israeli figures like transgender actress Stav Strashko and Ethiopian-Israeli model Tahounia Rubel.
"The campaign is purportedly designed to call out racism and bigotry and support freedom," the article notes.
However, the ad drew many negative comments and criticism on social media, leading model Refaeli and Hoodies to remove the post from their Instagram pages. Though it is still available to watch on the model's Facebook page.
This is very weird… #BarRefaeli wearing a burka and claiming her freedom taking it off… Isn't freedom wearing what you want? Ah, don't forget to respect differences… #muslim #burqa #islam #women #hoodiesilhttps://t.co/djtlps7mg5

— Elisabetta (@eleesabetter) October 29, 2018
An #Israeli supermodel, @BarRefaeli, just launched an overtly Islamophobic ad that insinuates that #Muslim women are not free.@TellMamaUK @cjwerleman @doamuslims pic.twitter.com/vm7F6emsGU

— Chronicles of Shame (@ShameChronicles) October 30, 2018
https://twitter.com/MarwaBalkar/status/1057304309321293825?ref_src=twsrc%5Etfw%7Ctwcamp%5Etweetembed%7Ctwterm%5E1057304309321293825&ref_url=https%3A%2F%2Fwww.middleeasteye.net%2Fnews%2Fhoodie-advertising-Israel-Islamophobic-Iran-racism-elections-Bar-Rafaeli-90365275
Anti-muslim billboards were also seen around Israel in the past few weeks for the mayoral elections that were held on Tuesday, in an attempt to garner support for right-wing parties in Israel.
The Jewish home party in Ramla, a city which Jews and Muslims live together, launched a campaign for its city hall candidate: "This can be your daughter [if she marries a Muslim]". Naftali Bennet, the party leader, is the minister of education (of Israel). pic.twitter.com/vz6U63zZK2

— Suleiman Maswadeh (@SuleimanMas1) October 16, 2018
A second round of voting will be held on November 13 to decide on Jerusalem's next mayor, which will be between businessman Moshe Lion, who is backed up by Prime Minister Benjamin Netanyahu and the ultra-Orthodox faction, and activist Ofer Berkovitch, who advocates for a more 'open' and 'tolerant' Jerusalem.
---
Subscribe to our newsletter
---