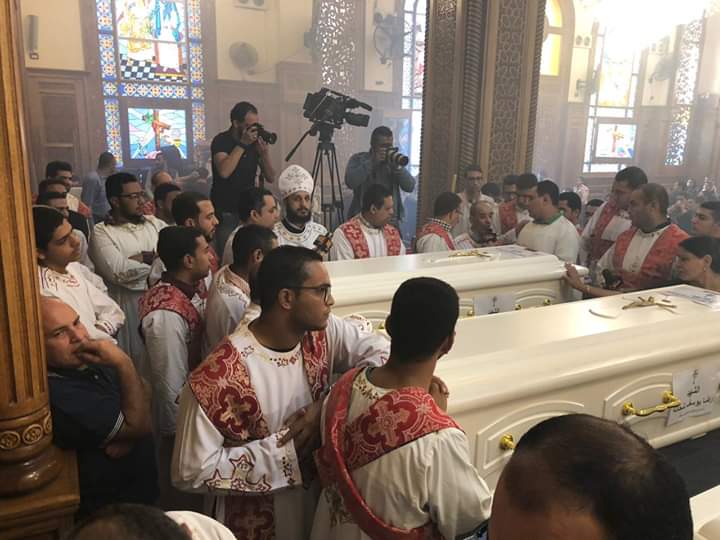 Egypt's Ministry of Interior Affairs announced on Sunday that it had killed 19 militants linked to the terrorist attack that left seven Coptic Christian pilgrims dead on Friday.
According to the Ministry, security forced tracked and chased the militants to a hideout in a mountainous region west of Minya governorate, where Friday's attack took place.
The announcement was backed with published photos of bloodied bodies with their faces concealed and shotguns lying beside them.
On Saturday, Minister of Social Solidarity Ghada Wali ordered EGP 100,000 compensation for the families of those killed in the terror attack.
The minister also ordered EGP 50,000 compensation for victims who were injured in the attack.
On Friday, gunmen opened fire on two buses carrying Christians near the Monastery of St Samuel the Confessor in Minya, killing seven and wounding 18 others.
Islamis State claimed responsibility for the attack as stated in the group's Amaq news agency.
At the World Youth Forum on Sunday, taking place between 3 to 6 November, Egypt's President Abdel Fattah Al Sisi said that Egyptian citizens should be given freedom to worship and that the state should not interfere.
"We in Egypt don't discriminate, we don't say this is Muslim and this is Christian; we say we are Egyptians," he said in reference to the attacks.
A citizen is free to worship… or NOT to worship: #Egypt 's #Sisi says to
crowds of the #WYF in #SharmElSheikh / President also asserts right of #Copts to perform religious rituals & construct churches, reiterated state commitment to fighting #discrimination pic.twitter.com/GUqFzD2NkW

— Amira El-Fekki (@afekki) November 4, 2018
---
Subscribe to our newsletter
---