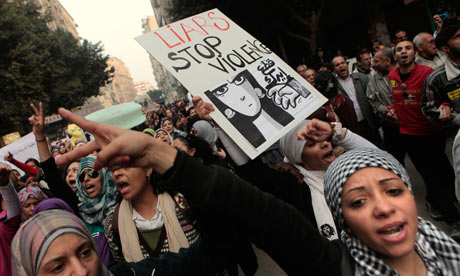 In France, 53 percent of women in 2017 were found to have been victims of sexual harassment. In America, it was 60 percent, and in Sweden, it was 64 percent percent.
In 2014, however, it was a different story. In France, only 20 percent reported to have experienced harassment, and in Sweden, it was 4 percent.
Other studies with different contexts also show a more shocking reality, with a recent 2018 study conducted on American women showing that 81 percent had experienced some form of sexual harassment in the street during their lifetime. France, too, reported that 100 percent of women were harassed on public transport in 2015.
Egypt as well faces the same confusion in statistics. According to a 2013 United Nations study, "virtually all Egyptian women have been victims of sexual harassment," with a whopping 99.3 percent of the women studied having been sexually harassed.
However, president of the National Council for Women (NCW), Maya Morsy, told Egyptian Streets in an interview that rate of sexual harassment in Egypt was only 9.6 percent in 2016.
So which is more reliable and accurate? The truth is, no one really knows. No one really knows the extent of sexual violence and harassment against women due to the fear of reprisals, the stigma borne by the survivor and many other things.
What should be known, however, is that it is continually occurring. Right this second. It is a daily occurrence that can happen anywhere and anytime and to any woman. To solve it, it should not be through calculating how many times it decreased each year, but through ensuring that there are effective enforcement measures against it.
The solution, in short, must be more action-oriented. It should be about how to punish and stop the perpetrator regardless of any statistic.
HOW SHOULD WE DEFINE SEXUAL HARASSMENT?
One of the main reasons of why statistics are often so different in numbers is due to the fact that the definition of harassment in itself can be influenced by culture, age, education, gender and class differences.
Universally, the concept of sexual harassment entails "unwelcome sexual advances, requests for sexual favors and other verbal or physical conduct of a sexual nature," whether it happens in the workplace or on the streets, as adopted by the United Nations.
Nevertheless, this is not always the case for all people in Egypt, as some Egyptians still consider sexual harassment to be primarily physical, while verbal to them could simply be 'moa'aksa', which is translated as 'hitting on someone'.
Mariam Mecky, researcher on gender studies, told Egyptian Streets that moa'aksa "undermines sexual harassment as a crime punished by Egyptian law and a violation to women's right in the public sphere."
"The key to determine harassment is unwanted behavior, as consent. Some organizations are working on that right now, most notably Harassmap, a volunteer- based organization."
How victims define harassment should be at the core of the definition, as this is an experience that can only be accurately expressed by them.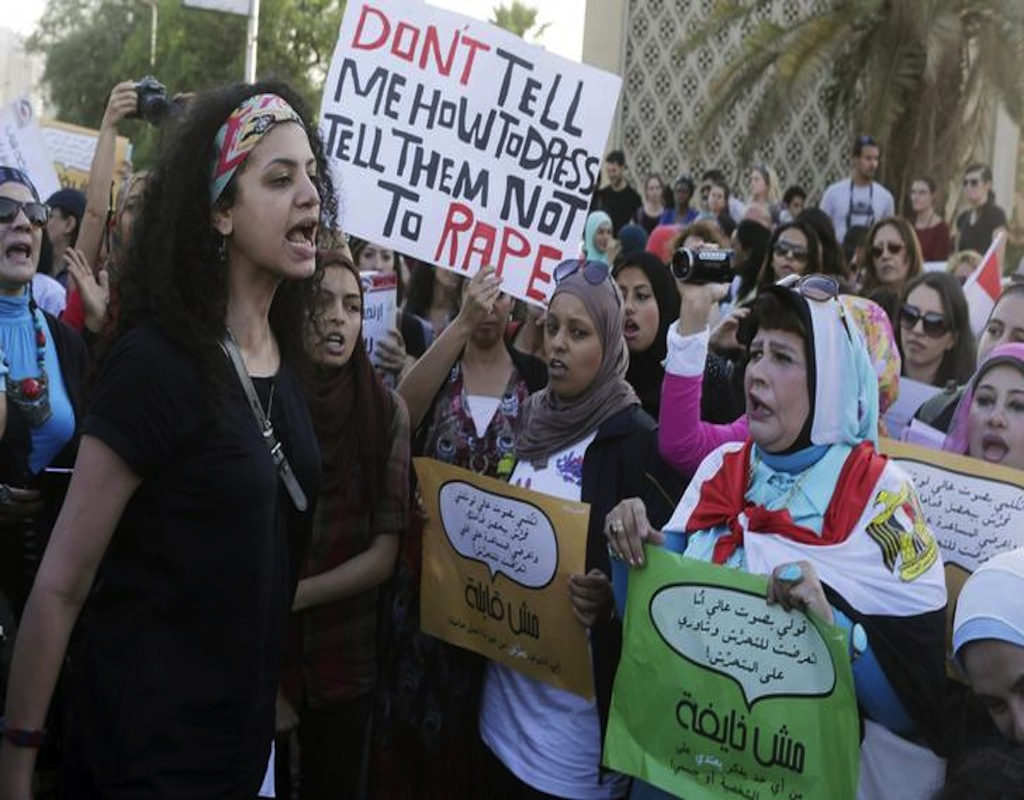 Maha, 49, was a victim of verbal harassment in the workplace, as she tells Egyptian Streets, "harassment is not necessarily something physical, it could also be even in the way someone looks at you or greets you, or any attempt to grasp your attention even if you are a married woman. This is actually the worst kind of harassment, because it is done in silence, but the woman has to find ways to put strong limits against it."
Norah Salem, a senior student at a private university, also notes how "verbal harassment is a normal, daily thing," even if one is privileged enough to not use public transport.
"Lately I have been moving from Cairo to Alexandria a lot, so I started to take the train, and even though I pay five times higher to get a first class ticket, I would still get verbally harassed. Last week, I was walking inside the station and a man decided to give a dirty comment about my body. I ignored at first because I was in a hurry, but he didn't stop," she told Egyptian Streets.
"He then 'accidentally' touched me, so I got really mad and pushed him away, and I was also very loud, but most people ignored. Two other guys started to jump in and say "well he has the right, you are so beautiful" or "get over it". Even some women started to make comments about the way I was dressed. When the policeman finally came, he told the guy "mys7esh keda" (this is not appropriate) and then proceeded to speak to me in a playful and flirtatious tone. When I told him that my father is a high level police officer, he started to change his tone, but still wasn't interested to help."
Such experiences prove that numbers and statistics do not matter, as it is clear that even if harassment statistically 'decreased', the weight of the experience in itself is still huge, and must have a quick and effective reaction to stop it.
WHY WE NEED ACTION-ORIENTED RESPONSES 
Harassmap, which is a volunteer-based initiative founded in late 2010, is based on the idea that "if more people start taking action when sexual harassment happens in their presence, we can end this epidemic together. We support individuals and institutions to stand up to sexual harassment before or when they see it happen."
It does this by going live with an online crowd-mapping system that asks users to anonymously describe their sexual harassment experience and pinpoint the location of the incident on a Google map.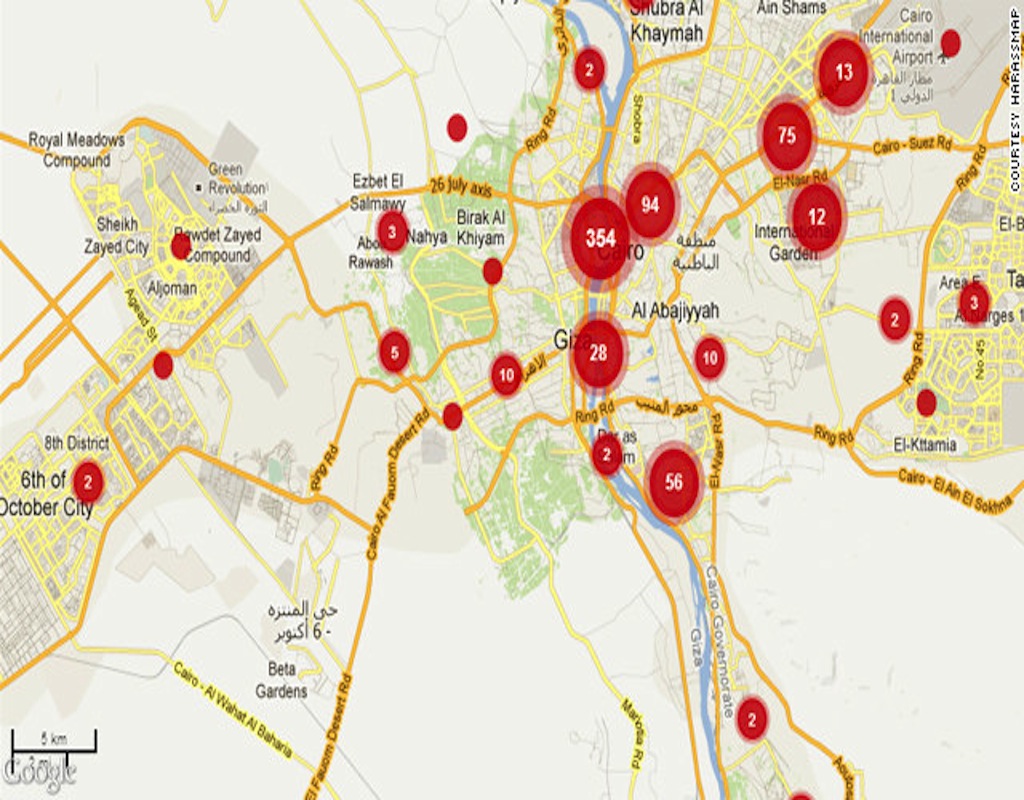 What this means is that the community must work together to respond to any harassment incident straight away, as the key issue is not how many times it is happening, but that it is happening, and it needs a response.
Rebecca Chiao, the cofounder of Harassmap, was disappointed with the top-down approaches adopted by the Egyptian Center for Women 's Rights (ECWR), such as carrying out research and promoting draft legal amendments to criminalize sexual harassment in Egypt.
However, this is not enough. The co-founders of Harassmap understood that the mission must aim to end the "social acceptability" of public sexual harassment and encourage people to stand up against it.
Thereby, the focus was centered on building community outreach teams comprising of local people who reach out to their neighbors and community kin to promote zero tolerance for sexual harassment.
Within each governorate, HarassMap trains volunteers to become "community captains" who are responsible for training their own volunteer team to carry out one or two outreach days per month to inform and instill within people a sense of responsibility for solving the problem of sexual harassment.
HarassMap 's Eba ʾa el-Tamimi once highlight, "I'm not telling the harasser to stop harassing. I'm not telling him to 'stop this long-term behavior that you 've been doing all your life.'…I 'm not even talking to him. I 'm talking to people in the street. . . The idea is to activate these people."
A NEW CAMPAIGN BASED ON ACTION  
The future is not pessimistic, as for the first time in Egypt, a coalition of partners including the Ministry of Investment and International Cooperation, the European Union in Egypt, media entities and celebrities have united to launch an awareness raising campaign to combat sexual harassment in Egypt.
The campaign was produced by the multi-award-winning social start-up Bassita and mostly funded by leading Egyptian real estate developer SODIC.
It is composed of offline and online elements, with an awareness video featuring Egyptian actor and musician Hany Adel as well as actress Menna Shalabi, which encourages the community to support the victim and to take immediate action against the harasser.
Through this campaign we hope to reach more women and men and to educate the society that sexual harassment is not acceptable and that everyone should stand against it. This behavior negatively impacts the whole community, not only women," states Ms. Blerta Aliko, UN Women Country Representative, in an official press statement.
---
Subscribe to our newsletter
---