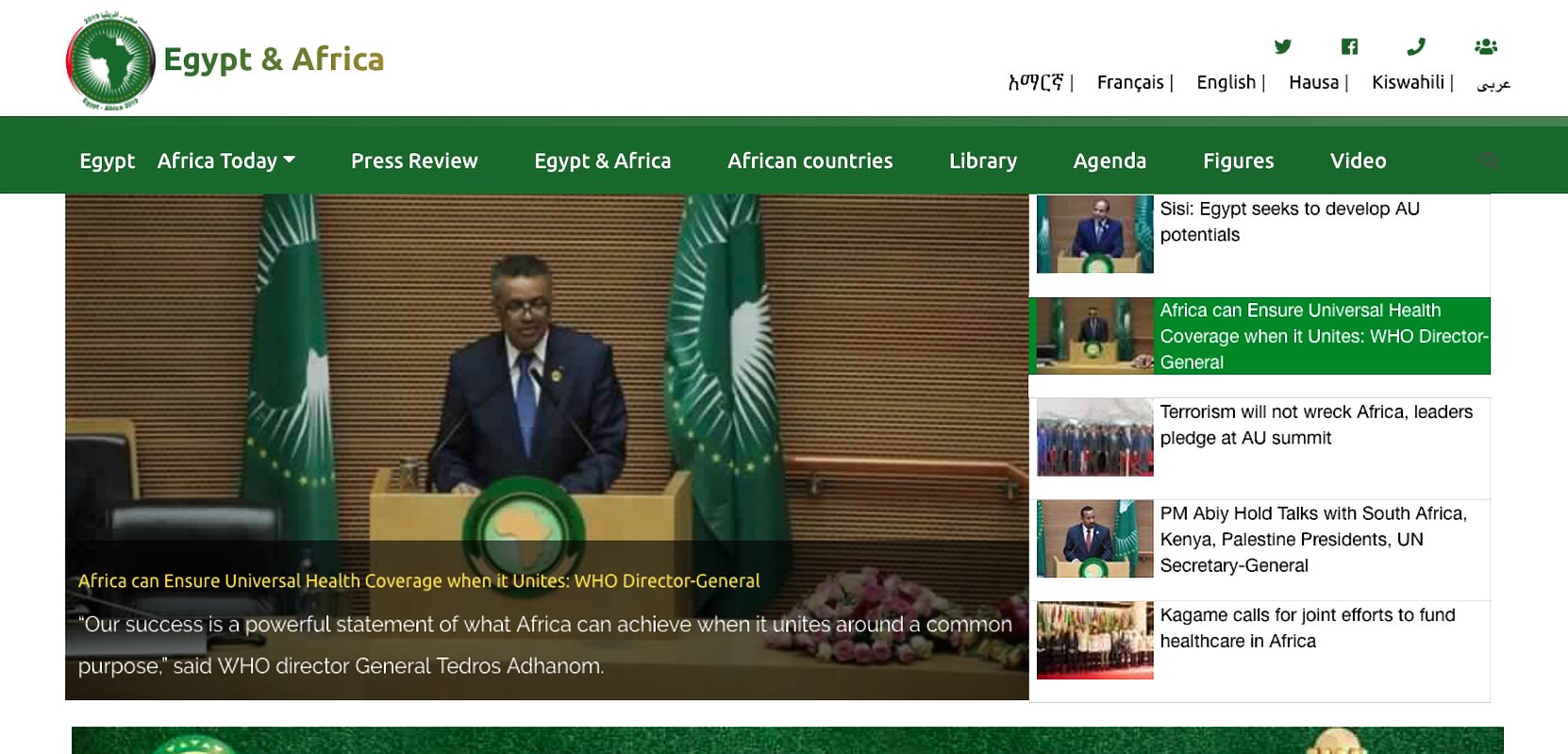 Egypt's State Information Service (SIS) launched on Sunday a new website in six languages -English, Arabic, French, Swahili and Hausa – to improve relations and communication with Africa in light of Egypt's presidency of the African Union (AU) in 2019.
The Amharic language, which is one of the Ethiopian Semitic languages, will also be launched within days.
This is the largest 'serious attempt' to communicate with Africans in their local languages, according to journalist and current Chairman of the State Information Service Diaa Rashwan.
Rashwan added that this comes as part of a wide media activity carried out by the State Information Service (SIS) in order to achieve the objectives of the state in strengthening Egypt's relations with the African people, and that this will not be limited to the period of Egypt's chairmanship of the African Union.
First, the portal addresses the Egyptian people to increase their awareness of Africa and Egypt's relations with several African countries, as well as their news, cultures, symbols, literatures, economies, histories and civilizations.
Second, it addresses the African people by providing them information about his/her country in the languages they speak and Egypt's relations with their specific country, along with the collective action among African countries throughout the year.
The new website has ten categories that will be updated, the most important one being 'Egypt', which includes updated news and information about Egypt, and 'Africa Today', which contains important news on every country in Africa.
Another important category is 'Press Review', which displays the daily headlines of newspapers, articles and reports in different African countries in their languages.
The website also includes the "Library" category, which presents the most important studies and scientific research related to Africa issued in African affairs in Egypt and abroad.
"African figures" category presents the profile of iconic African characters, with an introduction of each character and the biography (political, literary, cultural, sports, etc) of each political African symbol such as Mandela, Gamal Abdel Nasser and the founding fathers of the Renaissance of Africa.
On Sunday, President Abdel Fattah El Sisi was elected to take over the rotational chairmanship of the African Union.
Egypt's president Gamal Abdel Nasser was among the leaders of the 32 African states that founded the African Union on May 25, 1963 in Addis Ababa, along with Ethiopia's Emperor Haile Selassie, Kwame Nkrumah of Ghana, Julius Nyerere of Tanzania, Jomo Kenyatta of Kenya, Sékou Touré of Guinea and Kenneth Kaunda of Zambia.
---
Subscribe to our newsletter
---