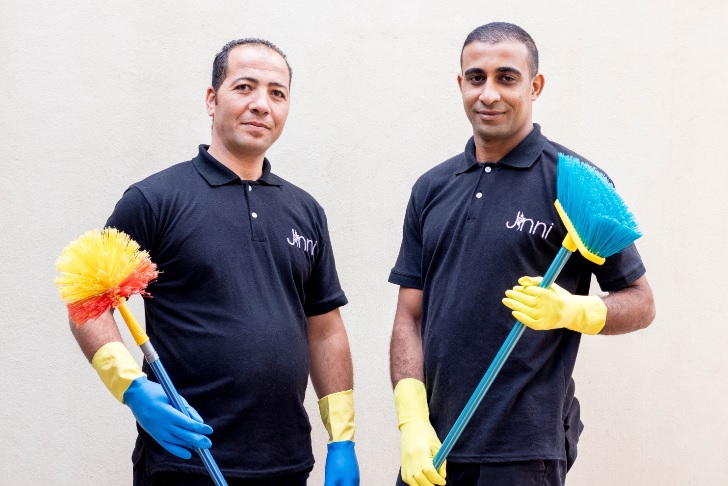 For the most part, Egyptian households rely extensively on external help when it comes to housecleaning and chores. This is sparked by not only a lack of time to do one's own cleaning but a wide discrepancy in education which has left household management as 'responsibility' of women.
Moreover, navigating the informal sector for finding and hiring help is a tricky ordeal, often leading to insecurity, inconsistency and overall dissatisfaction.
This is where Jinni Services, a cleaning company providing residential and commercial cleaning services, comes in.
Founded by Mostafa Ghannam and Alaa Shams, a married couple, the service aims to provide a premium, clean and efficient service to clients as well as ensuring the rights and work conditions of the housekeepers.
HOW DID IT COME ABOUT?
Jinni's story started in December 2016, when Ghannam and Shams were moving houses yet were unable to find assistance in the post-move cleaning or the daily cleaning responsibilities. This was further acerbated by long series of disappointments were the couple felt like they had to sacrifice either quality, trustworthiness, punctuality or lack of commitment just to ensure that their home would be clean.
Realizing this was a common ordeal, they started imagining the skeleton of their eventual company.
"What if we had a place or an business where you could get something to come to you with one click? This is also where the name came from; we imagined the idea of rubbing a lamp so a genie appears and grants you your wishes," explains Shams.
"We were looking for someone professional and affordable who knew exactly what they would be doing and how to do it without me needing to say so," she continues.
In their quest and research, they discovered companies did provided cleaning service but it was a costly service. In one case, they realized that the housekeeper cleaned one meter for 20 EGP, they would need to be paying 4000 EGP to clean a house every single session.
This resulted in their broadening the scope of their search and considering a certain section: hotel staff.
"We realized that, due to the problems tourism, many people working as hotel housekeeping had lost jobs. We reached out to someone working in hotels, a housekeeping executive manager and through him, we were able to access housekeepers who worked in 5 star hotels. We tried the idea with tried with friends and friends of friends," enthuses Shams.
"The demand was higher than expected, so we launched in the market."
WHAT DOES IT OFTER?
Currently, Jinni offers four main services: regular cleaning, deep cleaning, move-in cleaning and seasonal cleaning which all vary in prices and depend on space.
For a regular cleaning visit, 6 hours of work can start at 230 EGP (for less than 200 meters) and 410 EGP (from 200 to 400 meters). As for deep cleaning, it costs 10 EGP per meter.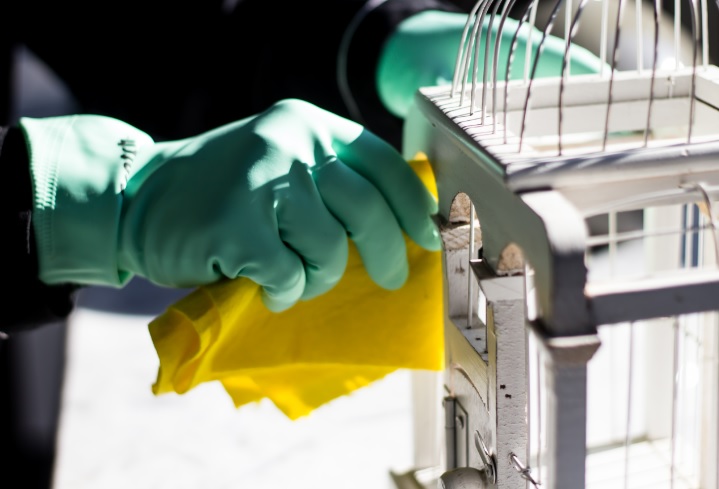 Ghannam considers Jinni's move-in and seasonal cleaning services as premium.
The move-in service is for home cleaning following renovation or restoration work. While the seasonal cleaning service is meant for homes which had been closed for months or years, such as summer chalets in the North Coast.
" I send a big team with their chemicals, their equipment and their supervisor. They finish the job in one day. It's a premium and time-efficient service," he explains.
To ensure reliability of their staff, Jinni services do background and security checks, but they believe the successful component as to the dependability of their staff is the payment.
"These are very well paid people, in every transaction they take 80%, that's a good monthly income so he or she wants to preserve their work because this ensures triple the income he or she can take anywhere else," the couple explains before adding "it counts for preventive action, not just safety measures."
As for daily operations, Jinni arranges a hub in each area, like an apartment, for the cleaners. These serve as center points from which the staff can move to work in the area.
COMPANY INVOLVEMENT and GROWTH
What started as a small company mainly operating through referrals and word of mouth expanded significantly in the last two years.
The company covers a total of 12 to 13 areas for regular and deep cleaning: all of west Cairo, (Fifth settlement, Maadi, Heliopolis, Nasr City, and Muqattam, Shorook and Obour buildings), in east of Cairo, they cover Sheikh Zayed and 6th of October. Soon, they hope to cover more areas such as Dokki and Mohandessein.
Realizing that households as well as other companies require assistance, they've expanded the scope of their clientele as well.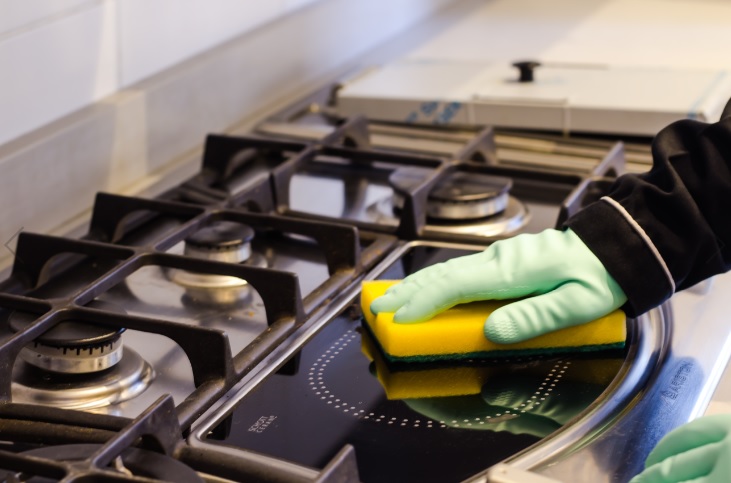 Acting as 'a multi-side platform' between the qualified help and companies, Jinni has arranged for help to reach companies such as Uber, Capital Group Properties, Kijami, District mall (Wadi Degla holdings) for either annual or week-based work.
Currently Jinni is also working on developing an application with a tech development company. Once launched, it is expected to be in Arabic for the staff, and English and Arabic for customers.
Moreover, their plans for growth don't stop there.
"After we develop our tech platform, we want to open an educational center for housekeepers because, in Egypt, we have a problem in crowd-sourcing; a lot of people work in one field and are very professional, that is a problem especially for blue collar workers, " says Ghannam who hopes that the training center would not only help more people enter the Jinny system but would acquire essential housekeeping skills.
A SENSE OF FAMILY: HONORING STAFF
While many are quick to point to safety of homes, Shams and Ghannam emphasize the respectful and humane treatment of housekeepers. They make sure they are given a check-list of tasks for any service in order to avoid clients taking advantage of the personnel.
While the Jinni staff team is composed of 100 t0 150 personnel, many of which originating from governorates such as El Menoufiyah and Bahareya, many of the housekeepers have been working with the company since its launch till today. Their happiness is considered a pivotal factor to Jinni's operations.
"We are treating the cleaners as a client. I care a lot about the cleaner's satisfaction and happiness. He or she has to feel well paid, and is treated in a nice, dignified way," states Ghannam.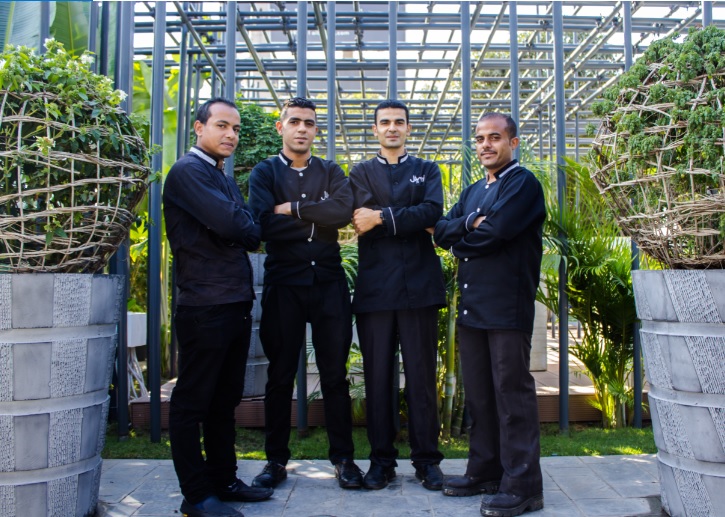 "The client with the household is also obliged to treat the cleaner well. There is a certain policy to deal with the cleaner, if there is any hint of abuse, we let the user know they are not allowed to talk to the cleaner in a certain way or ask for inhuman loads of work otherwise the client has to pay more," he adds, also explaining that ensuring that workers are satisfied with the work conditions means a lower turnover rate at the company.
Moreover, the founders involve themselves deeply with the staff members and encourage the staff to feel like the company is also of keen interest to them.
"We like to say that, until now, the reason for why we have continued and why people talk positively about us and why the clients' experiences were positive, is because of the people who work with us. They are our asset; we appreciate what we're doing," smiles Shams.
The couple have fostered a sense of family with their team, attending occasions and celebratory events with them.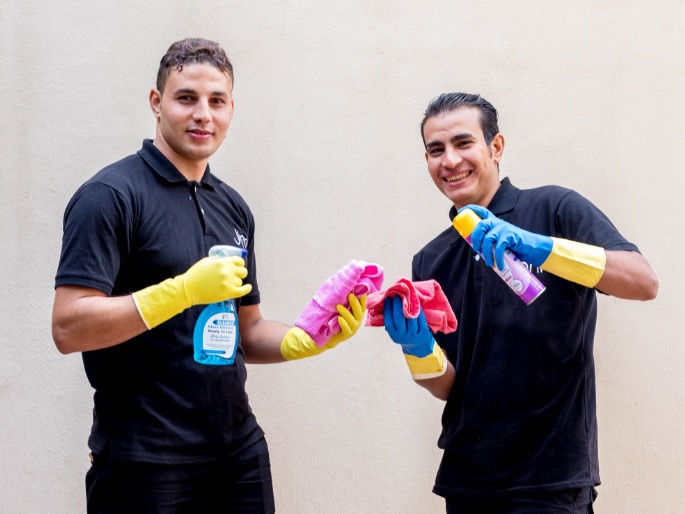 "We all share happy news and sad news, they [the cleaners] feel like this place and business is theirs, and that they're growing with it as well. Some people started with us with a set monthly income that has now tripled from our system. He or she participated in the rising of our value."
"We feel like we are a very small part of this system depends on the human factor," concludes Ghannam.
---
Subscribe to our newsletter
---