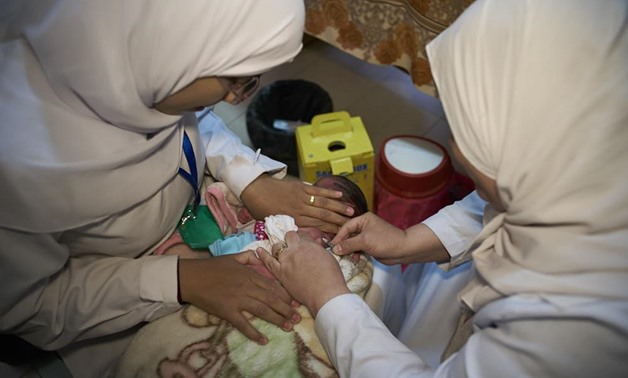 Egypt's Ministry of Health Hala Zayed inaugurated a new national campaign on 24 February to fight poliomyelitis "polio" through polio vaccine in collaboration with Port Said Governor Abdel El Ghadban.
The campaign recruited 90,000 physicians and will be on going until 27 February.
According to UNICEF, "Egypt has suffered for long from polio; a disease that has been endemic in the country for almost 3000 years, as illustrated in Pharaonic inscriptions, and infected millions of children in Egypt and the world until 1955 when scientists discovered the first vaccine against poliovirus."
Egypt implemented the last phase of eradicating the disease in 2018. This campaign is inline with the global strategy to end polio. The World Health Organization revealed that there were 29 reported cases of polio across the world.
The disease affects children who are younger than five years old. Polio is also known infantile paralysis which is a disease that weakens the muscles and can lead to paralysis. The medics will cover houses and nurseries in urban and rural areas around Egypt and vaccinate all children who are five years old and younger.
The campaign will go hand in hand with the on-going Hepatitis C 100 Million Healthy Lives campaign lunched by President AbelFattah El Sisi.
The move comes after the ministry launched another campaign last week targeting anemia, dwarfism and obesity amongst Egypt's preadolescent children aging between six to 12 years old. This campaign aims to cover 11.5 million school children who attend governmental and private school across Egypt in its first phase.
---
Subscribe to our newsletter
---