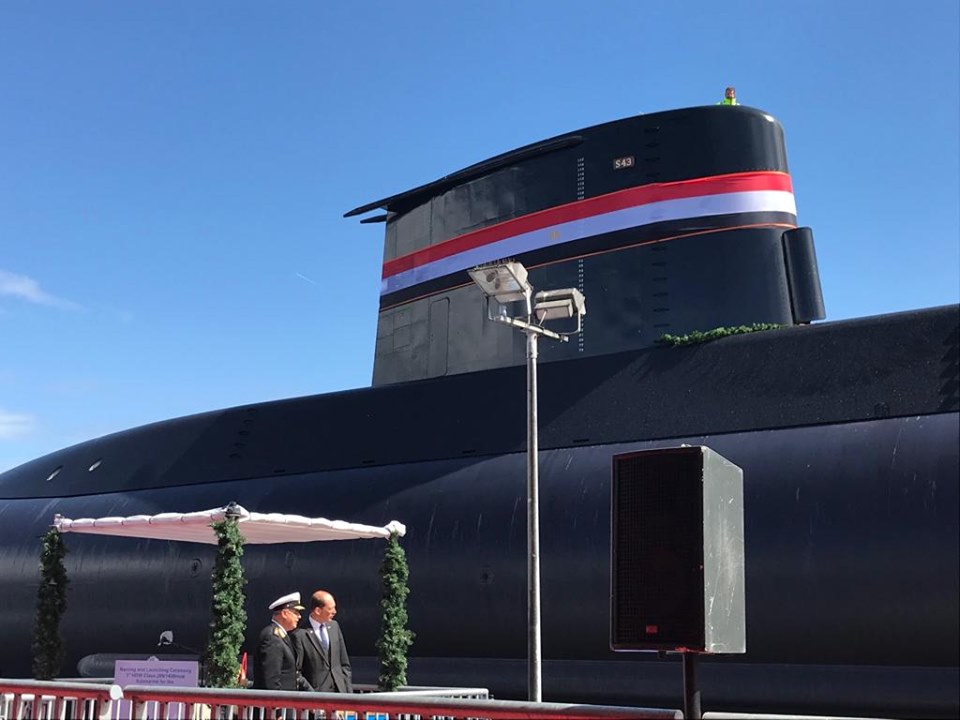 Egypt received on Friday in Kiel, Germany received the third of four submarine German-made Type-209/1400 submarine.
During an official ceremony attended by Commander of Naval Forces Ahmed Khaled at the shipyards of shipbuilding company Thyssenkrupp in Kiel, the Commander announced the third submarine would officially join Egypt's naval forces under the name 'S43'.
Manufactured by Thyssenkrupp Marine Systems, the Type-209 submarine is able to sail in a range of 11,000 nautical miles and a top speed of 21.5 knots. It is equipped with the latest navigation and communication systems and is considered as a highly advanced model.
Egypt's purchase is part of the Navy's efforts to develop its forces to ensure an ability to face various regional challenges and dangers while strengthening its control of Egypt's coastlines. Navy forces are being provided with extensive military training and simulation, and the Type 209 submarine will undergo testing before arriving in Egypt later this year.
Egypt received its first submarine from Germany in December 2015 and its second in August 2017. Egypt had initially signed a deal with Germany to buy just two submarines in 2011, before ordering two more in 2014.
Israeli concerns
The purchase of the German-made submarines has previously raised concerns among Israeli officials. The Times of Israel reports that while Israeli Prime Minister Benjamin Netyanyahu had been aware of the deal – and had no concerns – other Israeli officials were not. A former director of the Defence Ministry's Political-Military Affairs Bureau told Israeli media that he had travelled to Germany in 2015 to lobby against the sale only to discover Netanyahu's approval from German officials.
While the Egyptian-Israeli relationship has improved in recent years, Israel has generally been sensitive to major arms deals in the past.