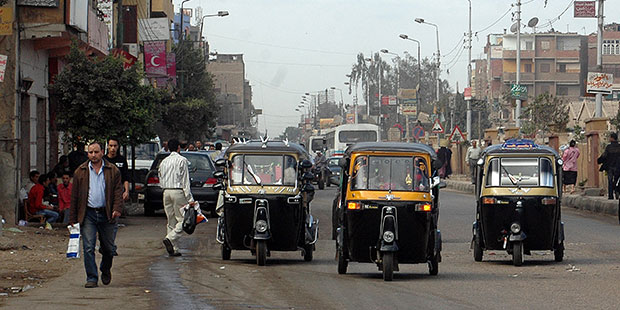 According to local news outlets, the Egyptian government is launching a program set on replacing Egypt's famous tuk-tuks with minivans running on natural gas.
The news was announced through Egyptian Prime Minister Mostafa Madbouly who instructed the current government to start the ambitious programme, as per Al Ahram.
It is expected that the Ministry of Finance, headed by Mohamed Maait, will fund the project which aims to not only provide job opportunities but also clear Egyptian streets from reputed 'unlicensed' and 'unsafe' tuk-tuks.
Tuk-tuks, also known as auto rickshaws, are a common mean of urban transportation in various countries such as Nigeria, China and South Africa among others.
The inexpensive mean of commuting penetrated the Egyptian market in 2006 until its growing number reached more than three million in 2018.
They prove to be particularly popular in heavily dense residential areas with little alleys and streets as well as areas that are lacking the underground or public bus system.
Recognized for various obstacles and challenges that they facilitate, such as sexual harassment and drug trafficking, Egyptian tuk-tuks have amassed a negative reputation.
Despite this, innovative ideas to develop tuk-tuks and improve rider-driver relations have multiplied in the last years; among these ideas was a 'smart' and environment friendly 'tuk tuk' running on battery power in 2017.
Another initiative was run by UN Women, namely global initiative 'Safe Cities' which launched as a solution to sexual harassment and sexual violence in public spaces. It aimed to inspire tuk-tuk drivers to reconsider their behavior and (mis) treatment of women who rode with them.
According to Egypt Today, an important decision issued earlier this year was the Industrial Development Authority; it halted the issuance of licenses for new tuk-tuks assembling and manufacturing plants in the country in order to curb the current number of tuk-tuks.
---
Subscribe to our newsletter
---