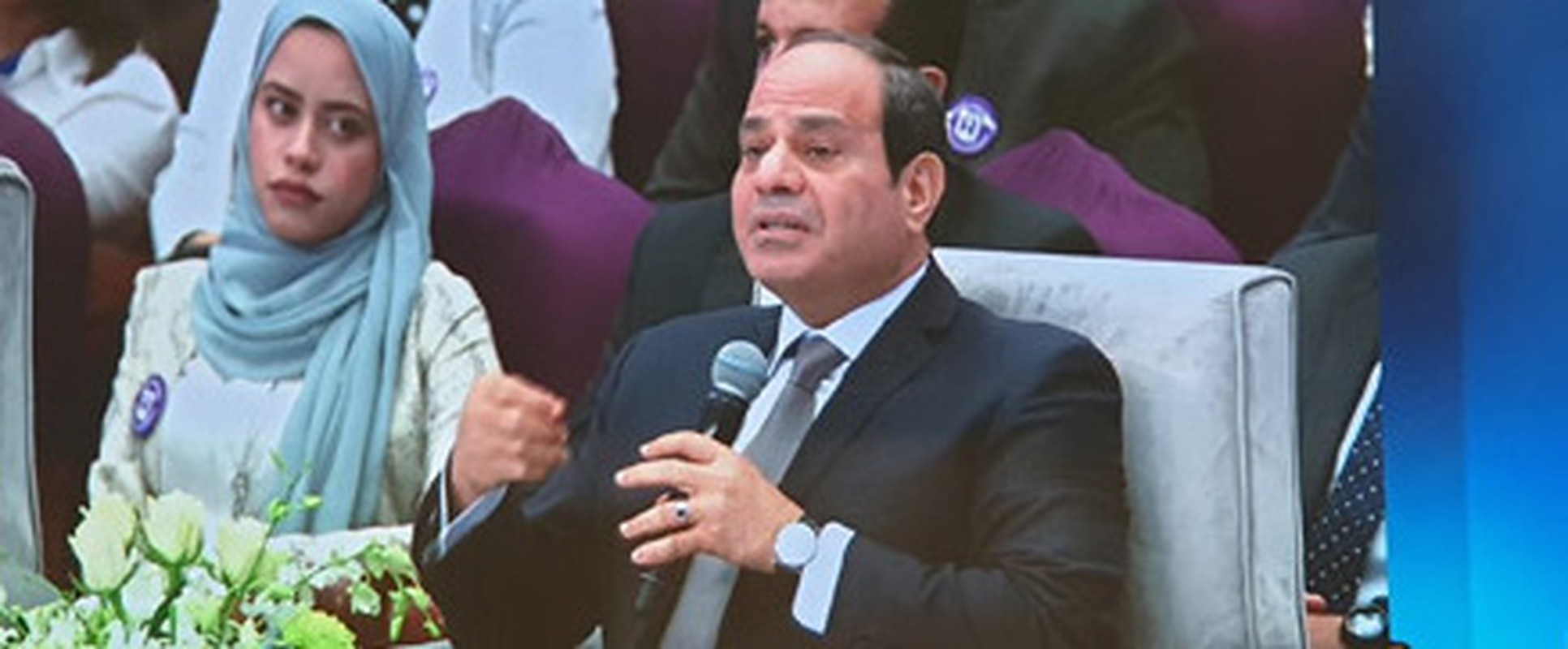 President Sisi noted during the eighth edition of the National Youth Forum on Saturday that what was mentioned in the videos uploaded on social media were "full of lies and slander."
He added that the goal of these videos were to undermine the confidence "between me and the people and who he trusted."
"Yes, I build presidential palaces and I will continue to build them but not for myself… I'm working to build a new Egypt."
"And I say to every mother and every man who trusts in me… and I say to the people: your son (referring to himself) is honest, faithful and sincere, and this is not a response to anyone, but this is something known about me for a long time," he stated.
The statement was said during a session that deals with the effects of spreading lies through social media.
At the beginning of the session, a documentary was aired on the effect of social media on the youth and its social and health damages. It also mentioned that some terror organizations have resorted to cyberspace to undermine the state.
In a series of videos that went viral last week, actor and businessman Mohamed Ali, who recently fled to Spain and reportedly worked with the army for 15 years, accused the military of spending billions on their own families whilst ordinary people live in poverty.
He accused Sisi of constructing a 7-star hotel at a cost of around 2 billion Egyptian pounds ($120 million) as a favor to Sherif Salah, a military general, and that he was assigned to carry out the project by direct order, not through a tender involving several companies.
Ali notes that the reason for speaking out now is because his company is owed 220 million EGP ($13.3 million) for the construction of a luxury hotel in New Cairo.
Following these videos, hashtags #ارحل_ياسيسي (Leave, ya Sisi) and #معاك_ياسيسي (With you, ya Sisi) began to trend in Cairo on Twitter.
#معاك_ياسيسي
كنا معاك ياأسد من البداية وهنكمل معاك المشوار لبر الامان رغم أنف الكلاب . pic.twitter.com/zz4VzPZIY8

— sabrein fayed (@FayedSasa) September 6, 2019
https://twitter.com/emadelfadel/status/1169592016063410176
Ali has yet not provided documented proof for his allegations.
Attorney General Ahmed Nabil Sadek referred the complaints against Mohamed Ali to the Supreme State Security Prosecution for investigation.