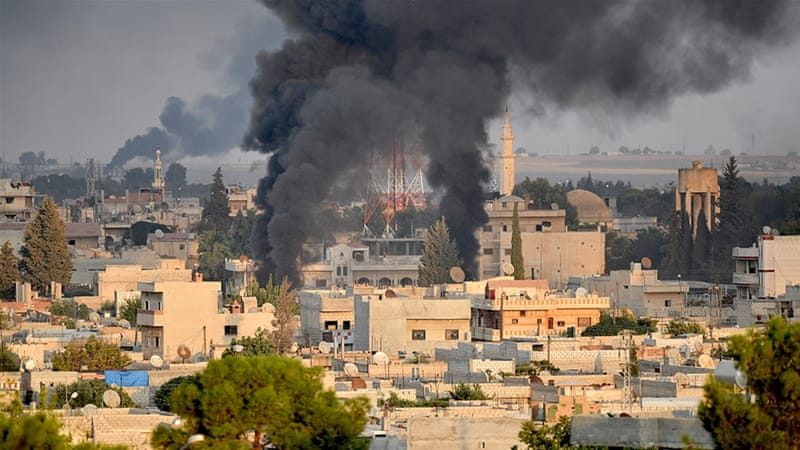 In the first Egyptian comment on the military operation launched by Turkey on the areas controlled by the Syrian Democratic Forces in northeastern Syria, Egypt condemned the operation through a statement by its Foreign Ministry calling for an emergency meeting of the Arab League to discuss the current developments on the Syrian arena.
Egypt said in a statement that the Turkish military operation is contrary to the rules of international law, and held the Security Council responsible for "addressing this very serious development, which threatens international peace and security," the statement said.
Egypt has called for the international community to stop "any efforts aimed at occupying Syrian territory or conducting" demographic engineering "to modify the demographic composition of northern Syria."
Egypt warned of the consequences of the military operation, which Turkey called "Operation Peace Spring", on the unity and territorial integrity of Syria and its impact on the course of the political process in Syria in accordance with Security Council Resolution 2254.
The statement added a call for an emergency meeting of the Arab League to discuss current developments and ways to preserve Syria's sovereignty, unity and territorial integrity.
Turkey started a planned military attack under the name "Operation Peace Spring" in northeastern Syria on Wednesday to eradicate "against PKK/YPG and Daesh terrorists in northern Syria," Turkey's President Recep Tayyip Erdogan announced on twitter.
"Our mission is to prevent the creation of a terror corridor across our southern border, and to bring peace to the area," Erdogan added.
He highlighted that this operation "will neutralize terror threats against Turkey and lead to the establishment of a safe zone, facilitating the return of Syrian refugees to their homes. We will preserve Syria's territorial integrity and liberate local communities from terrorists."
---
Subscribe to our newsletter
---