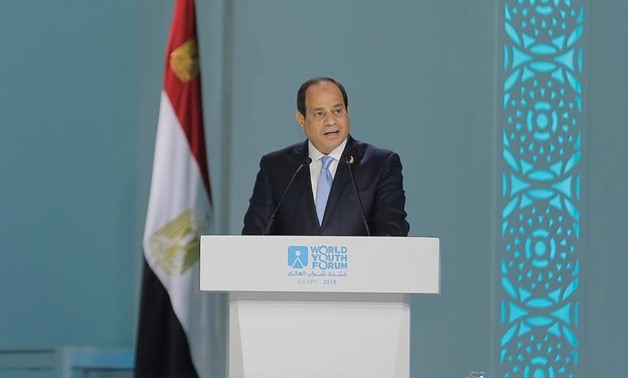 President Abdel Fattah Al Sisi blamed the Renaissance Dam crisis with Ethiopia on the 2011 uprising, which unseated Hosni Mubarak after 30 years of autocratic rule.
Sisi's comments came in a cultural seminar for the army last Sunday, during which the president stated that Egypt has "revealed its back and bared its shoulder in 2011," CNN Arabic reports.
Commenting on failed negotiations with Ethiopia regarding the dam's potentially disastrous impact on water availability in Egypt, Sisi said that if it wasn't for what happened in 2011, both parties would have been able to reach a satisfactory agreement. Sisi went on to warn against repeating those events, urging Egyptians to be careful and not "devour" the country.
Sisi's speech during the seminar (video: Sada El Balad)
The Egyptian president also cited his March 2015 negotiations with Sudanese and Ethiopian leaders in Khartoum, which saw the parties reach a 10-point framework agreement to secure the country's share of Nile water. However, the parties failed to reach technical solutions, regarding the filling of the dam's reservoir or the duration and amount of water it would require.
Sisi also called on the parties to deal with the crisis calmly and wisely, reassuring Egyptians that the state has laid out a number of scenarios and plans to solve the country's water poverty. The president also stated that the Egyptian government is currently working on a number of solutions, such as water recycling and desalination.
Sisi also announced that he will be holding talks with Ethiopian Prime Minister Abiy Ahmed in Russia regarding the dam.
The president's comments comparing Egypt to a woman who bares her back and shoulder, prompted controversy among social media users in Egypt who described his statements as 'sexist'.
---
Subscribe to our newsletter
---