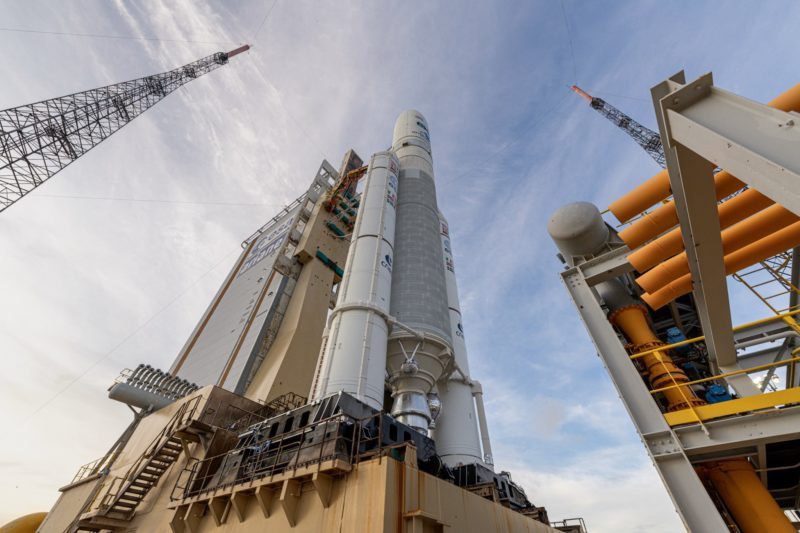 Egypt launched its first telecommunications satellite 'Tiba-1' from the South American base of French Guiana on the evening of 26 November at 11:00 p.m.
The launch was due to take place on 15 November, but it was postponed until 25 November. The launch was further postponed for another 24 hours due to bad weather conditions.
'Tiba-1' is planned to operate for more than 15 years, providing broadband Internet services to individuals and businesses in Egypt as well as other North African and Nile Basin countries.
"Through this mission, Arianespace highlights its ability to be at the service of innovative satellite solutions for commercial and institutional needs," the statement on Arianespace explained.
The satellite was launched by the European company Arianespace as the fourth satellite launched for Egypt. " It will be deployed by Arianespace into geostationary transfer orbit (GTO), subsequently transitioning to its operational orbital slot position at 35.5° East," the statement highlighted.
The mission also launched another satellite – the GX5 satellite for the operator Inmarsat, a pioneer in mobile satellite communications. According to the statement, "GX5 will deliver greater capacity than the entire existing GX fleet (GX1-GX4) combined and will support the rapid growth in customer demand for GX services in Europe and the Middle East, particularly for aviation passenger Wi-Fi and commercial maritime services."
It is located in a geostationary orbit at 11° East.
Last year, the Council of Ministers approved a law that would allow Egypt to establish its first space agency aimed at scientific research. It is expected to help build Egypt's capabilities in areas of space and technology and autonomously launch satellites from Egyptian land.
Egypt was the first Arab and African country to own a satellite in 1998 with the launch of "NileSat 101", which was manufactured by the British-French company Matra Marconi space. In 2010, Egypt launched 'Nile Sat 201'.