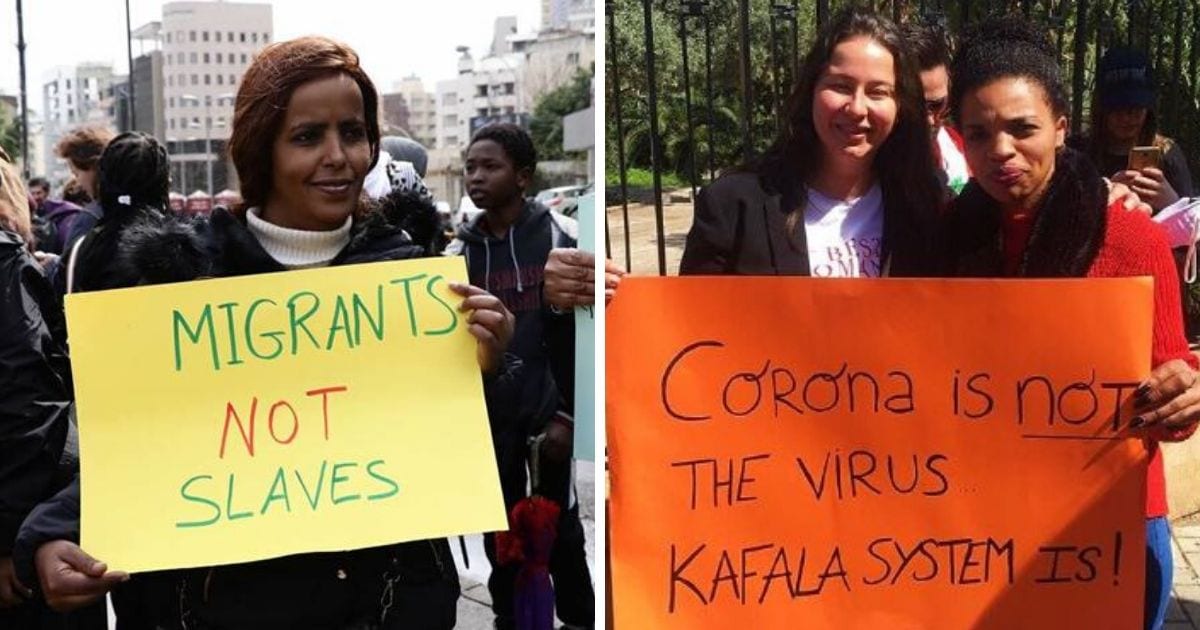 Lebanon is facing one of the biggest crises in its history in the aftermath of the Beirut blast, which has left the city in ruin. Compounded by economic hardship, political upheaval, popular unrest, a global pandemic, and a crackdown by the regime on dissent, Lebanese society is bracing for tough times ahead.
One segment of society for which hardship predates the disastrous blast is the county's migrant community, specifically African domestic workers. According to Human Rights Watch (HRW), Lebanon has approximately 250,000 migrant domestic workers, the majority of whom are women from African and South East Asian countries.
Migrant labour, namely in the contraction and domestic labour fields, in Lebanon and Arab Gulf countries is regulated under the Kafala (sponsorship) system, which gives local employers undue control over their foreign employees and is often compared to modern-day slavery.

Domestic workers hired by Lebanese families often face abuse and inhumane work conditions as a result. The situation came to a head with the COVID-19 pandemic, which saw many families abandon domestic workers in their employment, effectively terminating their legal residency and often without paying their wages. Many are now stranded in Lebanon due to COVID-19 flight bans and/or lack of financial means to cover travel expenses.
The plight of Lebanon's migrant workers was briefly highlighted during the global Black Lives Matter (BLM) advocacy movement, but the outrage soon died down. Now with the crisis ravaging Lebanon, these communities are more vulnerable than ever. According to news reports, many migrant workers have gone missing in the Beirut blast and authorities are saying it is difficult to identify and find them.
In Lebanon and beyond, there is much we can do to help end this humanitarian crisis.
Call for an End to the Kafala System
The Kafala system ties a migrant worker's immigration status to their employer, according to HRW. Under this sponsorship system, "workers cannot leave or change employers without their employers' consent, placing them at risk of exploitation and abuse. Those who leave their employers without 'permission' risk losing their legal residency in the country and face detention and deportation," the organization reports.
The good news is that the issue is increasingly gaining momentum in Lebanon's human rights community. Several human rights groups and organizations have launched initiatives to help the country's migrant worker population and continue to do provide assistance even in the midst of this national crisis.
One of the most effective ways to help is to raise your voice in defense of Lebanon's and using your platform to raise awareness about the issue and amplify their demands, by signing and sharing petitions and declarations.
Support Organizations and Groups Working to Help Lebanon's Migrant Workers
Following and supporting the work of human rights and relief organizations is an important step to show solidarity with all Lebanese people, but it is also paramount to remember that this crisis will disproportionately affect vulnerable communities such as the country's migrant workers.
Organizations like the Anti-Racism Movement (ARM), founded by Lebanese human rights activists and migrant community leaders, work to raise awareness about the humanitarian crisis facing the country's migrant workers in all sectors of the economy. In addition to providing reliable data, the organization also runs three Migrant Community Centers (MCC) across Lebanon.
"MCCs are free and safe spaces tailored to migrant workers and evolving according to their needs, where they can meet, learn new skills, work together, and access information, resources and assistance. Since their creation, they have been offering free classes and other educational, social, and capacity-building activities, such as language classes, computer classes, health awareness sessions, rights education, advocacy training, cultural exchange events, social gatherings, and various holiday celebrations. The MCCs also serve as a hub where initiatives are launched, a space to have celebrations and get-togethers, and a casual space for migrant workers to spend time with each other. MCC's operations are run by general coordinators and migrant community leaders, in collaboration with members of ARM," a statement by the organization reads.
Taking a more radical approach is This Is Lebanon 961, a group working to evacuate migrant workers abandoned by their employees and raise awareness about the exploitative and slave labour-like work conditions faced by foreign domestic workers in Lebanon under the Kafala system. The group also outs Lebanese employers who abuse their migrant employees.
Similarly, the Egna Legna Besidet organization, founded by a group of Ethiopian activists, is working to raise awareness about the humanitarian crisis and the policy solutions that can solve it, as well as provide assistance and relief to workers stranded in Lebanon.
Promote Racial Equality in the Arab World

It is impossible to abolish the kafala system without addressing its racist and xenophobic roots. Conversations about race seemed to trickle down into mainstream culture across the Arab world and North Africa during the BLM protests that swept the US earlier this year, but these conversations soon died down.  These problematic attitudes transcend boundaries in Arabic-speaking countries because they are informed by a culture we all share and have manifested themselves in different forms across the Middle East and North Africa.
One of the most effective ways to end racism is visibility. It is important to not only platform and amplify Black voices, but also to understand the issues that impact Afro-Arabs and North Africans. It is only by understanding racism from the perspective of those subjected to it everyday that we can learn to recognize it and call it out.