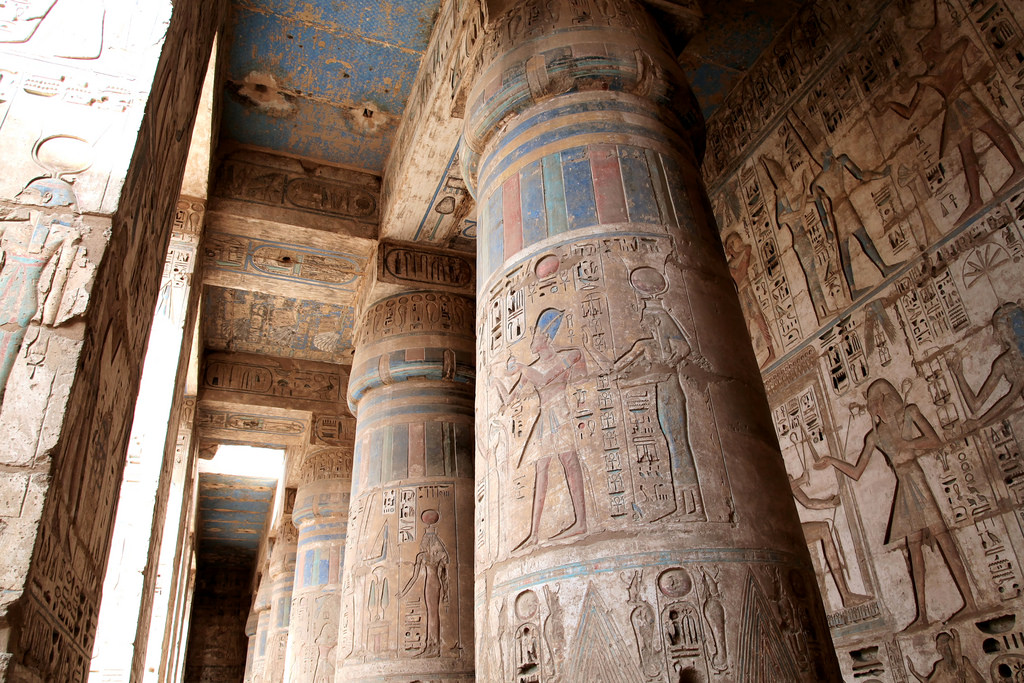 Art is often born through inspiration. From the lavish use of colour and decorative patterns, to the abundance of creative themes in life, artists are people who wholly immerse themselves in their surroundings.However,  inspiration does not always come from the day-to-day. To expand their aesthetic imagination, artists have often looked toward the ancient world.
The ancient world, particularly ancient Egypt, combined artists' interest in biblical themes with novel archaeological details that were never found in their own times, writes Stephanie Moser, Professor of Archaeology at the University of Southampton, in her book 'Painting Antiquity'.
Ancient Egypt was often alluded to in European art. Specifically, the significant discoveries, excavations, and public exhibitions on archaeology that were explored in-depth during the 19th century in the British press served as a major source of inspiration for a new form of archaeological art that was pioneered by painters such as Alma-Tadema, Edward Poynter, and Edwin Long.
These artists, like many others, were enthralled by museum exhibitions, where artefacts provided a deeper insight into ancient life. Alma-Tadema, Poynter, and Long's Egyptian-inspired paintings were heavily influenced by artefacts on display in the British Museum's "Mummy rooms," which were opened in the late 1830s.
Below are some paintings by Western artists that were influenced by ancient Egypt:
Adoration to Ra, 1867, by Edward Poynter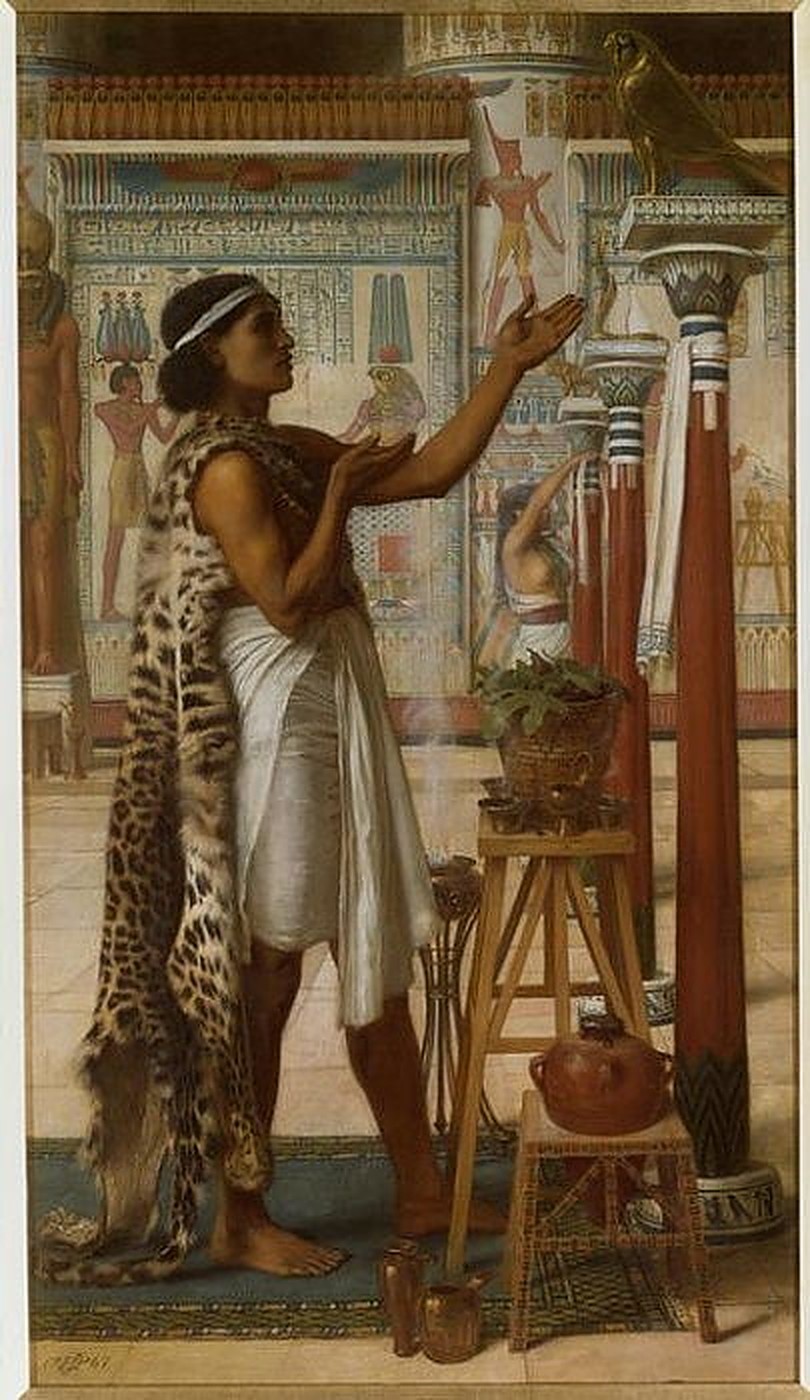 Despite being born in Paris to British immigrants, Edward Poynter moved back to London to receive his early artistic training. Soon after, when he was 17 years old, he travelled to Rome where he met British painter Frederic Leighton; the latter hadpainted over forty landscapes of Egypt that significantly influenced his artistic journey.
When Poynter returned to London a year after his trip, he resumed his education and spent a lot of time drawing ancient artefacts in the British Museum. In 1856, he left for Paris, where he spent three years studying at the École des Beaux-Arts.
What was truly distinctive about his paintings was his great attention to detail, particularly the details on ancient objects that were always impeccably designed with patterns and colours.
One of his most famous paintings is 'Adoration to Ra' (1867), displayed at the Dudley Gallery in London in 1867; it incorporates many of the artefacts Poynter viewed in the Egyptian galleries of the British Museum, such as the decorated jar-stand in the museum.
He also created a number of intricately detailed drawings for an illustrated bible that depicted the inside of ancient Egyptian homes. These drawings, which were printed in the Dalziel Brothers', Frederic, Lord Leighton's 'Bible Gallery' in 1881, drew attention to the impeccable decorations used by ancient Egyptian artists to embellish their homes and surroundings.
Death of the Firstborn, 1872, by Lawrence Alma-Tadema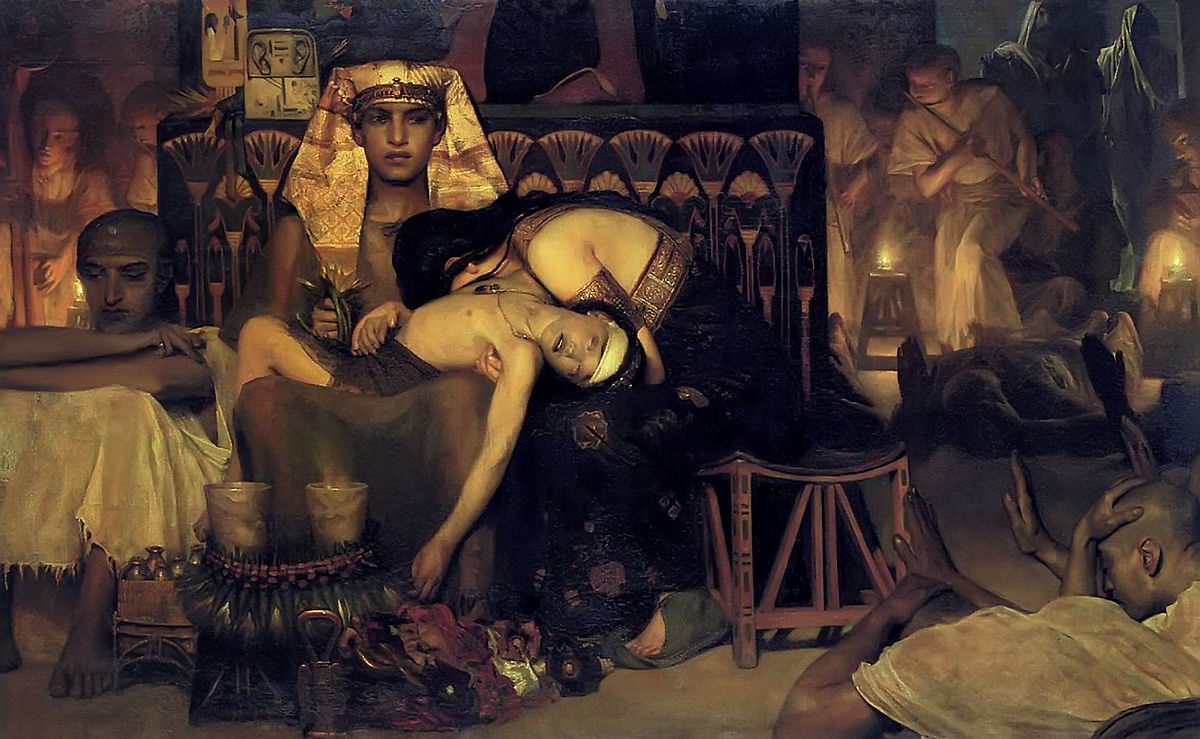 Prominently known as the archaeological painter of the Victorian art world, Lawrence Alma-Tadema's paintings carry a slightly different angle from Poynter, as he focuses on human passions, interactions and activities, as well as the objects and ornaments. Taking a moment to look at his painting, one notices subtle hints of emotion displayed by human subjects.
The Dutch province of Friesland is home to many archaeological remains of ancient civilizations, such as ancient Roman it is also where Lawrence Alma-Tadema was born. He received his training in Antwerp, where he quickly gained recognition for his skill in painting antiquity-inspired works. When he visited Italy in 1864, the archaeological sites and collections he saw strongly influenced him.
To produce his paintings, he acquired knowledge from various sources, including the domestic objects on display at the British Museum, and the Egyptian Court exhibit at the Crystal Palace in London.
One of his most famous works is 'Death of the Firstborn' (1872), which is an incredibly moving painting. A distressed mother leans over a  deceased child, who is held by the figure of the biblical Pharaoh on his lap. The physician, who was unable to save the child, is seated on Pharaoh's left, and many courtiers are depicted grieving beside the ruler. The painting feels dreamy yet also realistic, injecting the more human side to ancient figures and their daily private emotions.
An Egyptian Feast, 1877, by Edwin Long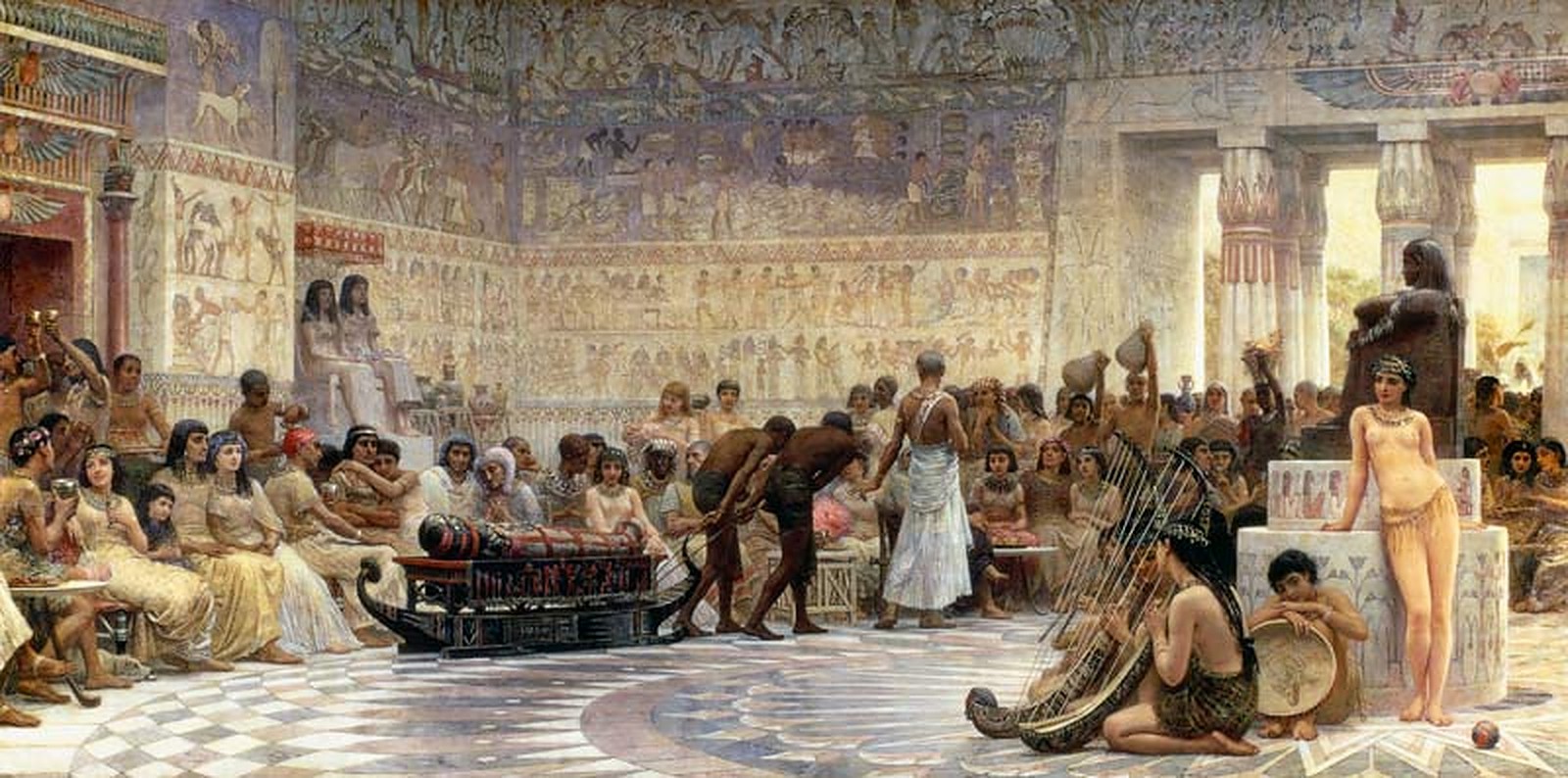 Edwin Long was also a British painter born in 1829, who travelled to Egypt in 1974. Like Alma-Tadema, Long dramatised ancient Egyptian life, depicting the extravagant and grand celebrations of ancient Egypt.
After attending art classes at the British Museum, and then getting elected as an associate of the Royal Academy in 1870, Long was thoroughly fascinated with ancient Egyptian archaeology. His most famous work includes the 'Egyptian Feast' (1877).
The painting is incredibly detailed, displaying  a crowd of courtiers and workersand a wonderful display of furniture and musical instruments. It brought to life the ancient Egyptian practice of reminding the living of the dead by parading a mummy before the guests at the end of a meal.
In another painting, 'Love's Labor Lost' (1885) , the cat and monkey playing to the left of the doorway in the painting  is a current scene attested in tombs; it provides another Long  bringing to life various Egyptian motifs .
In the quiet hours of the night, looking at these paintings can take one on a journey out of time; they also encourage one to reimagine modern art through the lens of ancient culture. Though the paintings were often considered Orientalist, Moser notes that they injected emotion into foreign cultures that was often "depicted as cold, cruel, and strange."
Moser explains that the paintings of ancient Egyptians, by these artists, challenged the dominant conception of archaeology as a "mere accessory" to look at, but rather, as a realistic symbol of the spirit of life in ancient times. Accordingly, they helped audiences reimagine and rethink the way they perceive ancient life.
---
Subscribe to our newsletter
---