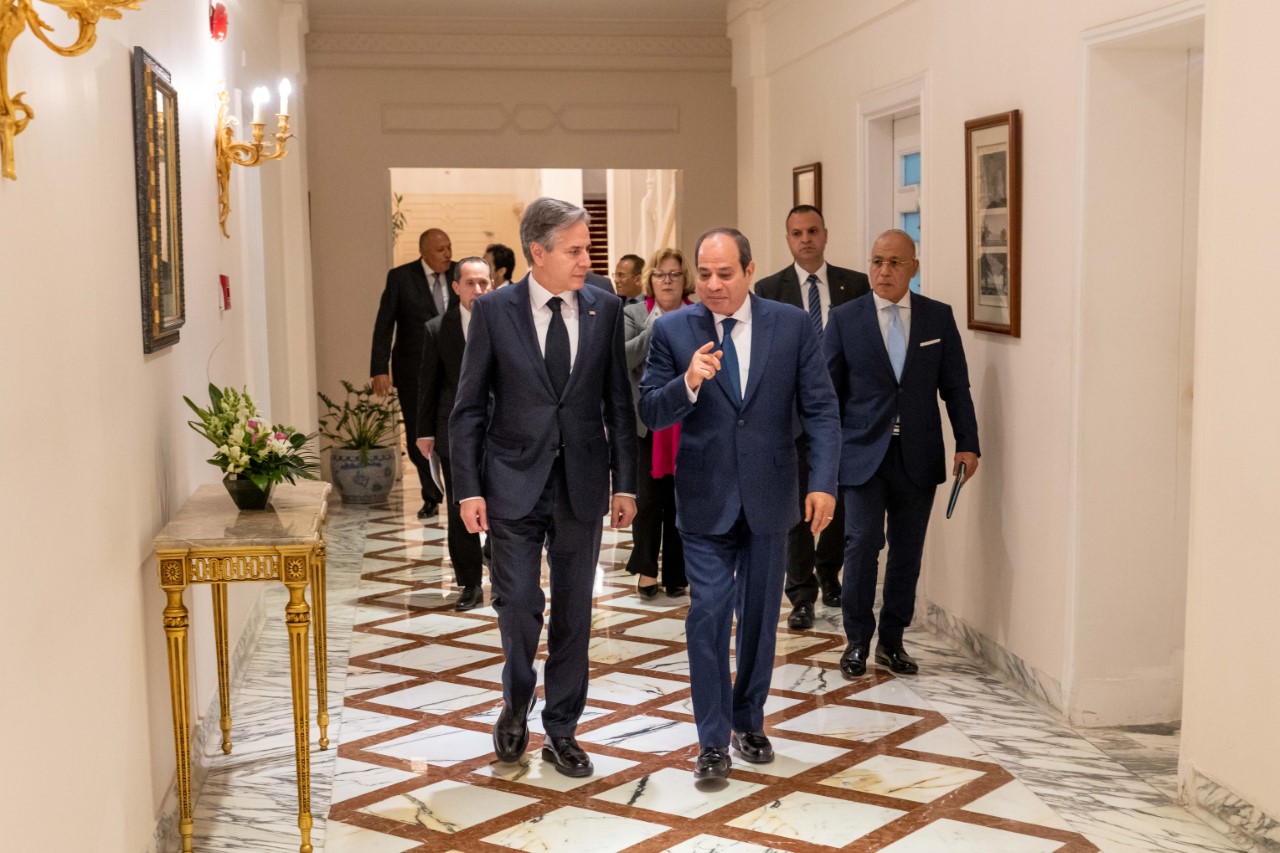 U.S. Secretary of State Antony Blinken arrived in Egypt on January 29th, 2023, for a two-day visit aimed at strengthening the strategic partnership between Egypt and the United States and advancing shared interests in the region.
During his visit, Blinken held extensive discussions with President Abdel Fattah Al-Sisi and Foreign Minister Sameh Shoukry. The talks covered a wide range of bilateral and regional issues, including security, economic, and political developments. One of the key topics discussed was the recent killing of Palestinians by Israeli security forces and the gun attack in Jerusalem on Israeli, and the need for a peaceful resolution.
"Amid the horrifying escalation in violence, I discussed with President El-Sisi and FM Shoukry how we can work together to reduce tensions and restore calm," Blinken said.
Shoukry echoed Secretary Blinken's commitment to finding a peaceful solution to the conflict in Palestine, stressing the "importance of achieving stability and preventing escalation to find the right political framework to reach a permanent, comprehensive, and just solution for the Palestinian issue on the basis of the two-state solution."
These comments come in light of a series of violent incidents in Palestine. Nine Palestinians were killed by Israeli forces in the West Bank city of Jenin on 26 January. A day after the raid, a Palestinian shooter near a synagogue outside of Jerusalem killed seven people and injured three more.
In addition to discussing the situation in Palestine, Blinken and his Egyptian counterparts also touched upon regional security and economic cooperation. The two sides emphasized their commitment to working together to tackle regional challenges and promoting stability and prosperity in the region.
As part of his visit, Blinken also met with members of the Egyptian community, such as civil society groups, stressing "centrality of human rights to U.S. foreign policy." He also students from the American University in Cairo, emphasizing the importance of including young Egyptians in conversations ar0und the two countries' relations.
"As we're looking at the partnership between the United States and Egypt, the strategic partnership that is of great consequence to the United States, we know that going forward that partnership ultimately is going to be built and sustained and strengthened by the people here today and the people that you represent," said Blinken.
Blinken's visit to Egypt is part of a wider regional tour that includes stops in Israel, the West Bank, Jordan, and Saudi Arabia. The tour reflects the Biden administration's commitment to re-engaging with key partners in the Middle East and working towards stability and security in the region.
---
Subscribe to our newsletter
---