With a troubling number of events at much-celebrated archaeological and historical sites, Egypt is no stranger to criticism. Its most recent contention point proves to be none other than a Cercle concert by famed DJ duo Adriatique on 13 February.
The concert, which saw 3,000 attendees, was held at Deir el Bahari, at the middle court of queen Hatshepsut's famed mortuary temple – an incredibly famous tourist site that sees hundreds of tourists every day.
WHO IS HATSHEPSUT?
Hatshepsut, a new Kingdom monarch, is one of the most celebrated rulers of ancient Egypt, if not the world en masse. With an indelible mark on history, the female ruler was particularly celebrated for ruling as 'pharaoh' with the garb and regalia of kings.
During her approximately 20-year rule, Egyptian territory expanded south and east, and she was particularly known to send her troops to far-off lands to claim glories in expeditions, erecting monumental structures across the vast Egyptian territory. Her reputation and legacy survived all attempts to erase her, even almost 3,500 years after.
WHAT WERE THE REACTIONS?
Social media spiraled into a maelstrom of mixed reactions. On one hand, the event, which was live-streamed on Cercle's Facebook page, was highly celebrated for its vibrancy, careful organization, and entertainment. Users on Twitter expressed their shock that the acclaimed musicians were holding the party at such an extravagant site.
If you are in Egypt watching Adriatique perform at the Hatshepsut Temple, I'm very jealous 😭

— Tala 🍪 (@Tala138) February 13, 2023
I wanna attend the adriatique performance so bad 😭

— noura (@nouramedalema) February 7, 2023
One user even went as far as polling other Twitter users on their thoughts as to whether the concert constituted "good marketing'' for the country.
Thoughts on Hatshepsut rave?

— ghufran (@ghufranky) February 14, 2023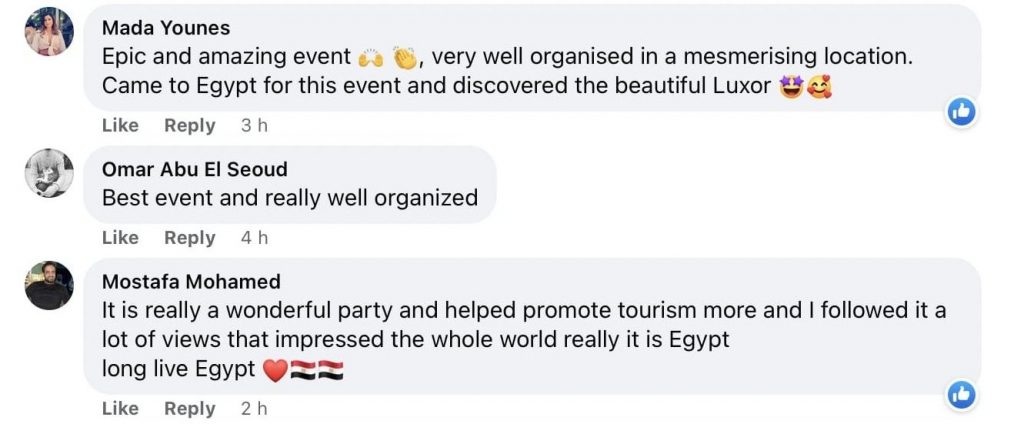 Considering the event was organized by a consortium of stakeholders, including the Ministry of Tourism and Antiquities (MoTA) as well as the Egyptian Tourism Authority for the promotion of tourism, it comes as no surprise that the concert was highly celebrated in an official statement.
Official rationale praised the event as an opportunity to increase inbound tourism.
"It contributes to increasing inbound tourism to Egypt, contributing to a tourist boom in the archaeological sites in the city where the event is organized," read the statement, quoting. Mostafa Waziri, Secretary General of the Supreme Council of Antiquities.
Other officials, such Amr El-Kady, Chief Executive Officer of the Egyptian Tourism Authority, and Iman Abdel Rahman, Director General of the General Department of Tourism Awareness at the same institution, also highlighted that the events constitute "promotion" for Egypt. The event's digital broadcast on Cercle's social media, which has over 1.3 million followers worldwide, was also argued to be a tool with the potential to boost the country's various destinations and attractions.
Other users, nonetheless, criticized the event and the organizers for the selection of venue, citing Deir El Bahari as a valuable historical landmark that could see damage from the party-goers, as well as the sound engineering and lighting equipment.
Agree 100% pic.twitter.com/Md4meF7jL7

— Mia (@miawakid) February 14, 2023
What the actual F?! Why on earth would the Egyptian ministry allow a RAVE at Deir El Bahari?! One of the most precious jewels of Egyptian history?!?

I've been at Sandbox – there's no way the place is being respected right now. I'm so upset to see this. #Egypt pic.twitter.com/SywNgNUfKs

— Jen Goodman (@endoadenoandme) February 13, 2023
On Facebook alone, the live concert amassed almost 300,000 views.
This is not the first time events, parties, and concerts were held at archaeological or historical sites. Recently, Dior's 2022 Men's fashion show was also held at the Giza Plateau, also sparking controversy on social media for the perpetual use of historical landmarks as backdrops for commercial and entertainment events.
---
Subscribe to our newsletter
---