More than just entertainers, athletes live and breathe sport. While most people move and shift between different careers and job positions, their profession is a narrative that begins and ends with them. Their emotions, passions, and hardships are part of a wholehearted journey to beat their biggest competition: the athlete in the mirror.
In Egypt, when one mentions the word  athlete, it is usually associated with an idol such as Mohamed Salah. But with all the glamour around sports idols, the true meaning of being an athlete is never quite explored. Beyond the stadiums, the cheers, the fan slogans, the awards, and the tournaments, being an athlete is essentially about focus, grit and determination – all of which are traits that more and more individuals find themselves needing.
Khadija Hegazy, an accomplished Egyptian triathlete and an Adidas Runner, aspires to fuel self-confidence in the next generation of female athletes. Egyptian Streets spoke with her to learn more about her journey and how her passion drove her on her path to greatness.
In the Arab world, there is usually a lack of understanding of who or what an athlete does. Can you define what being an athlete means to you?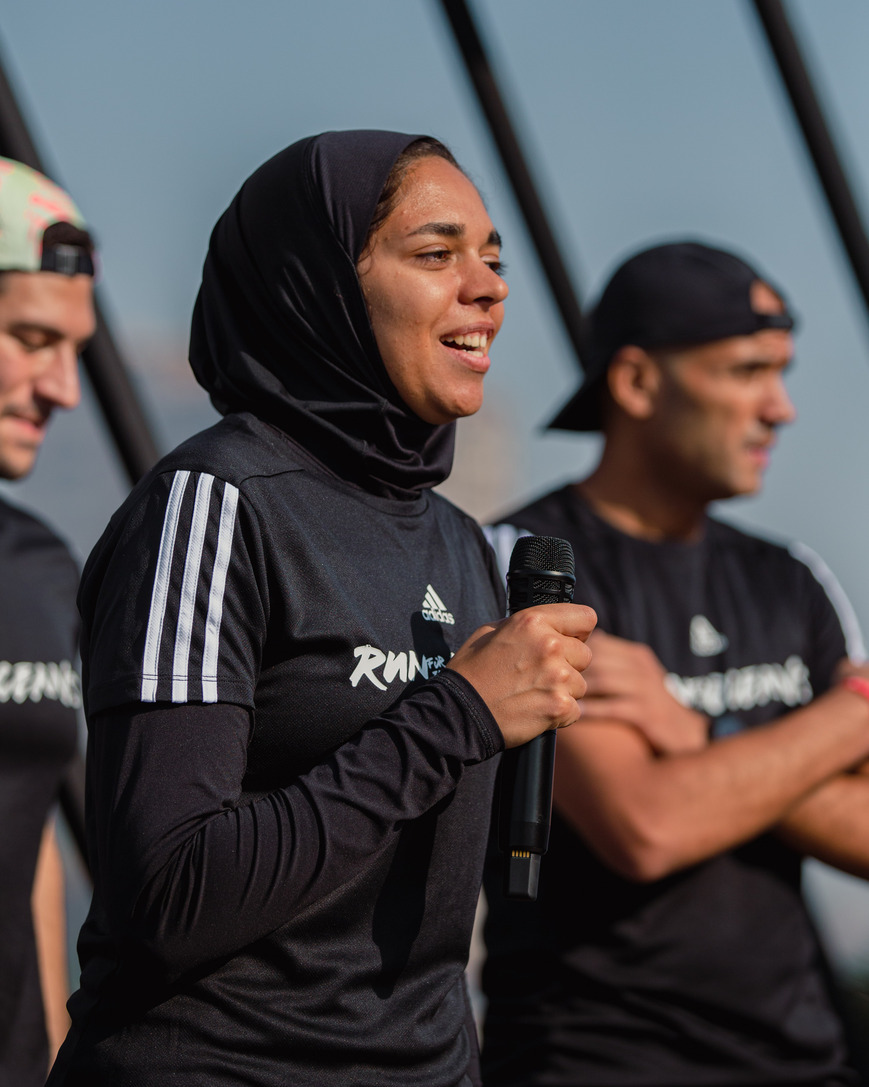 We have noticed that in the region, usually, the definition of being an athlete is someone who is a football player. There is a lack of awareness of sports in general, where many consider athletes as people who carry superpowers, which is very intimidating to many.
As for me personally, being an athlete continues to make me a better person each day. Being an athlete means consistency and commitment, it means putting in the hard work — both in training and in my profession.
It has enabled me to become more adaptive, more understanding as a person and it taught me how to think more clearly. I would say being an athlete is so much more than doing the sport itself.
Families in Egypt can have a lot of influence on children's decisions. How has your family supported you and how did you convince them of your decision to become an athlete?
Ever since I was a child, my family has always encouraged me to play sports. The purpose was not to win medals or compete in championships, it had to do with our health.
When I started to get older and began running as an amateur athlete, this is when I started to build the sport and challenge myself by participating in competitions. At first, my parents were not seeing the full picture and were not understanding why I would sign up for running competitions, when I can just run around the block. However, since I started loving the sport and loved how it made me feel, I always made sure to take my parents and let them see my competitions to understand the passion I have for running.
My parents have always been a great support system and they continue to push me to participate in any kind of race, no matter how challenging it might be.
Can you describe a memory or a moment that helped trigger your decision to commit to being an athlete?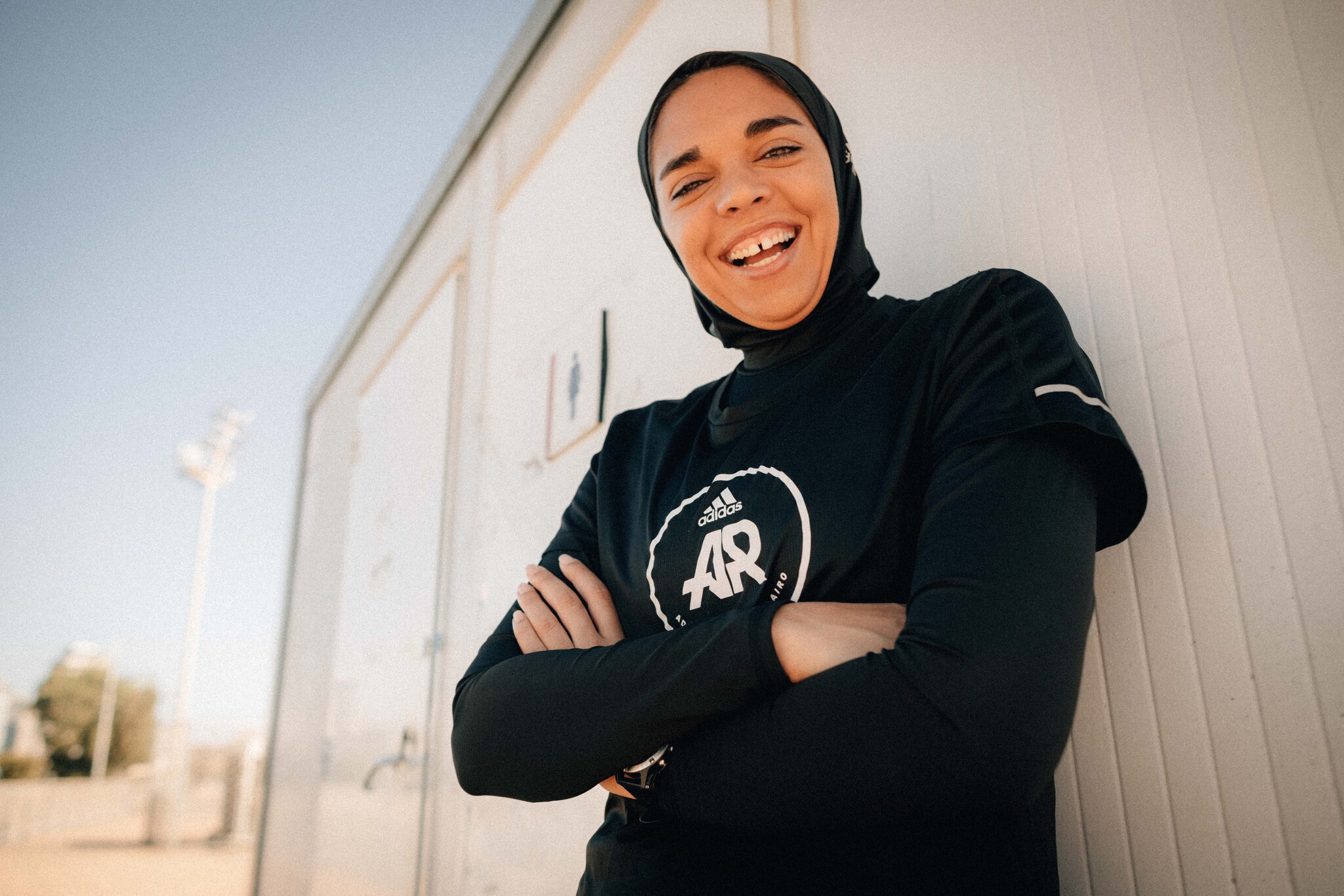 My running journey started 12 years ago as an occasional runner. More and more, it started to push me further, as with every run, it reminded me of how far I have come in life as an Egyptian woman.
After that, I became an accomplished triathlete and Adidas Runners Cairo Coach to encourage other people in the city to start running, because it also helps in building lifelong friends.
They say that mental strength is an athlete's most important weapon. Do you agree? And how did you manage to develop the strength to overcome the trials and tribulations?
It is easy to train your body every day and make it super ready for competitions, but all of it won't matter if you don't train your mind.
The body simply cannot achieve what the mind doesn't believe. It is one of the hardest things to do, which takes time and comes after many experiences.
What really helps me build my mental strength is placing a long-term goal and a few short term goals during my day. Motivation is not something we all have every day, but drive is always there. If you find your drive and your why, you will less likely search for motivation anymore, as it's already there.
When someone thinks of an athlete, they usually think of Messi, Cristiano Ronaldo or Mohamed Salah. Why do you think women face more difficulties in getting the spotlight in the sports industry?
While it is unfortunate that there are many stereotypes, it takes a strong community to recognize and appreciate a woman's achievements and abilities without feeling intimidated.
Recently, Adidas announced its biggest commitment ever to support women in sports, and so it has been a great journey to work closely with a brand that focuses on encouraging women from all backgrounds.
What needs to change, in your view, in the sports industry to allow more women to succeed?
Seeing more women being represented in sports. Sports should be inclusive and available to everyone, regardless of their gender, age, religion, or background.
It is an honor to be working alongside a brand that brings itself forward to making the impossible possible for people around the world.  Being part of a global campaign and Adidas' long-standing brand attitude, Impossible Is Nothing, is a great opportunity as an Egyptian female hijabi runner to be seen and represented on a global level.
There are many young girls in Egypt that also aspire to become athletes, but their circumstances do not allow them. How have you tried to help them as an Adidas coach?
At Adidas Runners, we aim to make running less intimidating for everyone through a variety of training, guidance and ensuring that they feel safe while running.
I want to demonstrate that sports can be enjoyable, but at the same time are essential for both our physical and mental well-being. For instance, engaging in physical activity is a way to appreciate our body and its capabilities, and this is the message that I strive to communicate.
Being a member and coach of the adidas runners' community in Cairo has given me the opportunity to embody this message and further encourage more women to participate in sports.
If you could go back and tell your younger self one lesson you've learned over the years, what would you say?
Always believe in yourself, be patient and trust the process.