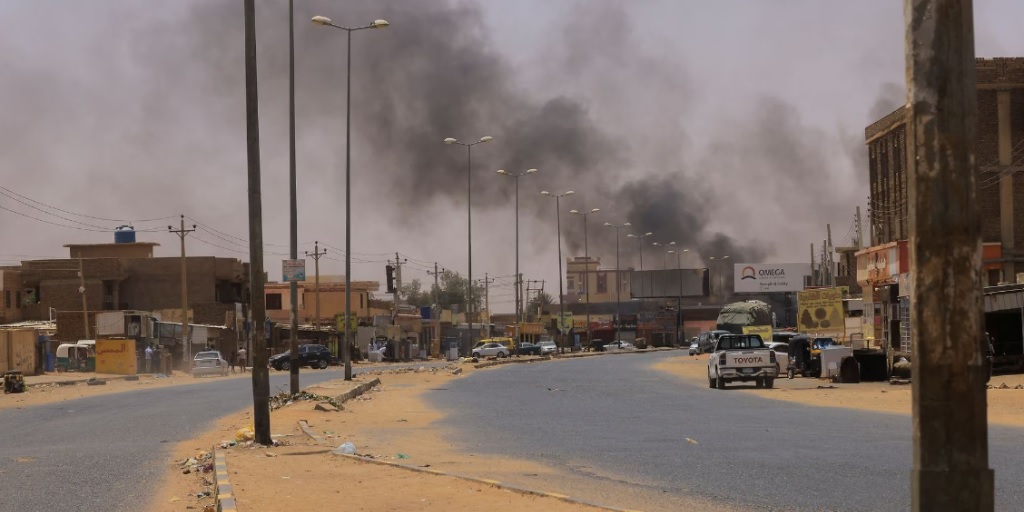 Gunshots were heard on Tuesday, 25 April amid a 72-hour ceasefire in Sudan which began at midnight, raising concerns over the integrity of the truce.
The nationwide ceasefire, brokered by the United States and Saudi Arabia, is the fourth attempt at reducing tensions and pausing fighting, as previous attempts have been unsuccessful.
Speaking to the Associated Press (AP), residents of Khartoum said they heard gunshots and explosions in the capital, as well as planes flying overhead. A witness who spoke to Reuters also reported hearing gunfire on Tuesday after fighting had reportedly calmed down overnight.
The Rapid Support Forces (RSF) released two statements accusing the Sudanese Armed Forces (SAF) of violating the ceasefire. The first statement referenced SAF airplanes flying over Khartoum and the shelling of RSF positions, while the second accused the SAF of attacking RSF forces stationed in the presidential palace. The SAF is yet to respond.
Both sides had made similar statements announcing the initiation of the ceasefire around midnight.
In a brief statement announcing the truce, the US State Department said that "the United States will coordinate with regional and international partners, and Sudanese civilian stakeholders, to assist in the creation of a committee to oversee the negotiation, conclusion, and implementation of a permanent cessation of hostilities and humanitarian arrangements in Sudan."
This comes in the context of ongoing evacuation efforts to repatriate foreign civilians and diplomats, including Egyptians.
The Egyptian Ministry of Foreign Affairs also confirmed on Monday, 24 April the death of Mohamed Al Gharawy, who served as administrative assistant at the Egyptian embassy in Sudan. The statement did not mention the details of his killing, nor did it name a perpetrator.
What is happening in Sudan?
The Sudanese Armed Forces (SAF) and the Rapid Support Forces (RSF) — a paramilitary group that operated as a militia during the height of the Darfur conflict but was recently incorporated with the formal military — have been engaged in combat since early on Saturday, 15 April, in Sudan.
The RSF posted a video of Egyptian soldiers who had "surrendered" themselves in Merowe on Saturday afternoon. The video depicts several men sitting on the ground and wearing Egyptian army fatigues.
As a result of the coordination efforts carried out with Sudanese parties and the International Committee of the Red Cross, Egyptian troops had already arrived at the Egyptian Embassy in Khartoum.
Egyptian President Abdel Fattah Al-Sisi had called for an immediate ceasefire in Sudan and urged opposing forces to prioritise dialogue and national consensus while upholding the interests of the Sudanese people.
---
Subscribe to our newsletter
---