In recent years, Egypt's government has implemented or expanded multiple social protection policies and programs targeting low-income citizens. As successive economic shocks continue to threaten the country's poor, how can policymakers scale up efforts to keep the most vulnerable afloat? How can social policy be made more impactful, cost-effective, and resilient?
A new seminar series launched jointly by the Egyptian Food Bank (EFB)'s Growth Lab, The International Food Policy Research Institute (IFPRI), and the Sawiris Foundation for Social Development (SFSD), under the auspices of Egypt's Ministry of Social Solidarity, aims to bring answers to the above questions.
Under the title 'Bridging Evidence and Policy,'(BEP) the series brings together government officials, researchers, implementers, and non-governmental organizations to demonstrate the crucial role of scientific evidence in designing social policy.
During its launch event titled "Impact Evaluation of Social Protection Programs", held on 7 May, representatives of these different groups used examples of recent social programs implemented in Egypt to make a strong case for the use of data and scientific research in reducing poverty and food insecurity.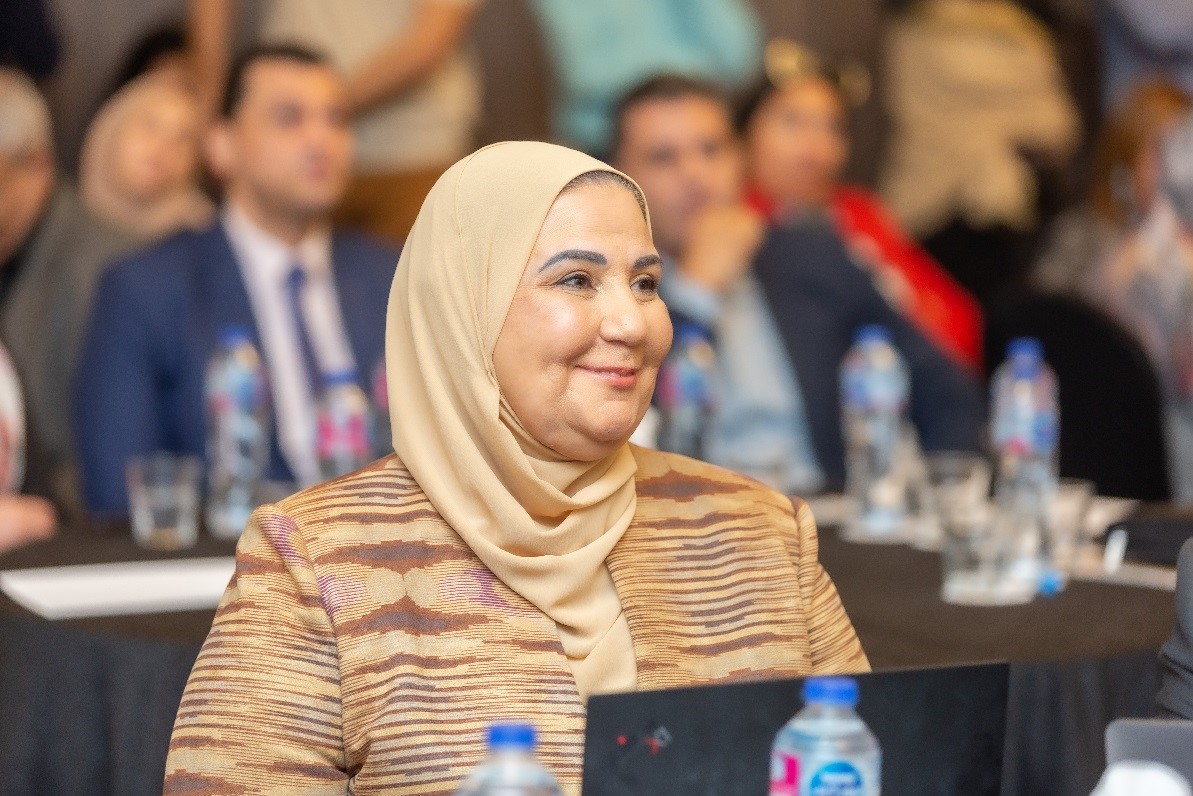 Food Insecurity, Malnutrition, and Combating the Vicious Cycle of Poverty in Egypt
In her opening remarks, Egyptian Minister of Social Solidarity Nevine Al-Kabbaj emphasized that "food insecurity is not just a health issue. It has important socioeconomic repercussions and ties into many other developmental issues."
Al-Kabbaj went on to explain how health adversities resulting from inadequate nutrition are one factor keeping low-income individuals trapped in poverty. The two issues, therefore, have mutually reinforcing effects, hence why both lay at the core of the Ministry's agenda.
Dr.Mohamed El Karamany, Director of EFB's Growth Lab, tells Egyptian Streets that food insecurity should be discussed on two levels: the national level and the household level.
On the national level, food insecurity relates to the production and availability of food in the country – impacted by agricultural and livestock productivity, food imports, and the availability of foreign funds to export food items that Egyptian people consume. On the household level, food insecurity means that people are deprived of consuming adequate quantities and types of food, regardless of its availability in the country.
"The main reason behind that is always poverty," noted El Karamany. "Poverty is the main and number one determinant of food insecurity," he added, emphasizing that citizens living under the poverty line, who comprise almost 30 percent of Egypt's population, are its primary victims.
Malnutrition – deficiencies or excesses in nutrient intake – is due to the same factors and exacerbated by a lack of nutritional awareness among the broader population.
Addressing these factors, EFB's activities are spread across three strategic platforms. The first platform, protection, provides a monthly food assistance package to low-income households where women are the sole breadwinners and do not have a stable income source.
The second, prevention, targets malnutrition among children aged 0 to 12 years old with different school and nursery feeding programs implemented collaboratively with the Ministry of Social Solidarity. It also includes a monthly food package addressing the specific dietary needs of pregnant and breastfeeding mothers to counter stunting among infants.
The third platform, empowerment, develops resilient beneficiaries able to absorb life challenges through increasing their economic stability and integrating them in inclusive agricultural and food-related livelihood opportunities that will help spring them out of chronic poverty and hunger.
The three strategic platforms comprise a nutrition awareness component designed to inform beneficiaries and stakeholders involved about their dietary needs, how to detect malnutrition in children, cost-effective ways to maintain a healthy diet, and other food security-related issues.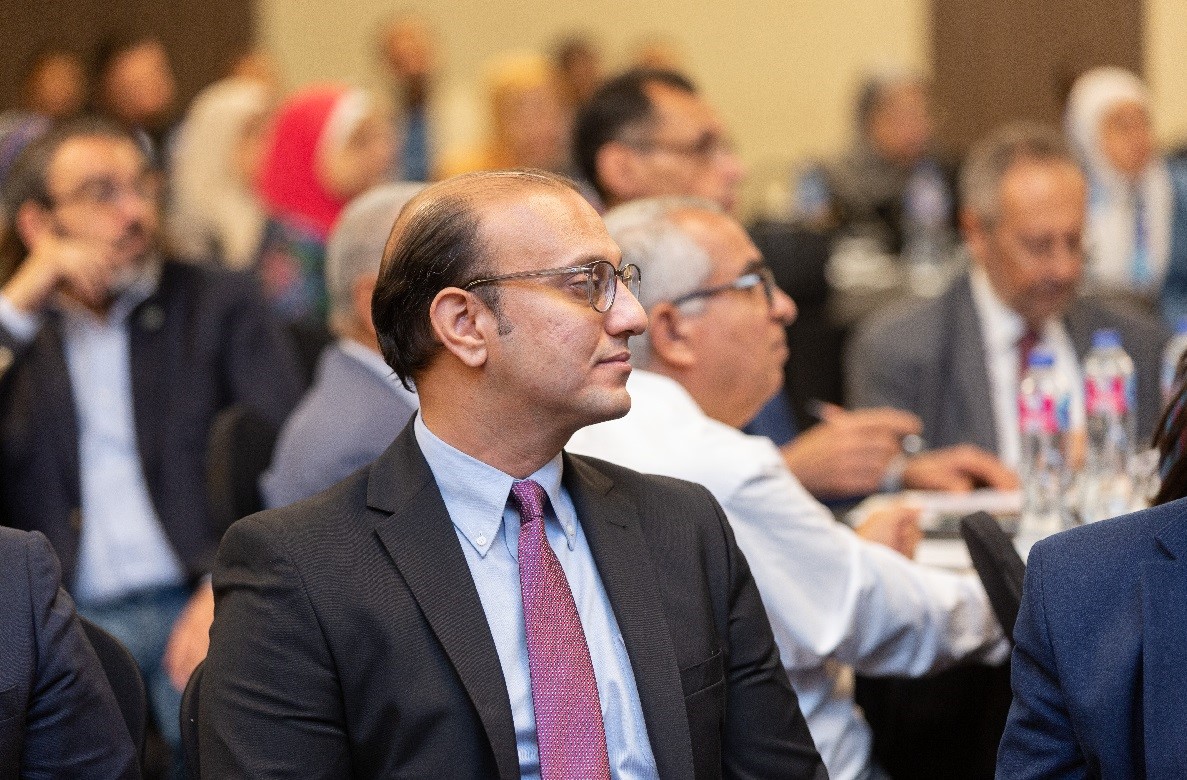 The Importance of Data-Informed Social Protection Policy
"The development field has vastly changed over the past twenty years," said Abdelrahman Nagy, Director of Learning and Strategy at SFSD, in his opening remarks. "Mounting global challenges and a lack of resources push us to make the greatest possible use of scientific evidence in decision-making," he added.
In line with this ethos, Dr. Ahmed El Sayed, Executive Director at the MENA office of the global Jameel Abdul Latif Poverty Action Lab (J-PAL) research center, presented the case for using scientific research to evaluate the impact of social policies in Egypt.
To date, J-PAL MENA has conducted 34 impact evaluations spanning the sectors of social protection, labor, health, education, and gender. Its flagship methodology, Randomized Control Trials (RCTs), involves randomly assigning subjects into either a treatment group that receives the intervention or a control group that does not. This allows researchers to isolate the impact of the social intervention from other factors that might affect outcomes.
"Given their ability to provide rigorous evidence of intervention effectiveness, randomized evaluations have gained popularity in development in recent years," El Sayed tells Egyptian Streets. "By employing this method, policymakers can make more informed decisions about resource allocation and design effective policies and programs."
The method's merits were demonstrated in IFPRI's impact evaluation of the Egyptian Food Bank's General Feeding Program – one of the largest RCTs implemented in Egypt. The outcomes of the study were outlined in another presentation by Dr.Kibrom Abay, Egypt Country Program Leader and Research Fellowat IFPRI, showing the subsequent redesign of EFB's food packages to be simultaneously more nutritious and cost effective.
IFPRI's work aims to provide research-based policy solutions, with the ultimate goal of reducing poverty by informing and refining government-led efforts. "What we do is conduct research on different challenges to economies and households, including issues of social protection, agriculture, and nutrition," Abay tells Egyptian Streets.
Another one of the organization's achievements in Egypt is its impact evaluation of the Takaful and Karama cash transfer program, carried out with the Ministry of Social Solidarity, following which "the government was keen to take the lessons learned from the evaluation to inform and refine their implementation and targeting policies for this program," says Abay.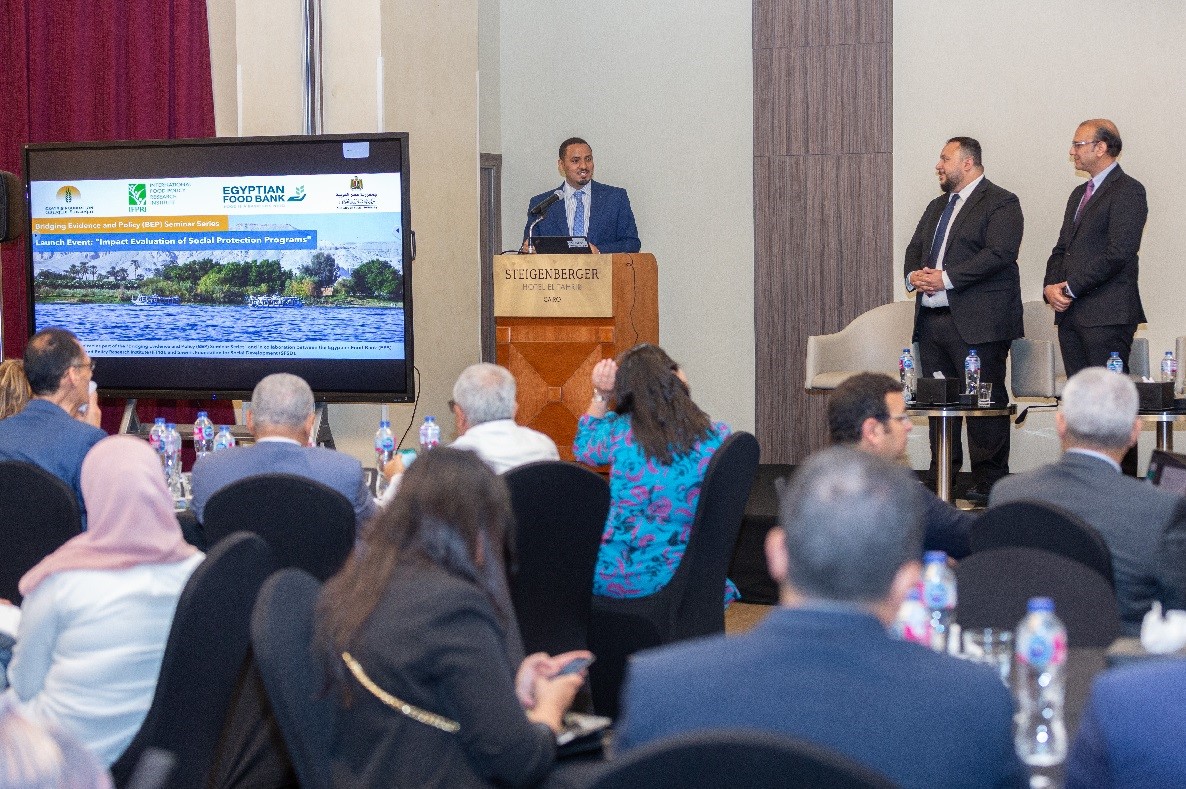 A Collaborative Effort
At the core of the project is the different parties' belief in the importance of collaboration between government, NGOs, and the scientific community.
In her opening remarks, Al-Kabbaj emphasized the role that NGOs like SFSD and EFB, and members of the scientific community play in supporting and reinforcing the Ministry of Social Solidarity's efforts towards poverty reduction.
Abay echoed this sentiment, noting that NGOs were a key implementing actor and vehicle to take the outcomes of IFPRI's research into the public sphere.
El Karamany, meanwhile, expressed his hope that the Bridging Evidence and Policy series will result in more evidence-based, resilient, and impactful social policy design in Egypt.
"Today's event was all about promoting and advocating for the use of scientific evidence in designing programs and policies," he said.
"It will be followed by other events through which we will be keen to disseminate knowledge by discussing other topics related to food security, hunger, malnutrition, poverty, climate change – which can hopefully help inform better policies and programs in Egypt."