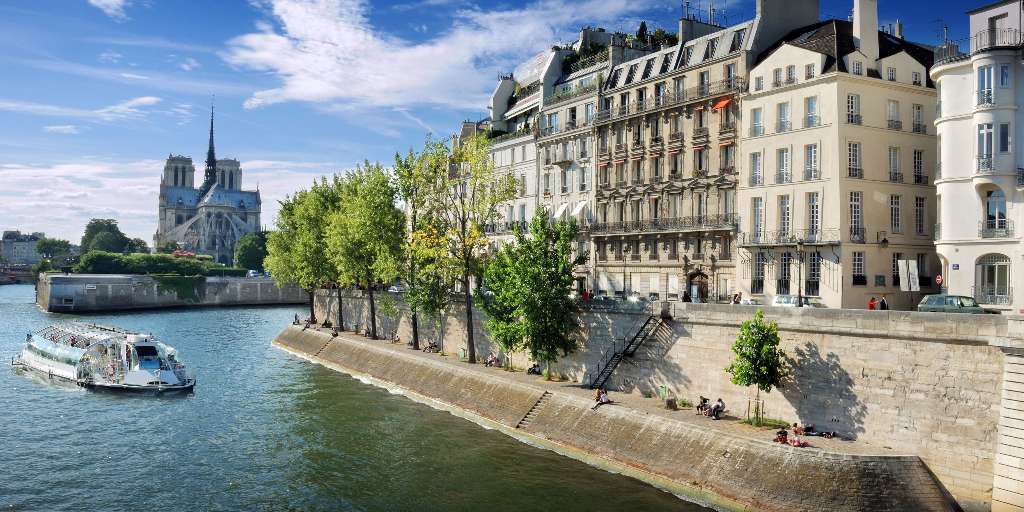 The mention of Paris drums up images of lovers strolling along a canal, couples sharing a pain au chocolat (chocolate croissant) by the Seine as street musicians play a ballad somewhere in the background, and paramours whispering sweet nothings to each other under the city's many intricate arches.
However, romance aside, Paris is a city that never sleeps—one that is brimming with exciting adventures at every corner, and one that sees its visitors enthralled by all it has to offer.
One of the most visited cities in the world, the capital welcomed over 38 million tourists in 2018. Yearly, hotels register up to 35 million nights spent in their quarters with international visitors making up more than 50 percent of that number.
The country's cultural heritage is a main source of attraction. However, aside from the traditional iconic sites, there are a myriad of lesser known places to visit. The architecture alone is something to marvel at.
A Cultural Morning
Paris is known for its pastries. While the mainstream chains offer a string of delectable choices, the best croissants can be found in the conspicuous neighbourhood bakeries.
Depending on the neighbourhood one is staying in, there will usually be a boulangerie (bakery) at every corner. And the smaller ones offer delicious pain au chocolat (chocolate croissant) at affordable prices. It varies between EUR 1 (EGP 33) to EURO 1.90 (EGP 62.7).
After having breakfast, a good plan would be to head to an exhibition as art is a staple of the city's culture.
Jardins Des Tuileries (The Tuileries Gardens) are a sight worth seeing and host a museum that has a constant slew of different exhibitions taking place throughout the year. A public garden, the Tuileries is nestled between the Louvre Museum, Rue Rivoli, the Seine and the Place De La Concorde.
The gardens — considered a prominent location in France's history — once hosted a palace that saw Louis XVI, the last royal to have taken up residence in Versailles, and his wife Mary-Antoinette, hide at the time of the 1789 unrest.
Today, the gardens are a grandiose space made up of two ponds, and a number of sculptures by the likes of Rodin and Maillol. In the South-West part of the gardens stands the Musée de l'Orangerie which exhibits impressionist and post-impressionists paintings, among other paintings and works of art. Tickets for the museum cost Euro 12.50 (EGP 412.9).
An Afternoon of Gastronomy and History
When the weather is sunny, the streets are usually crowded. Each neighbourhood in the city, while similar, has its own personality.
To start the afternoon after a day indulging in art and culture, head to one of Paris' historic districts, Le Marais — which translates to the Swamp in English. .
During mediaeval times, it was an underdeveloped area which was made up of houses tightly packed against each other. By the 18th century, the Marais saw its beginning as a working-class neighbourhood. Today, Marais is one of the districts in Paris that is considered on the upper-scale.
For lunch, La Favorite, although pricey, is a good option. With a dreamlike exterior of pink flowers covering the façade of the building, the bistro offers its patrons a view of the entire street. It is located in Saint Paul, rue Rivoli.
The menu has a selection of different items to choose from including pizza, steak, and pasta. The price range for a meal that includes an appetiser and a main dish, is around EUR 42 (EGP 1,388).
View this post on Instagram
Once satiated, one can continue their stroll all the way to 51, Rue de Montmorency, which is the spot that holds what is officially considered the city's oldest house. It was constructed in 1407 by Nicolas Flamel. He is also said to have discovered the philosopher's stone — a mythical substance capable of transforming ordinary metals into precious ones, such as gold — according to local legend.
Once done, many will make their way to the Quai de la Seine, which is accessible through Marais. Along the Seine — a historic landmark of Paris that stretches along the city — is a series of stands selling books, posters, and vintage knick knacks at cheaper prices than tourist shops. Book prices start at EUR 3 (99 EGP), and posters start at around EUR 5 (EGP 165).
A Night in the City That Never Sleeps
Part of the city's charm is its terraces. In between walks, visitors can choose between a range of restaurants and bars, most of which have outdoor areas.
For a light snack, the escargots à la bourguignonne, which are snails baked with a type of sauce mixing herbs and garlic butter, are a staple of French cuisine. The dish is found in most restaurants. The prices for the French dish vary depending on the area. It starts at EUR 9 (EGP 297). Diners usually have the option to choose between six or twelve pieces.
View this post on Instagram
While supermarkets close around 9 PM, one can find small stores that sell products at a higher price around the city. These stores, called épicerie, usually stay open all night.
Bastille, a gentrifying district in Paris, is one that is full of life all day long, and particularly at night. Boasting a slew of restaurants and cafés, there is something for everyone. However, it is a relatively touristic area, so visitors should watch out for pick-pockets.
For a quiet night in the neighbourhood, Les Affranchis is a low-key brasserie with good food, affordable prices and a friendly staff that speaks both French and English. The price range for a meal that includes an appetiser and a main dish, is around EUR 24 (EGP 793).
Whatever one chooses to do, Paris has an activity to fit different tastes and personalities, whether one is an art fanatic, a history buff or simply enjoys the simple pleasures of strolling the streets discovering hidden gems.
---
Subscribe to our newsletter
---