Abdel Fattah Nada first stepped foot in the marginalized, underserved community of Izbet Khairalla to volunteer at a local development organization in 2014. It never crossed his mind that his life's calling for the next decade would be intertwined with the social empowerment of its people.
"I have been engaged in voluntary work in the neighborhood for almost a decade," Nada, the managing director of ButtonUp, tells Egyptian Streets. "I participated in children's education and women's empowerment programs."
Five years later, Nada, along with Salah Ghanem, Mohsen Atef, and Taghreed Ramadan, would go on to co-found ButtonUp, an Egyptian social enterprise converging entrepreneurship and community development at Izbet Khairallah.
A Social Enterprise
"I'd walk the entire neighborhood on foot, covering every corner, meeting with the people of Al-Izba: the residents and workshop owners. I got to know them well, but what has touched me most was the extent to which the women persevered," says Nada. "Most of the children we worked with came from families without fathers, and the mothers were responsible for everything."
The 31-year-old entrepreneur saw an incredible amount of energy, determination, and giving spirits in these women, even though they lacked resources. Still, he feared that the few hours a week volunteers gave were not enough to lift such potential out of poverty.
Nada worried that the volunteer endeavors he and his colleagues were engaged in were not sustainable, despite their considerable benefits. Like most youth volunteering efforts, he feared they might stem from immediate motivation rather than an enduring commitment.
"If we give these mothers a real, sustainable opportunity, they won't just change their children's lives – they would have the potential to transform the whole community," says Nada.
In the years that followed, Nada kept volunteering while working on his master's degree in gender and development, for which he researched the role of NGOs in empowering women economically. Everything changed, however, when he was introduced to the concept of social entrepreneurship on a study tour in London.
"Social entrepreneurship is all about having a business model that serves a real market need. When you provide something the community genuinely needs, people will be willing to pay for it, ensuring a steady income for your venture," he explains. "Sustainability, however, posed the biggest challenge; it was crucial to transcend individual involvement. The idea had to become an entity rather than being tied to specific individuals."
In Nada's view, a social enterprise involves more than just engaging in community work or volunteering; it involves establishing initiatives that benefit society while maintaining financial sustainability. It entails discovering innovative solutions to address community needs, and ensuring these initiatives are economically viable and founded upon sustainability principles.
ButtonUp
In 2016, through voluntary efforts, Nada and his colleagues raised enough funds to train 20 women from Izbet Kharallah in sewing, and provide them with the necessary machinery. Three years later, this seed would flower into ButtonUp.
"We all chipped in and put a collective of EGP 9,000 for the company's establishment. With the help of the British Council, we distributed school bags created by the women in our small production unit to Izbet Khairallah's children," Nada tells Egyptian Streets. "The small profit we made, we reinvested into the project, and now four years later, we [have] reached almost EGP 7 million in revenue."
ButtonUp's business model rests upon two fundamental pillars: product sales and providing services. The latter encompasses a range of vocational training programs spanning crafts such as sewing, leather tanning, furniture crafting from repurposed tires, rooftop gardening, and more.
Complementary to this, the team offers education on entrepreneurship, social entrepreneurship, gender awareness, and environmental mindfulness.
The company's 65 products include bags of various styles, boxes, flasks, chairs, tables crafted from recycled materials, natural clay products, and recycled plastic items.
"Over four years, we've delivered approximately 31,000 products to around 42 companies and institutions. Our business model relies more on B2B (business-to-business) and services," explains Nada. "Approximately 43 percent of our business volume comes from B2B sales, while services contribute around 54.7 percent of our revenue. A 2.3 percent comes from our direct-to-consumer sales, which are made on our website or social media platforms."
Community Solutions
At the height of the COVID-19 crisis, with a worldwide shortage of medical supplies, ButtonUp started a new production line, supplying high-quality medical gowns for four months at a price below the market's average.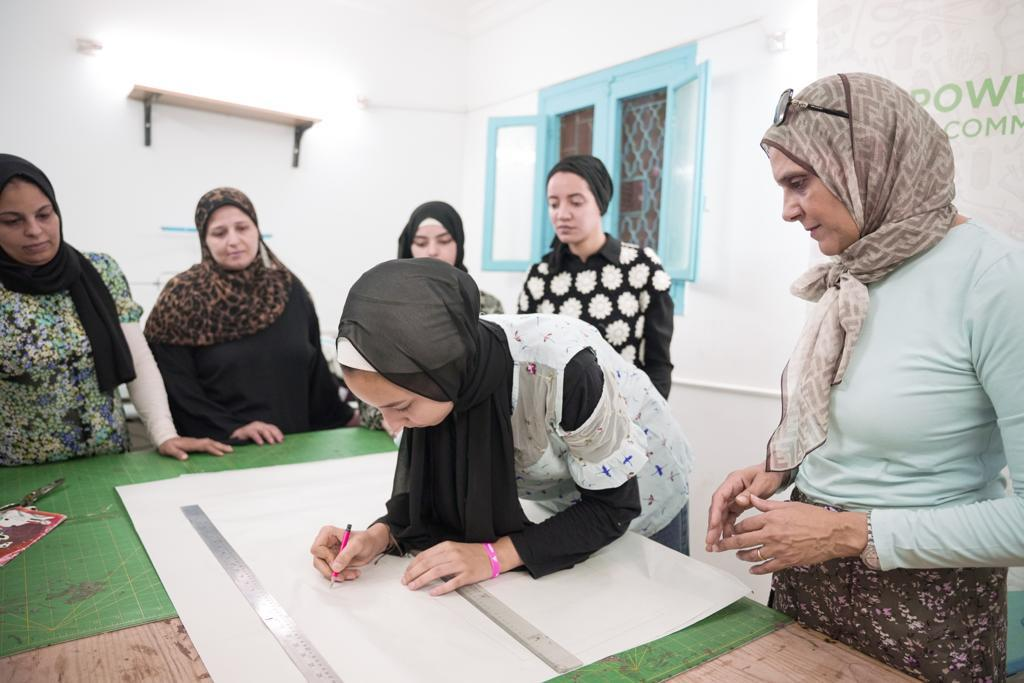 According to Nada, ButtonUp's founders did not receive profit from the new line, and the incoming revenue was distributed only over essentials such as craftspeople fees, rent, and utilities.
At first, the line was not initially profitable, but they were able to contribute significantly to the medical gown supply, producing around 10,000 gowns, accounting for around 10 percent of the total medical gowns used in Egyptian hospitals at the time.
"It began to take shape—a small, impoverished community akin to Izbet Khairallah, with proper support and opportunities, can significantly impact the broader community of Egypt. This was a first for us, almost like a milestone, demonstrating that community solutions can indeed be effective," Nada tells Egyptian Streets.
"A solution doesn't always have to be groundbreaking or require vast resources. Remarkable solutions can arise from people's simplest capabilities. This is what I initially believed—that these individuals could contribute with limited resources and still achieve astounding results," he adds.
ButtonUp did not limit itself to Izbet Khairallah: the managing director explains that the concept expanded to reach other areas in Cairo, such as Sayeda Aisha and Ain Shams, and even other governorates like Sohag and Aswan.
A significant achievement was establishing ButtonUp's model in Ras Ghareb, in the Red Sea governorate, where the social enterprise implemented its model to empower local women in the coastal city by imparting skills and initiating a production line for school bags.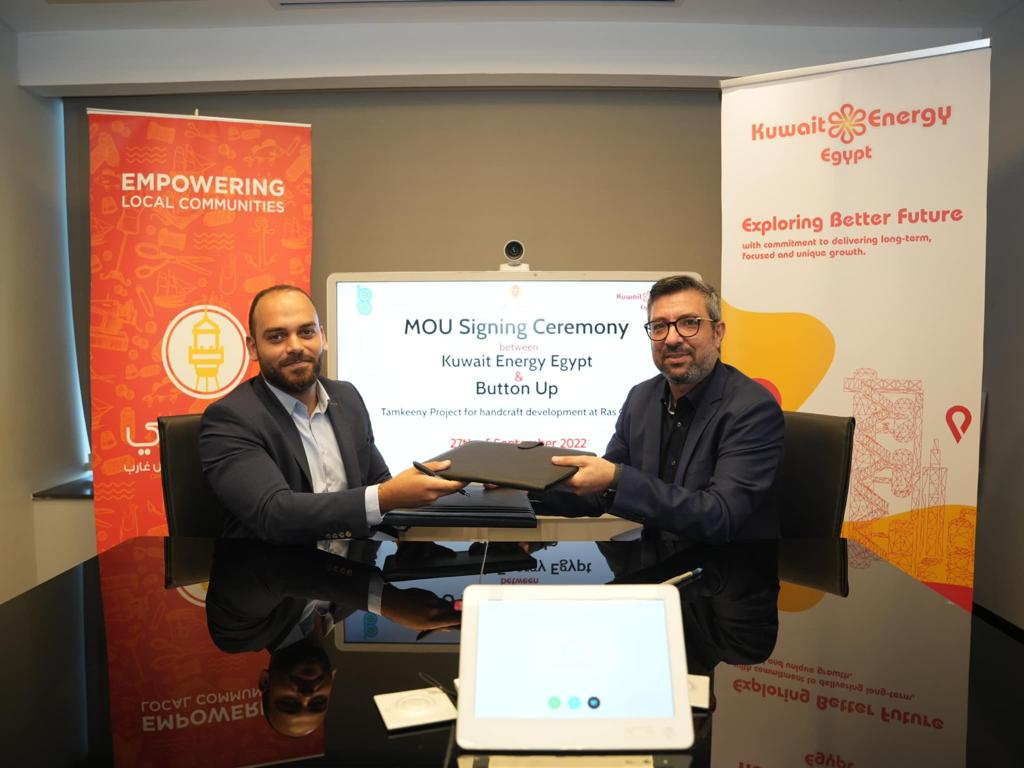 A Visit and a Speech
ButtonUp worked on another project in collaboration with the British Council in November 2022, involving the training of around 23 young men and women in tailoring, rubber recycling, and rooftop gardening.
"Just two months before the project ended, King Charles and his wife, the now Queen Camilla, arrived in Egypt and wanted to visit one of the 40 projects supported by the British government in Egypt," says Nada.
"After months of preparation for the visit, Queen Camilla came to Izbait Khairallah, and while talking to the press, she was sitting on a chair made out of recycled rubber by one of our trainees. It was a heartfelt moment," he recounts.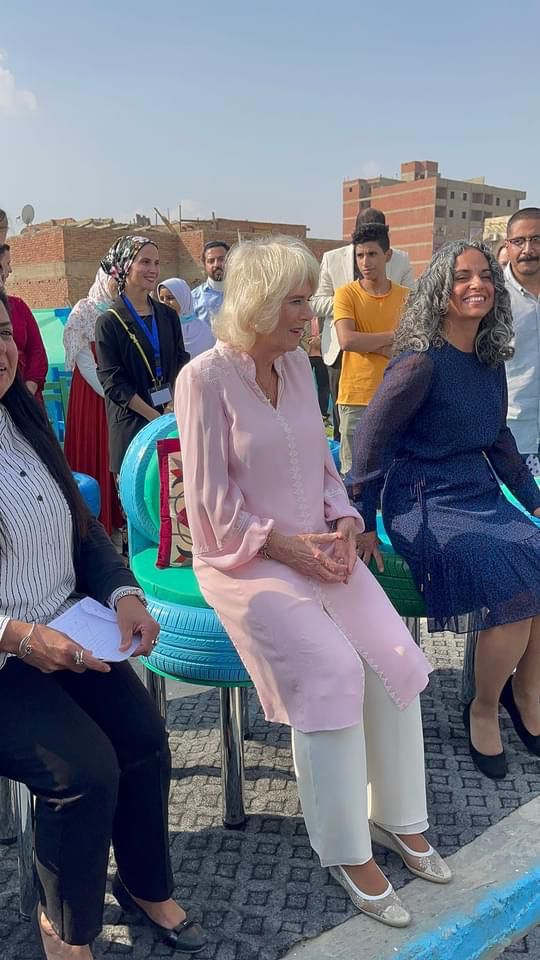 The visit positively impacted the community to the point where ButtonUp's rent rates for their sewing production unit doubled.
"For us, this was remarkable because it meant that the area was gaining value," he explains.
Around the same time, Britain was hosting COP26 in Glasgow. Nada was selected to speak at the opening day of the summit. In his speech, he showcased the project's progress, stressing how ButtonUp's business model highlights the impactful potential of community-driven solutions. This approach could contribute to both the community and the environment.
"It was quite a journey, with many challenges, but the results were remarkable. We received attention from important figures, and the area saw a positive transformation. People started recognizing the value of community-driven solutions," says Nada.
The visit, along with COP26, pushed the team to launch a new project under ButtonUp's umbrella titled 'Taproot'. The project was executed about ten months after the visit to establish a production line for new products and train more beneficiaries. The project was supported by the National Bank of Dubai and participated in Sharm El Sheikh's COP27.
"Currently, we're preparing to participate again with the same project in COP28 in Dubai," says Nada.
A Mantle Handed
In the midst of the ongoing civil war in Sudan and the escalating refugee crisis, a partnership has been formed between a foundation supporting Sudanese refugees in Egypt and ButtonUp.
Over the past month, 24 individuals from Sudan and South Sudan and a few from Eritrea and Ethiopia have undergone training through this collaboration.
What's particularly noteworthy is that each trainee is paired with a partner from the original members of the very first sewing program. These members, who started their journey in 2017, have now become established artisans and are actively involved in training new participants.
"This journey has been an incredible dream for me. I never imagined that these women could have such an impact," says Nada. "Their enthusiasm about imparting knowledge is inspiring. They have come a long way from needing just a small opportunity, and now I believe they are a living testament to perseverance."
An inspiring aspect of this initiative is that when these refugees eventually return to their home countries they will carry with them positive stories about the women of Izbet Khairallah.
"We have sown the seed, which has grown beautifully beyond what I could have imagined. It's like a tree I've nurtured and watched flourish, and I could not be happier," says Nada.
Subscribe to the Egyptian Streets' weekly newsletter! Catch up on the latest news, arts & culture headlines, exclusive features and more stories that matter, delivered straight to your inbox by clicking here.
---
Subscribe to our newsletter
---