In an era where the global community is grappling with pressing environmental challenges, the concept of sustainable building is emerging as a beacon of hope. A crucial aspect of this concept involves designing structures that seamlessly integrate with their surroundings, harmonising with nature rather than disrupting it.
Built by the Egyptian architectural firm Karm Architecture Lab (KAL), known for its commitment to clean energy in construction, the breathing house stands inconspicuously on the shores of Marsa Allam.
Wielding the natural resources of its surrounding area, the vacation home is a three-bedroom edifice that has forgone the currently widespread format of architecture using instead traditional methods from the past. Repurposing fossilised coral limestone material from neighbouring areas, the house was built with the intention of complementing the historic location it is built in.
Nature: An Ally to Architecture
The breathing house adapts to the climate of its location. It was designed with materials that are meant to absorb heat during the day which reaches 50 degrees Celsius during the summer season, to then extract it once the sun has gone down.
Every feature in the house is designed to be aesthetic as well as functional, acclimating to the changing circumstances of its environment.
Moreover, the materials used for the walls on the southern front, which include coral limestone and bamboo, function as a layer to prevent sunlight and heat from reaching the inner walls of the structure. Using the location as a source of ventilation, the architects behind this ecological house positioned certain entrances in specific parts of the building to ensure optimal ventilation taking advantage of the natural winds of the area.
The Future of Sustainable Building
The breathing house is only one of the many projects designed by KAL, in an attempt to use locally available materials to create structures that are in harmony with their environment. The firm aims to create buildings that use natural resources to their advantage and keep homes cool via natural methods.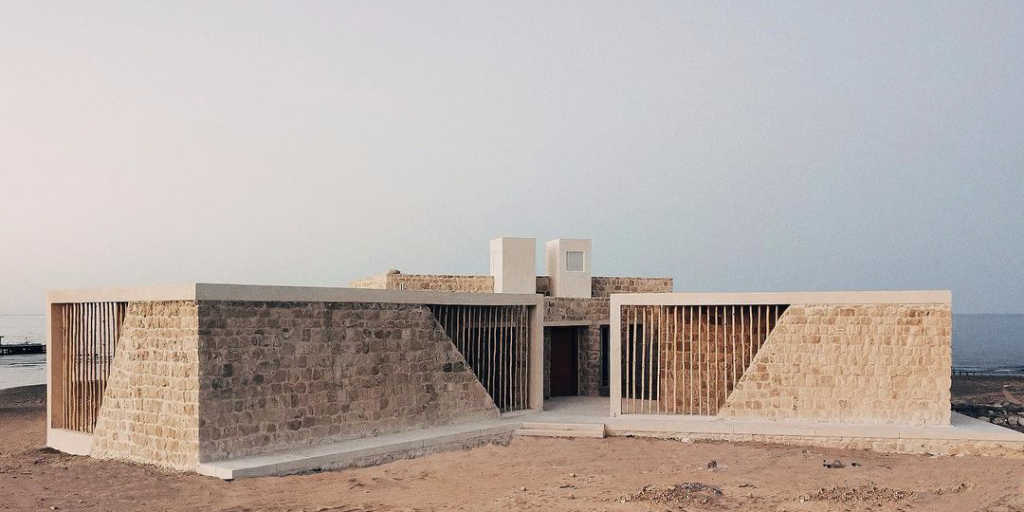 "We've forgotten the ancient methods and historical methods of how to deal with passive cooling or passive heating," says KAL Co-Founder, Karim El Kafrawi of the firm's innovative design methods, in a 2022 interview with National News.
Aiming to create affordable structures that harness natural resources to enhance comfort and temperature control through environmentally-friendly methods, the firm is constantly innovating by looking into the past to create for the future.
In using specific methods, it ensures that the structures are at once sustainable as well as functional and aesthetically pleasing.
In the ever-evolving dialogue between nature and architecture, the Breathing Beach House and KAL's visionary approach stand as a poignant example of what sustainable building can achieve.
Subscribe to the Egyptian Streets' weekly newsletter! Catch up on the latest news, arts & culture headlines, exclusive features and more stories that matter, delivered straight to your inbox by clicking here.