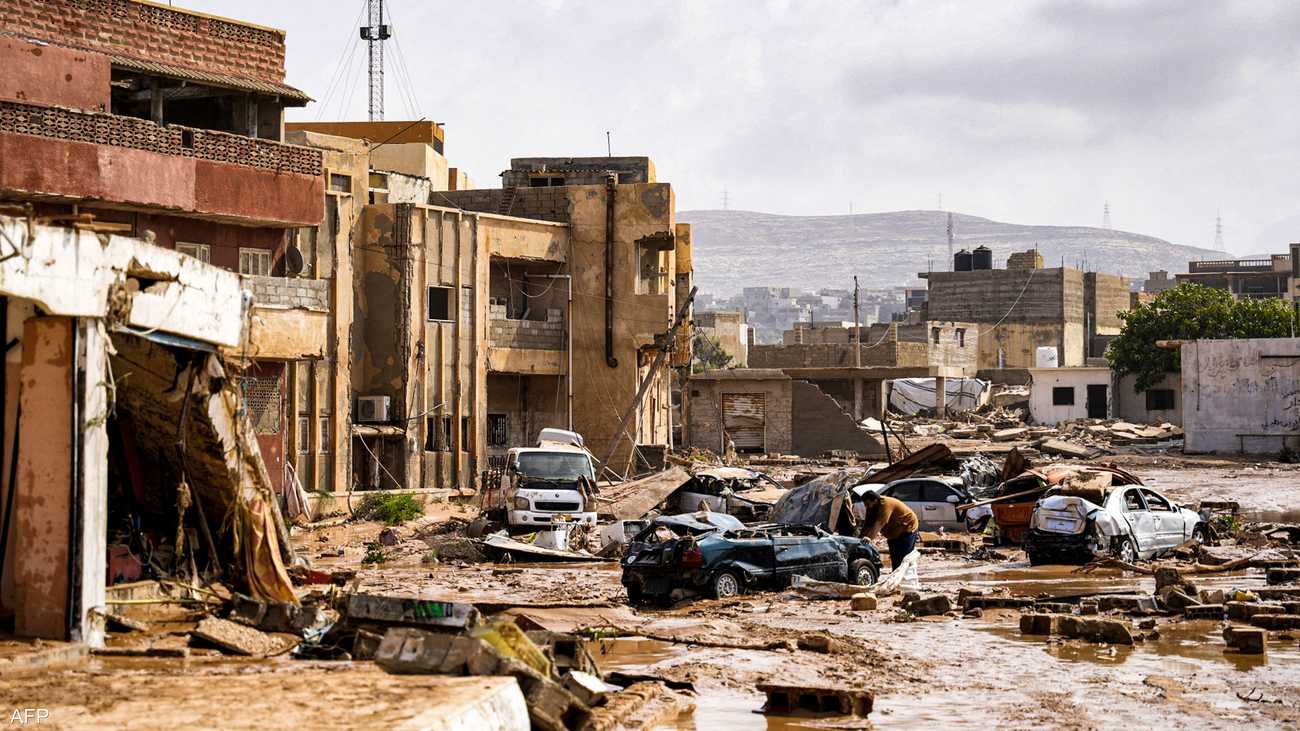 The aftermath of Mediterranean storm Daniel, which caused devastating floods in Libya on Monday, 11 September, has left more than 5000 dead and over 10,000 reported missing, including 145 Egyptians who were handed over to Egypt by Libya on Tuesday, 13 September.
The Tobruk Medical Center announced the names of 84 Egyptians who died due to the storm's impact in the northeastern city of Tobruk, in Libya. Most of the dead are from Al-Sharif village in Beni Suef.
They were buried Wednesday morning following a mass funeral attended by hundreds of villagers. Four of the dead were buried at another funeral in the Nile Delta province of Beheira.
In a statement, Egyptian Minister of Endowments, Mohamed Mokhtar Gomaa, announced that absentee funeral prayers will be held in mosques across Egypt on Friday, 15 September, for the victims of the disaster, as well as the tragic earthquake that struck Morocco, claiming the lives of nearly 3000 people..
A military delegation, led by Egyptian Chief of Staff Osama Askar, arrived in Libya on Tuesday to provide immediate logistical and humanitarian aid in the wake of Storm Daniel. The Egyptian military also sent 25 rescue teams as well as three military jets, carrying food and medical supplies to Libya.
According to Presidential Spokesman Ahmed Fahmy, Egyptian President Abdel Fattah Al-Sisi received a phone call on Tuesday from the Chairman of the Libyan Presidential Council, Mohamed Al-Menfi, expressing his gratitude for Egypt's efforts in supporting his country after the catastrophic storm.
Al-Sisi had declared a three-day mourning period in Egypt on Tuesday, in solidarity with the victims of humanitarian disasters in Morocco and Libya. Egypt's Grand Mufti Shawky Allam also expressed his condolences to Libya for the losses caused by Storm Daniel.
Storm Daniel reached the coast on Sunday, 10 September, prompting Libyan authorities to declare a state of extreme emergency. According to Osama Aly, Emergency and Ambulance service spokesperson, hospitals in the eastern town of Derna, which has seen most damage, have become inoperable and the morgues have become full.
---
Subscribe to our newsletter
---