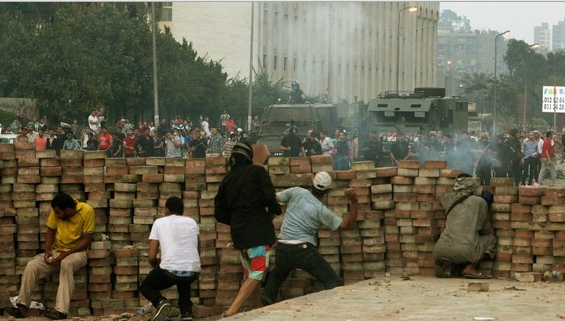 By Pesha Magid
Overnight clashes in Cairo near a large pro-Morsi sit-in have left scores of Egyptians dead. The number of deaths from violence between Morsi supporters, opponents, and security forces remains unclear, as different sources are engaged in a 'war of numbers'.
The Muslim Brotherhood's official spokesperson, Gehad el Haddad, reports at least 200 dead with over 1,000 injured. The BBC reports that 120 died during the clashes between former President Morsi supporters, opponents, and police early on Saturday morning. The Guardian meanwhile put the death count over 136. Reporters from Mada Masr confirm seeing at least 20 dead, and state that that officials on the scene report 70 dead. Officially, the Ministry of Health announced that 74 were killed and 7489 were injured.
The clashes apparently broke out when pro-Morsi supporters marched towards and attempted to block the 6th of October Bridge late in the evening on Friday. The police attempted to disperse the protesters by firing tear gas and rubber bullets before live ammunition was fired. It is unclear whether the shots came from the police or protesters first. A video shot from a resident's apartment on Nasr Street where many of the clashes broke out, shows shots and tear gas coming from the security forces, however it is difficult to verify whether the shots consisted of live ammunition or rubber bullets.
Reports of who was responsible for the deaths vary, with eyewitnesses saying it was thugs, police officers or unknown snipers.
The Ministry of the Interior spokesperson, Hani Abdel Latif, said in a press conference today that the protesters in Rabaa el Adaweya will be dispersed because of complaints by residents, although a time for the dispersal has not yet been decided. Reporters from Rabaa al Adeweya have tweeted pictures of a makeshift brick walls to defend against attacks from security forces.
 Abdel Latif stated that 17 police officers and 37 soldiers were injured in Saturday morning's clashes.  He claimed that pro-Morsi protesters were torturing people inside of Nahda Square and Rabaa Al Adaweya, and then putting them in ambulances or leaving them out on the street.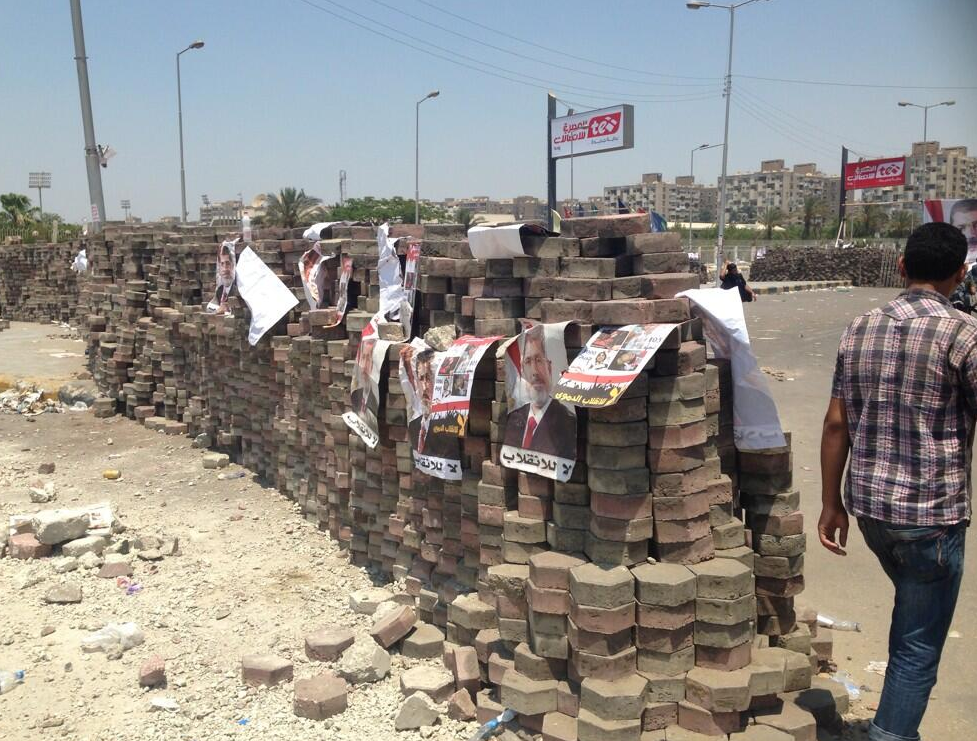 Abdel Latif also reported that Morsi will be moved to Tora prison, the same prison as former President Hosni Mubarak and several high-ranking members of his regime are being held.
On Friday afternoon in Alexandria 5 died and over 100 were injured in clashes between pro and anti-Morsi supporters in front of the Al-Qaed Ibrahim mosque. According to Al-Ahram the dead include a 14-year-old boy, and began as an anti-Morsi 'anti-terrorism' march was passing the mosque. It is unclear whether security forces interfered, although there are reports of tear gas fired to disperse the crowd.
Meanwhile the atmosphere in Tahrir on Friday was celebratory. People were carrying posters of Sisi where the general was pictured in front of a roaring lion, representing his strength and nobility.  There were signs accusing Morsi of terrorism and showing him pictured on the body of sheep. According to the official statistics from CAPMAS, 35 million were out in the street on July 26.
The protests on July 26 followed a speech by Defense Minister Abdel Fattah ElSisi where he called for the Egyptian people to come out to the streets to demonstrate against terrorism. 
---
Subscribe to our newsletter
---