Egypt's Ministry of Interior has announced that seven have been arrested on suspicion of sexually assaulting up to four women during celebrations for the inauguration of Egypt's new President.
The arrests came after outrage on social media following the release of a graphic video on YouTube showing a woman stripped naked, beaten and assaulted in the Square that was once the epicentre of the January 25 revolution
The original video, which can be viewed here [warning extremely distressing and graphic], has received more than 100,000 views in less than 24 hours.
Yet, it was another video of a Tahrir Channel television host excusing the sexual assault that has received an even greater response.
When told of multiple reports of sexual assaults at Tahrir Square, the female anchor Maha Bahnassy laughs and exclaims "they're just happy!"
While the anchor has apologized for the remarks, which she says were a mistake, social media users have called for a boycott of Tahrir channel.
The government responds
The Ministry of Interior responded almost immediately to the sexual assault claims, confirming that four women had been raped or assaulted.
The women include a pregnant woman and a mother and her young daughter. Meanwhile, the graphic video released purportedly shows a mother that had attended the Tahrir Square celebrations with her daughter. The woman was grabbed by a gang of men who then reportedly assaulted her for up to 20 minutes before others, including police officers, intervened and took her to a near by ambulance.
The Interior Ministry has said that the men arrested were aged between 15 and 49. Their names and photographs have also been publicly released on the Ministry's Facebook page and in local media.
Crackdown on sexual harassment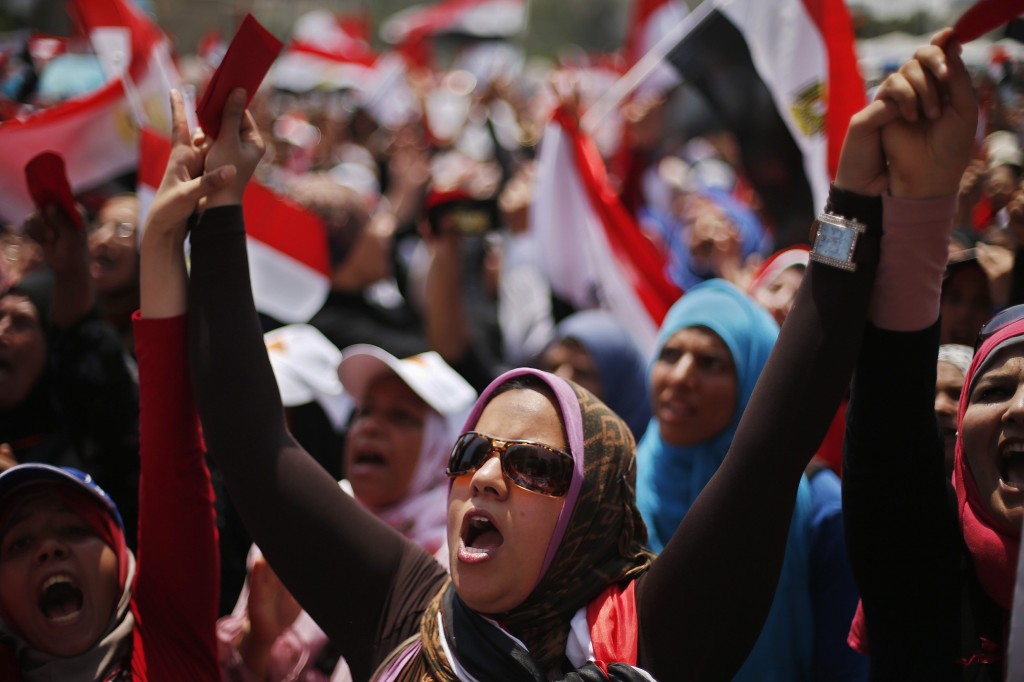 Earlier this week, Egypt's outgoing Interim President Adly Mansour issued into power new laws which harshened the punishment to those found guilty of unwanted sexual contact. Violators of this law will be punished with a minimum of one year in prison and a fine between EGP 10,000 and EGP 20,000.
Additionally, for the first time in Egypt's history, the Interim President Adly Mansour passed a law criminalizing all forms of sexual harassment.
The new law defines sexual harassment as occuring through stalking, using gestures or words or through modern means of communication (i.e. internet, mobile and more) or in any other means through actions that carry sexual or pornographic hints.
Sexual harassment continues to be an epidemic in Egypt with almost 99 percent of women surveyed in a report released April 2013 by the United Nations in collaboration with Egypt's Demographic Centre and the National Planning Institute, have reported being sexually harassed.
Previously, Egypt had no specific law forbidding sexual harassment. However, some articles in the penal code were sometimes enforced in the occurrence of harassment cases.