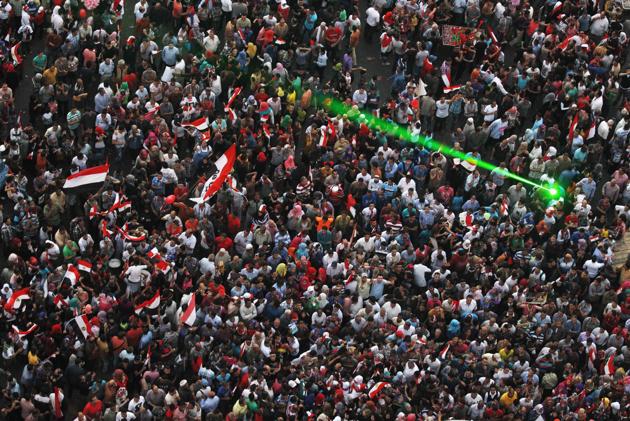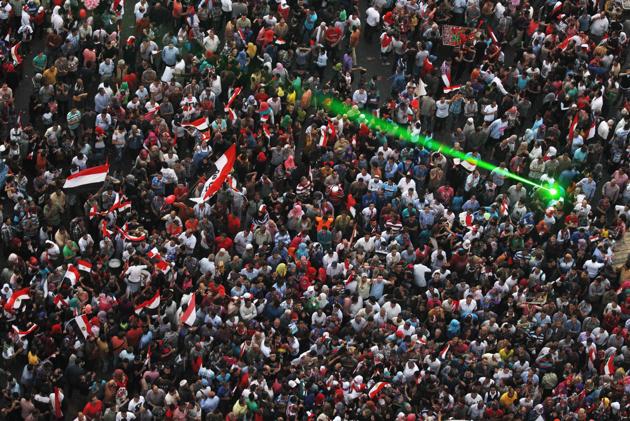 Yesterday thousands of Egyptians gathered in Tahrir Square to celebrate the inauguration of Egypt's seventh president Abdelfatah El Sisi. While many television networks have been featuring footage of large unified crowds cheering and holding Egyptian flags, one YouTube user posted a video from Tahrir Square, shot on his mobile phone, which documented a much grimmer reality for the country.
The original video, which was removed from YouTube due to its graphic nature, shows a naked, injured woman, attempting to flee a large group of men who have sexually assaulted her in the middle of the square.
The sexual assault was reposted by YouTube user Marwan Arafah, and already has over 148,000 views [Please note: Egyptian Streets removed the video at the request of the victim].
In another video that has gone viral, a Tahrir Channel correspondent is shown reporting live from Tahrir Square. During the report, she mentions a high number of sexual harassment cases. Before she is finished with her report, the in-studio anchor talks over her and states "they are just happy."
The Ministry of Interior released a statement claiming that it had arrested seven men between the ages of 15 and 49 for sexually assaulting "a number of women" and for injuring a police officer.
Sexual assault epidemic
Although the sexual assault epidemic is nothing new in Egypt, recently there has been an extended initiative by the government to crack down on the issue. Before stepping down last week, Interim President Adly Mansour passed a law criminalizing all forms of sexual harassment, regardless of the medium through which it occurs.
A new article, which has been issued into power, adds a harsh punishment to those found guilty of unwanted sexual contact. Violators of this law will be punished with a minimum of one year in prison and a fine between EGP 10,000 and EGP 20,000.
If such sexual contact is by an authority figure, whether it be in the work place, at school or even at home, then the punishment would be a prison sentence of at least two years and a fine between EGP 20,000 and EGP 50,000.
Other amended laws, under article 306, declare that those found guilty of verbal sexual harassment in a private or public place will be sentenced to a minimum of six months in prison and fined no less than EGP 3,000 ($US 420).
These new laws come after several television hosts have discussed cases of sexual harassment occurring at universities throughout the country, while blaming women for provoking their aggressor through their clothing choices.
In his talk show, Egyptian presenter Tamer Amin of Egypt Today, declared that clothing choice is not a personal freedom, while accusing women of going to the universities not to study but in order to drive male attention.
Amin also blames the security guards at the schools who allow the women into the universities with their "provocative clothing."
With the increase of transparency through videos like last night's horrific footage, it has become increasingly difficult to sweep such issues of sexual harassment under the rug. However, it remains to be seen how effective these laws will be in creating safer streets for Egyptian women.
---
Subscribe to our newsletter
---