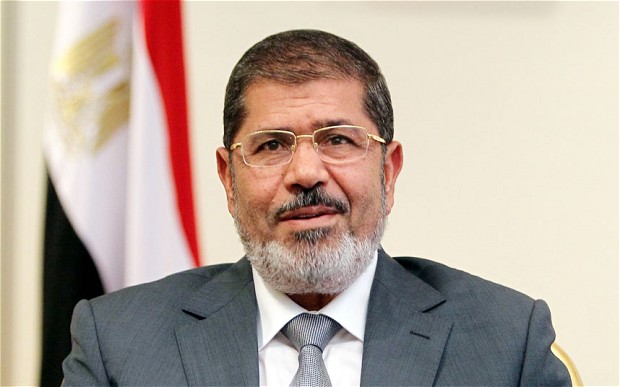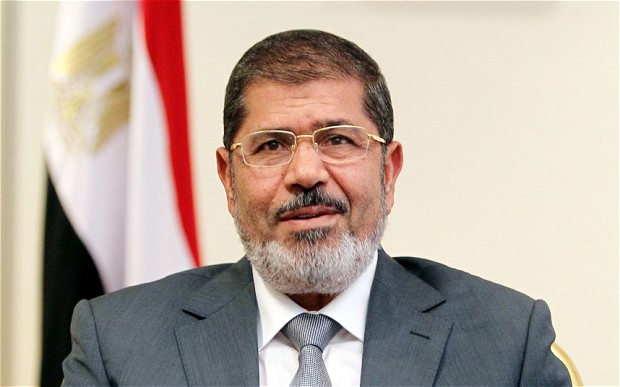 Ousted President Mohamed Morsi and two of his aides were referred to trial on Saturday over charges of leaking classified national intelligence to the Qatari intelligence.
Egypt's prosecutor general accused Morsi, the head of his presidential office Ahmed Abdel Aati and his personal secretary Amin al-Serafy of seizing classified national security intelligence and delivering them to the Qatari intelligence and the Qatari news network al-Jazeera.
The former president is already implicated in a group of other court cases. He is being tried for inciting the killing of protesters outside the presidential palace during his tenure in December 2012, insulting the judiciary, and escaping prison during the January 25 uprising in 2011.
A statement released by the prosecutor general's office said the defendants leaked the intelligence with the help of eight "spies" and in exchange for a million dollars, adding that they were carrying out the instructions of the "terrorist" Muslim Brotherhood international organisation.
The classified intelligence includes "extremely dangerous" reports on the armed forces, their stationing positions, and the nature of their arms, the statement read. The leaked intelligence also allegedly addresses the state's domestic and foreign policies, as well as documents coming from sovereign authorities such as the general intelligence, the military intelligence, the homeland security and the administrative control authority.
According to the prosecution's investigations, Mursi "abused his position" to appoint Muslim Brotherhood members such as Abdel Aati and Serafy at "sensitive" posts". The ousted president then allegedly delivered the classified documents to Serafy, who in turn gave them to his daughter, Karima al-Serafy, to keep them at home.
Karima al-Serafy, who was arrested in March over this charge and released in August, is accused of delivering the classified documents to a Jazeera reporter and a documentary producer who allegedly transferred the documents to Qatar.
The case involves 10 defendants listed in the prosecutor's statement. Seven defendants are currently in custody, while the prosecutor general has issued an arrest warrant for the remaining three.
Amin al-Serafy is believed to have been held since Mursi's ouster in July 2013 without formal charges, until Interior Minister Mohamed Ibrahim revealed information about the espionage case in question on March 30.
International human rights organisations such as Amnesty International and Human Rights Watch had expressed their concern regarding Serafy and other presidential aides' undisclosed whereabouts.
Egypt's relations with Qatar, seen as a strong Muslim Brotherhood supporter, have been strained since Mursi's military ouster last year.
Egypt's administrative court banned on Wednesday Jazeera's Egyptian channel, Jazeera Mubasher Misr, and ordered Egypt's NileSat Satellite to halt its broadcast.
---
Subscribe to our newsletter
---