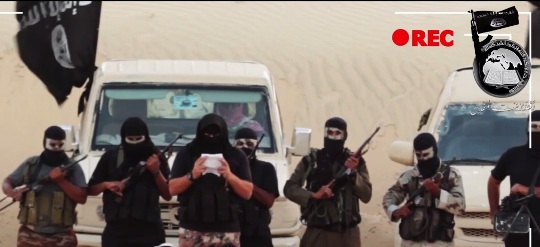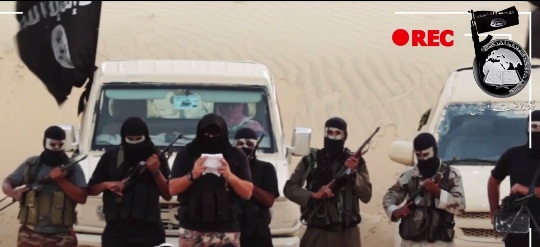 Sinai-based militant group Ansar Bayt al-Maqdis released Sunday a video showing the confessions of three Egyptians it claims to have executed in North Sinai for "cooperating with the Egyptian Army and the Israeli Mossad".
The video, uploaded on Youtube and a jihadist forum, also shows a fourth person who was shot and his house destroyed.
Islamic State (IS) spokesman Abu Mohamed al-Adnani is featured in the video, where he speaks about jihad and fighting the "infidels".
Meanwhile, the Egyptian army was accused of "besieging Palestinians in Gaza Strip and joining the Jews in their war against Jihadists" in a speech attribued to Ansar Bayt al-Maqdis leading member Abu Osama al-Masry.
The accuracy of the information in the video has not yet been verified by independent sources.
Ansar Bayt al-Maqdis is one of the most active militant groups operating in Egypt. The group has claimed responsibility for several terrorist attacks in Cairo and Sinai, including an attempt on Interior Minister Mohamed Ibrahim's life last September.
In a video allegedly released by the Ansar Bayt al-Maqdis militant group in August, the group claimed responsibility for beheading four Egyptians, accusing them of providing intelligence to Israel.
The group has also warned inhabitants of Sinai against "cooperating with the Jews and spying on their fellow Muslims", urging those involved to repent to be pardoned.
Reuters had recently interviewed a member of Ansar Bayt al-Maqdis who claimed that the group is in contact with and receives guidance from the Islamic State fighters in Iraq.
Islamic State fighters have controlled large areas of Iraq and Syria recently. They have carried out a number of mass executions and recently beheaded two American journalists and a British national. Their latest victim was a British driver delivering aid in Syria, who was executed Saturday.
Egyptian authorities have declared a "war on terrorism" since Mursi's ouster.
Egypt's security forces have intensified their security measures in North Sinai in reaction to repeated militant attacks that target army and police officials. The attacks, which rose significantly since Mursi's ouster, soon expanded to other areas of the country, including the capital.
A fact-sheet prepared by Egypt's ministry of foreign affairs put the death toll for terrorism acts which took place since January 2011 and until April 2014 at 971, including 664 security personnel.
---
Subscribe to our newsletter
---