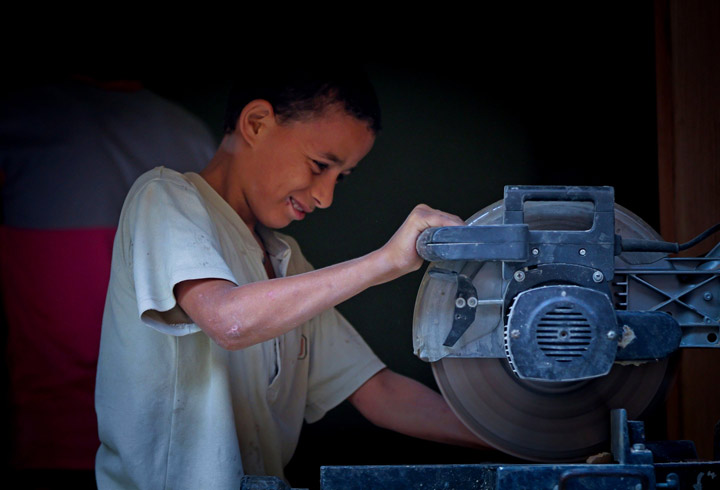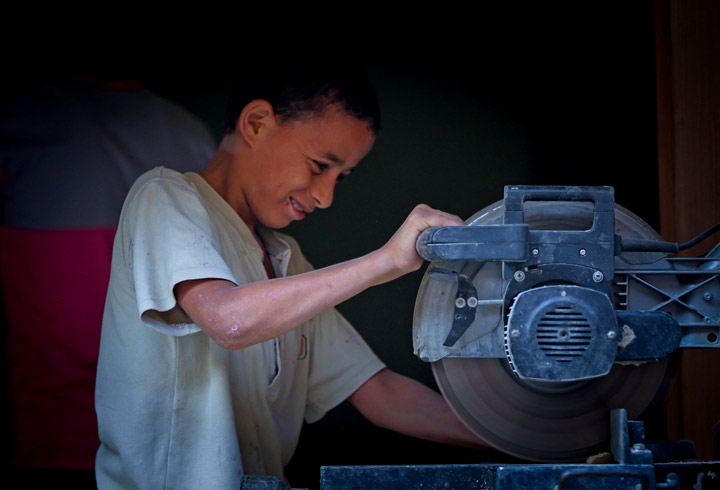 By Samar Samir, The Cairo Post
"I used to get up at 8 a.m. to go with my father to plant the land and irrigate it at noon, then I went to the field in the afternoon to feed the animals until evening," said Omar, 11, a small-framed boy speaking from behind thick glasses.
Omar began to suffer from seizures from sun exposure, and is unable to stay outside for more than five minutes, said his mother Sabah, 35, a farmer in the village of Abdullah Elewa in Fayoum (107 kilometers from Cairo).
"Because the only school available is so far away from our village, I did not send Omar because it is very hard for me and he was planting the land with his father," Sabah said, adding that Omar's work saved the family from having to pay hired workers.
In 2010, approximately 1.6 million children were actively working in Egypt, according to a comprehensive survey conducted by the Central Agency for Public Mobilization and Statistics (CAPMAS) and the International Labor Organization (ILO).
Since then, however, the number has increased; the World Food Program and the European Union in a September report estimated the current number of employed minors in Egypt to be at least 2.7 million.
"As long as there are violations in economic and social policies, the number of working children will increase and the situation will remain unjust," said Hani Helal, secretary-general of the Egyptian Coalition of Children's Rights, who said the number had increased since the January 25 Revolution due to government neglect amid political and security challenges.
CAPMAS does not conduct periodic surveys on child labor, and the latest official figure was issued in 2010, CAPMAS Census Division Deputy Ashraf Abdel Hamid Sharaf Eldin told The Cairo Post.
He added that any statistics are unlikely to be reliable, since there is "unprecedented" neglect by the government towards this issue because their main focus is on counter terrorism.
Any figures issued without conducting a comprehensive survey on child labor would be inaccurate because the vast majority of shops do not document working children, he said.
Quarries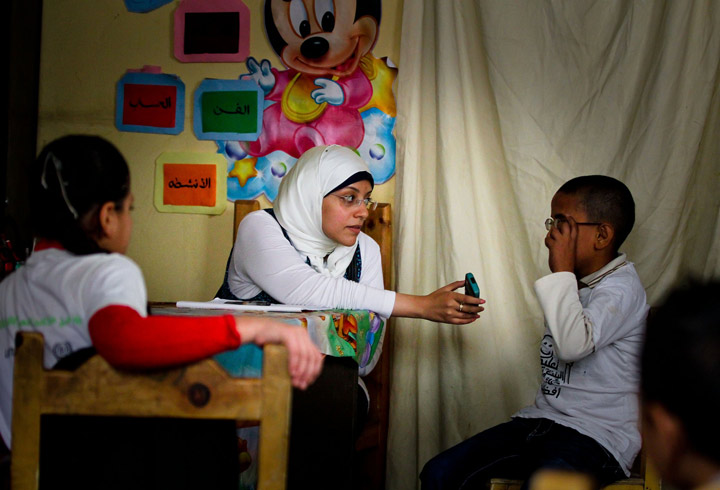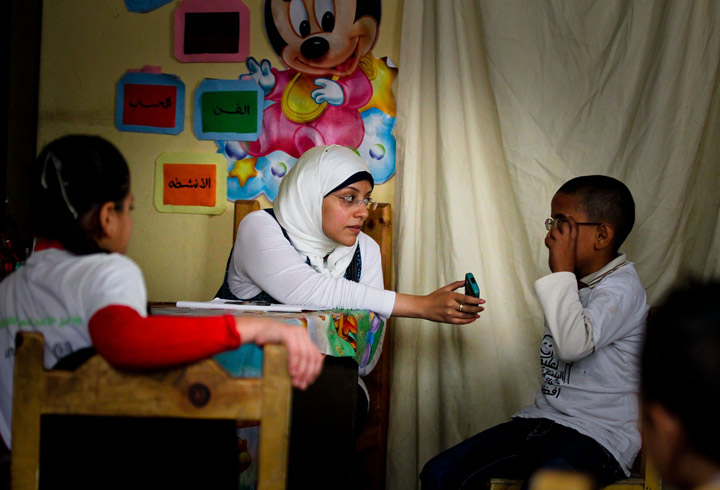 "A child in a quarry is treated as an adult; he spends eight straight hours working," said Wadi El Nil Association for the Protection of Quarry Workers chief Hossam Wasfi.
"The number of children [in quarries] increased after the January 25 Revolution, and is estimated at around 5,000. In 2010, the number of working children was estimated at around 3,000 children, and the number increased due to poverty circumstances and a bad education system," Wasfi said.
According to the Child Labor Chapter of the 2003 Labor Law, children between 14 and 17 may work, but not in excess of six hours, no more than four hours straight and must be in possession of an ID from the Ministry of Manpower.
According to the same law, employers that impede a child's primary or secondary education can be penalized with a month in prison. Additional restrictions prohibit minors from working with large ovens, chemicals, in cement factories and other dangerous environments.
The Minya governorate (Upper Egypt) has a large number of quarries; there are 1,500 quarries with 40,000 workers according to Wasfi.
"Children gradually drop out of their education to work in the quarries; a child could attend school for two days weekly and be progressively absent until they eventually drop out," he said.
Quarry owners use old machines that can date back to the 1920s, and fatal and serious injuries are difficult to monitor as many cases are treated in private hospitals and medical centers not linked to employers, Wasfi continued.
As for health and insurance services, "they do not exist," and children are often made to grind stones, where they are at risk of inhaling airborne dust and powdered rock, he added.
Before the 2011 revolution, a quarry paid the municipal administrative office of the Minya governorate 16 million EGP ($2.24 million) annually, Ilham Helmy, an official from the Caritas Association of Children's Rights, told The Cairo Post.
"In 2006, we were there and saw children holding electricity cables to connect the power, while others were lifting stones," she added.
"A working child is paid 25 EGP ($3.25) daily for his work; this amount of money is a lot for a child, and we found many of the children are drug addicts," she continued.
Helmy also said that in 2006 a child had to have his legs amputated after a severe electric shock and resultant bleeding.
"There was only one ferry in a village in Mattay city to transport the people, so the boy bled as no other transportation could send him to a medical center or a hospital," she said.
The ferry was owned by the village mayor, who refused to bring another public ferry, according to Helmy.
Fayoum school
A 30-student community school was opened in Fayoum in 2011 to combat child labor. The village previously had no public services like schools, nurseries, medical centers or hospitals.
"The only school is five kilometers away from the village," Rasha Rabie, one of the two teachers in the class, told The Cairo Post. She added that some residents are reluctant to send their kids to school because of the distance.
A donor provided the space for giving lessons to local students for six years, according to Rabie.
Omar is one of the 30 students who joined this community school; he expressed his happiness for being educated, telling The Cairo Post, "Now we have lessons in the Arabic language, religion, and mathematics from 8 a.m. to 1 p.m."
"Before coming to school, I was going to the field to trim grass with a scythe. At that time, I was eager to have an education. Sometimes I felt sad when I saw my friends going to the school and I wasn't among them," 14-year-old Nahed Marie Abdel Magid told The Cairo Post.
Nahed, who has six brothers and two sisters, said she was hurt once by the scythe, but her parents kept her working because the injury was not critical. She started to work when she was 11.
UNICEF, the WFP and ILO launched in September 2010 a project with Caritas to open community schools in Fayoum. The project aims to stop children working in the field and provide them with an education. It was scheduled to end in December 2014, said Caritas project director Maged Zaki.
The association provides each child's family with monthly food aid, including 20 kilograms of flour, 10 kilograms of rice and a bottle of cooking oil on condition that the child's attendance in the class be more than 80 percent, he added.
The project also provides children's mothers training to form their own projects to earn money instead of making their children work.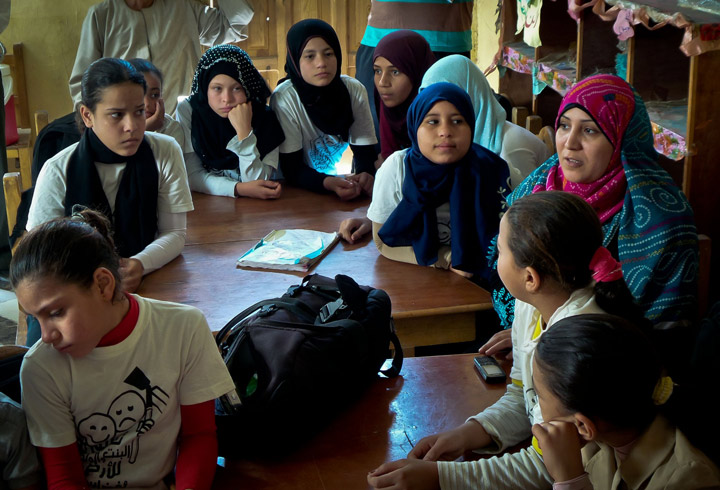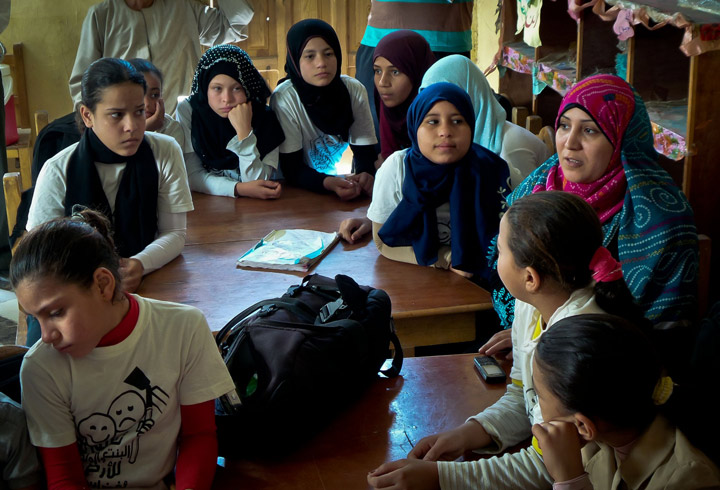 "Many families' breadwinners push their children to work in the field to save salaries," Abeer Mounir, an official from Caritas, told The Cairo Post.
"Work [for a child] should be simple and during his vacation days to make sure the child has self confidence and can live his childhood," said Ain Shams University psychology professor Abeer Mahmoud, adding that teaching children independence from age 12 or 13 is a positive thing.
"Unfortunately, there are parents who make their children drop out of schools and even torture them to work and get money," she told The Cairo Post.
"This causes depression and makes children aggressive with anti-social personalities; besides the fact they could become drug addicts," she added.
'I have no desire for education'
"I was in a primary school just for a year and then left it because I did not have the desire to continue my education," Amir, 14, who works collecting trash in the Atlas district of Helwan city in south Cairo, told The Cairo Post.
"They [his parents] wanted to keep me in the school, but I did not like it," he added.
Amir sorts garbage, collecting cardboard boxes to recycle them; one kilogram sells for 1.5 EGP (20 cents). He works every day from 4 a.m. until 1 p.m.
"Spots appeared on my skin and the doctor prescribed me a bar of soap, and then I felt better," said Amir while he was sitting on his cart.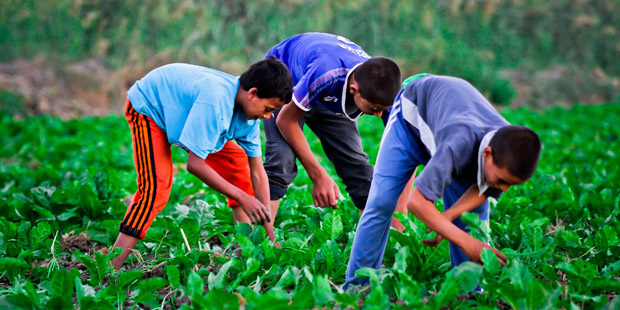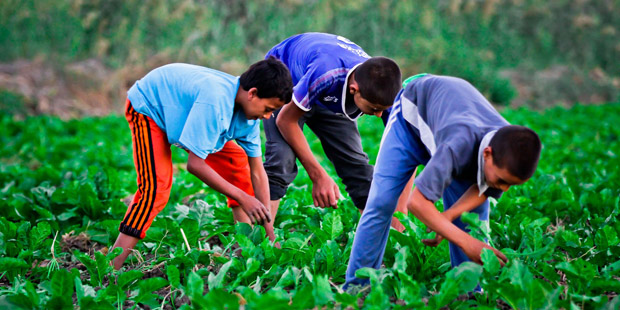 Although Amir's family is stable financially—he lives in a five-floor building with a barn in Helwan—he originally chose to work because he "hates schools" and wanted to help his family in their livestock business.
Now, however, Amir says he wants to pursue schooling in order to get a truck driving license, but when he tried to enroll he was told he was too old to matriculate.
According to article 113 of the amended Child Law of 2008, free education provided by the State is a right and compulsory at the primary level. However, there is no law in Egypt holding parents accountable for not registering their children in the school. But, according to article 21 of the Education Law, the parent or guardian of a child who drops out of school for a week shall be fined 10 EGP ($ 1.40).
"There is no direct punishment to the parents for dropping their children from school," Eman Ahmed Abdel Raham, a consultant at children's rights advocate Plan International Egypt, told The Cairo Post. "As long as the Constitution and law say child education is compulsory, there should be a punishment, but unfortunately it is not activated or applied."
---
Subscribe to our newsletter
---